Why, hello butt.
I really wanted to love this chemise but it's just not working for me. The length is awkward so my butt hangs out. I prefer longer lengths, so it doesn't make me feel sexy. It also clings much more than the stock photo suggests. My partner and I both agree that the fit is not good. I am small, size 2 and 32C, so this chemise will sadly fit very few people.
Published:
Pros:
soft, price, well made, cute
Cons:
won't fit many women well, one size, plain
This Baci chemise was my first Baci product. I am not disappointed by the quality of the piece, but just the awkward length. I prefer things that cover my butt, because otherwise it looks like an awkward shirt to me. I like the bows and femininity of it but I haven't worn it at all except to try it on for my partner because we each agreed we did not like the length. Luckily I got it on sale, but it's just not as cute on me as it is on the model. I'm not tall at all (5'2"ish) nor did I need the extra material to cover my body, as a size 2, 32C, with a 26" waist. It accentuated anything I didn't want it to because of the clingy material and weird length. It also just is not anything special. Even though it fits, I don't really feel like anything special in it. It's not impressive. It's just...blah.
I ordered this piece in black. It is sheer aside from the cups and features very feminine ruffles and bows at the bottom. It has an open back with a bra-like hook closure with 3 rows of hooks. I am able to wear it on the smallest hook with some wiggle room at the top, but the bottom is tighter. With one-size garments it's really hard to get a perfect fit, and this was another example of that, especially with how the cups are designed. They are very much like a bra, and therefore if you are not the right cup size you will not fit them and it will look silly. If you are a C like me, you'll have the best luck with this, but you need a small middle and hips to keep the consistent fit through the whole chemise.
The material for the chemise and matching thong is really soft and comfortable so it's a shame that it is not something I really want to wear. Each of the pieces is made of 90% polyester and 10% spandex and is machine washable. This is one of few thongs I have received from pieces that I would consider wearing. I don't wear thongs, but this one is very soft and actually covers the whole front. My partner and I really don't like thongs though, so I probably will never wear it, but I keep it in my underwear drawer just in case I decide I want or need one since it does fit well and is very soft.
Measurements of the chemise:
From the top of the cup to the bottom, including trim - 20.75"
Width, bottom - 21"
Width, across the bust - 12"
Cup width - 6"
Bottom trim - 2"
Hole in the back - 6.25" x 4.5"
Straps at longest - 14.5"
Measurements of the thong:
Width of waist - 12.5"
Triangle front top - 6" wide
Liner length - 3"
Liner width - .75" at narrowest; 2" at widest
One benefit to this piece is that if it does fit well, it can be worn underneath of clothing. It has a real bra top to it, so your nipples will not show under clothing. If you wore it around your house with a full coverage bottom that wasn't underwear, like shorts, I don't think anyone would care unless it was your parents or someone very conservative. The bra area covers well unless you are too large chested for the piece and spill out (which is likely for many women) so it is just below that that is sheer and revealing.
Interestingly, it features removable straps, but only in the back. They are fully attached to the cups on the front of the chemise. They could become a racerback if you wanted, but that's it unless you cut off the straps in the front to make it strapless.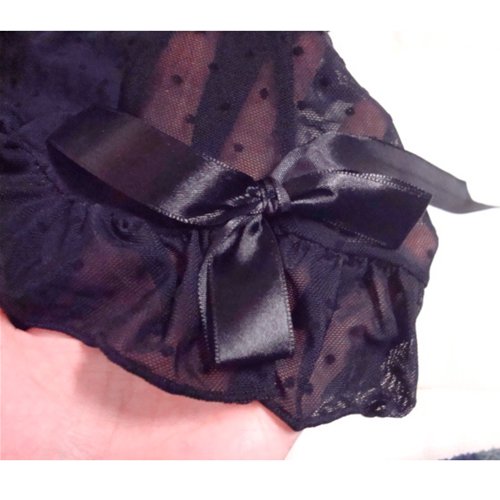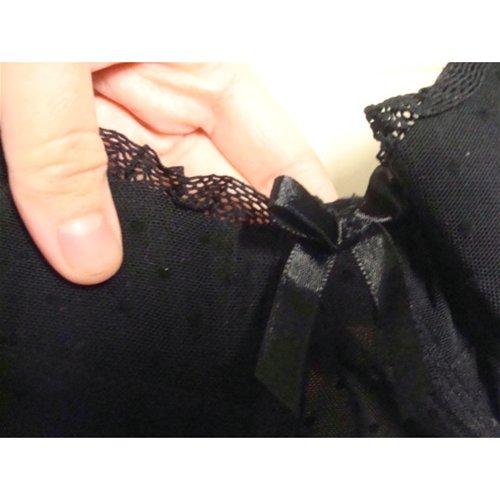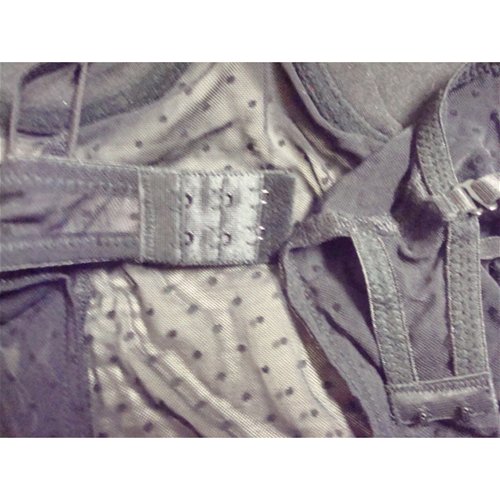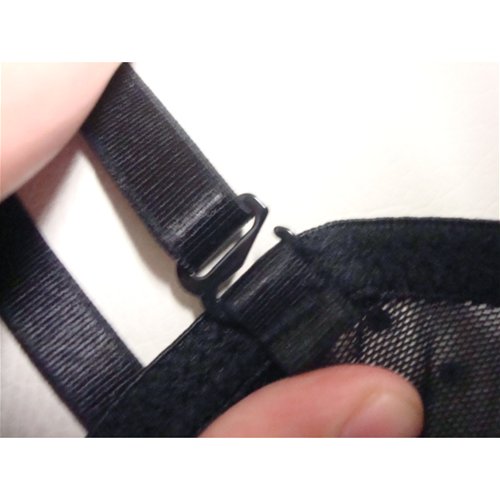 Experience
My partner and I weren't really into this piece. I bought it on impulse because I thought it looked hot on the model and figured my small size would fit it too. I read the other review and saw that she thought it would be good for C cups, and I am a 32C so I went for it. Maybe eventually I will really like this piece but for now my partner and I both agree that the length is awkward and it is too loose at the top and tight on the bottom for my liking. I've had it for months and haven't worn it once. It's comfortable, but who cares if you don't feel special in it? It really isn't even my style in a lot of ways, so I'm still not sure why I bought it.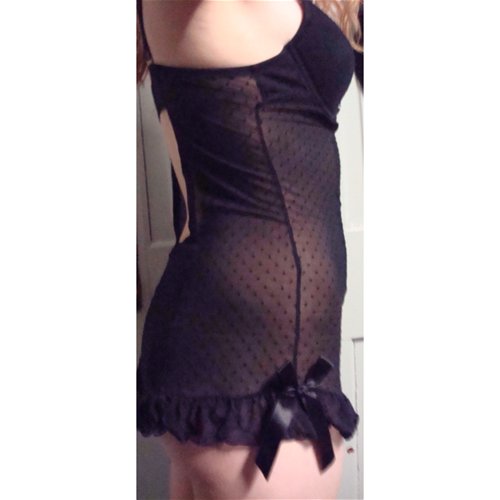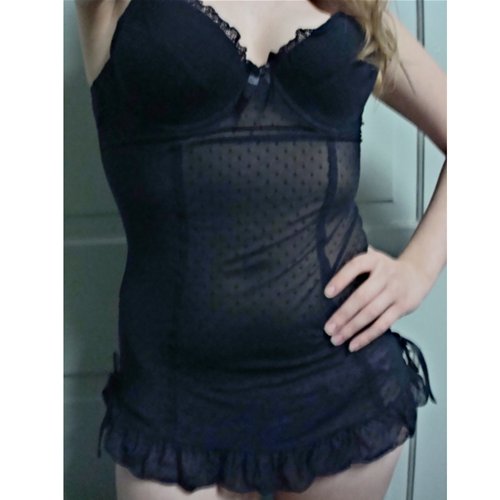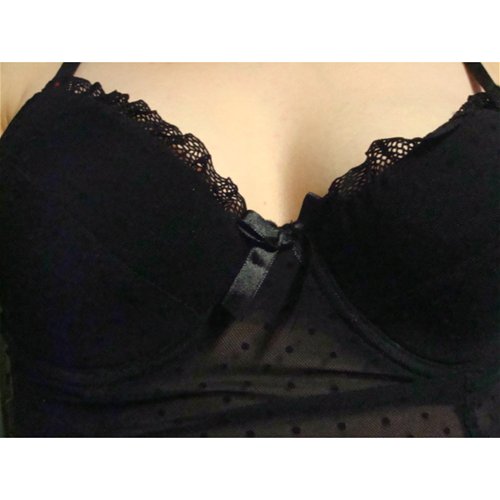 Although I don't really like this, I can't be bias and knock stars for things I don't like. I think since I'm shorter, it really should be longer for anyone, and that this needs to come in sizes, because this style chemise would never work as one size fits all. This is a size small, period. Do not be fooled. It is stretchy, but it will greatly decrease in length, and the cups can never become anything but a C cup. I'm giving it 3 stars because fit is a serious concern, and I don't think it's possible to make such a piece one size fits all, but the product itself is soft and well made.
Follow-up commentary
6 months after original review
My dislike of this has gotten more intense since the original review. I haven't worn it for my partner at all. We kept it around but I don't want to bother with it anymore so I'm trying to figure out what to do with it since I hate throwing things away. I just have no interest in ever putting it on. I don't like the way it fits me and its weird awkward length. I will never buy anything on such impulse again unless it is something I am completely in love with, which is definitely not this piece!
This content is the opinion of the submitting contributor and is not endorsed by EdenFantasys.com

Thank you for viewing
Mesh chemise with bows
review page!