Cute But Not For Public Use
This would make a cute outfit for adult parties, or to wear around the house while the kids are out (if you have kids). Other than that I'd save the money and get something more fitting for kids to see you in. Walmart, Kmart they have somereally nice outfits cheaper than what Eden is selling this one for.
Published:
Pros:
Cuteish but that is about it.
Cons:
Not very much give in the material, price.
This is the Fang banging fun vamp Halloween outfit by Dream Girl. This is kind of cute (sort of) but definitely not worth the price of 51.99. I can go to regular stores and get better ones for half the cost of this one. It came in a plastic bag that you can hang in your closet until it is time for it to come out. It comes with five pieces to it; one is these common cheesy vampire teeth.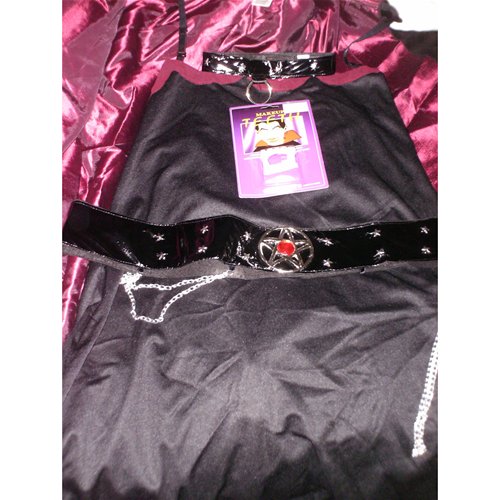 The dress is 29" in length and is 20" wide from side to side. It has very little stretch so if you have a pooch it'll show some if not a lot. There is no underwire to support your bust so if gravity has taken a hold of you like it has me then you will definitely have to have a strapless bra to hold yourself up. The cape is 32 1/2" which is longer than the dress. It has two adjustable straps which connect the cape to the dress. With the costume being cramped in a small bag it comes out horribly wrinkled, and needs to be spritzed with water and hung to air dry or simply put it in the dryer for a short time. The choker is 18" in length and 1" wide with Velcro on both ends to make it stay on, the design is four stars across it and has a plastic O-ring in the middle.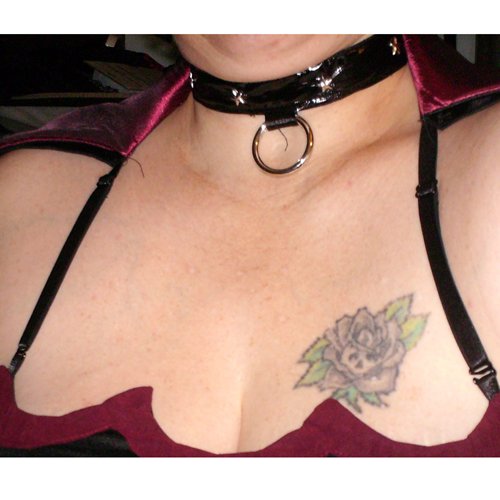 The belt is 49" and is just a little over 2" in width it also has start three rows with two in each row on both sides of the belt. In the middle it has a pentagram symbol stitched onto the material. Now some people will have a problem with it me personally I don't see what the big deal is. If you don't like it there you can always remove the plastic insignia maybe add it to a chain and use it as a necklace. It can also be turned around to make it a pentacle.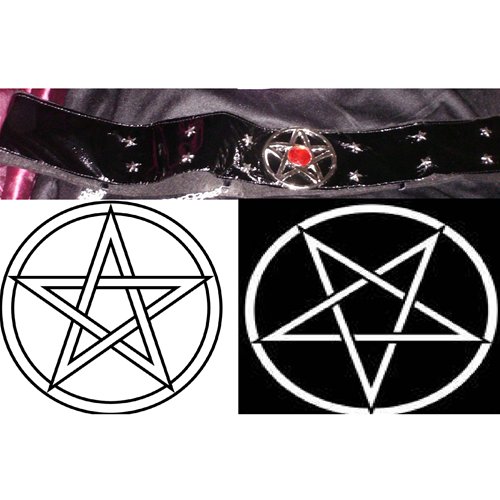 I gave this a two star because I did not like the feel or fit of this piece but that is just me. Someone else may love this piece. I like to dress up like the next girl but I don't go to parties of any sort. When I do dress up it's for a renaissance fair that we have here. I like to be able to have something that I can move in without having to worry about wardrobe malfunctions for when I'm fighting and such.
With the dress being so short the least amount of bend will show off your goods nicely, so it would be well advised to make sure there are no kids around when you do wear this outfit. Now this would be perfect for "adult" Halloween parties, whether you're hosting or a guest to one.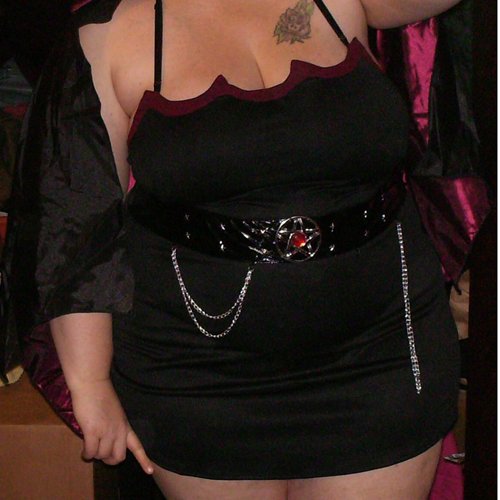 The material is Polyester, it can be hand-washed in warm water with a gentle detergent. It can be ironed on low and is harder than some materials to snag.
Now for me this is a flop as a costume but It will made a decent top with a little tuck here and a nip there, or even as is with a skirt over it.
Follow-up commentary
2 months after original review
Great for an adult Halloween party only. The outfit is made completely wrong for anything. I wore this outside as a shirt and it just didn't hold up to my expectations. I was constantly re-adjusting myself since the outfit has no support. After the readjustment I found myself pulling the material down and back to the boob readjustment.
This product was provided free of charge to the reviewer. This review is in compliance with the FTC guidelines.

Thank you for viewing
Fang bangin fun vamp
– costume review page!