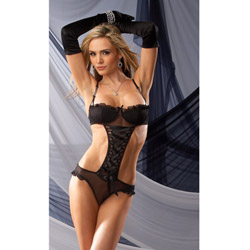 Teddy with snap crotch
Teddy
by Coquette
Cute for the Right Shape
This is super cute... if you're tall with hips and small boobs. This teddy is definitely not suited for a wide range of body types, and there are some flaws in the execution of it. Great idea, but I wish it had better follow through.
Published:
Pros
Cute design.
Cons
Does not suit a range of body types.
I must say, I very much have a love/hate relationship with this teddy.

Let's start with the pros of this outfit: It's absolutely adorable. Normally I'm not one to go for teddies, but I really loved the lace up front and ruffle detailing on the bra cups (fun fact for those who aren't aware-- ruffles will give the illusion of larger breasts)and the sides of the panties. To me, it looked sexy, sleek, with just enough ruffle and sparkle to satisfy my girly side without being overly girly. But it was definitely the snap crotch that sold it for me. Sexy and convenient! Plus it has cut out sides and is mostly backless... hot!

In short, the concept and design are gorgeous. The actual execution? Not so much.

I wasn't expecting the material to be high quality. Let's face it, mesh isn't the most luxurious fabric out there to begin with, and this is a relatively inexpensive piece. That said, I was pleasantly surprised to find that the mesh is fairly soft, though not something that will stand up to a lot of heavy play. The ribbon was also slightly better than I had hoped for. Not exactly great quality, but definitely not that papery stuff that's used so often in cheap lingerie.

Now, I was unpleasantly surprised to find that the material used for the bra cups felt very cheap. The cups also have a seam right in the middle of them, making the bra a bit scratchy. Ick! The rhinestone embellishments were also very poorly done. They would be much be cuter if they weren't so cheap looking. They're little plastic bits that don't really sparkle at all—more of a dull glimmer. Like I mentioned before, I wouldn't expect high quality simply because of the low price, but I'm sure I'm not the only one who would pay a few dollars more for rhinestones that actually look like…rhinestones. Another issue I found is that the buttons in the crotch area are a bit difficult to unbutton. This is definitely NOT something your significant other can tear open, as it would probably tear the material instead, so take care when playing.

But I can really look past all of that. Scratchy and not-so-sparkly are small prices to pay for something that makes you look smokin' hot, right? Now that brings me to the biggest problem I found personally—the sizing. The sizing chart seems to be off on this one. The cup size runs smaller than listed, and the length of it runs a bit bigger. I'm about a size 4 normally, B cup, so I went with a small. The bra portion did not fit at all! It was almost like a shelf bra instead of a demi bra as listed in the description. Not necessarily a bad thing, just not what I expected. As for the bra straps and the bottom, it's true to size so no surprises there. The actual length of the teddy was a bit big for me, so it bunched up when I stood/sat/laid/etc. in certain positions. Really, it only looked completely right when I stood in the same pose as the model in the pictures. I'm about 5'3", so I'd say it would better suit someone in the 5'5" to 5'8" range or someone a bit shorter who has a long torso.

This teddy is one of those pieces that looks fabulous in pictures, but will only work for people with the right body type. I'd recommend it for pear shaped women who aren't too petite height-wise, which is actually great given that I feel too few things are made to suit that shape.

I feel I should get off my soapbox for a minute and comment on the sewing itself. The actual construction of this piece isn't too bad. All of the mesh is properly edged so that it shouldn't fall apart. The parts where two separate pieces of edging meet are a bit sloppy, but not noticeable to anyone who isn't trained to look for such things. The underwire in the bra portion looks like it was put in as an afterthought, but this isn't apparent from the front of the teddy. There were some stray threads here and there, but overall the sewing of the piece was acceptable, though not perfect.

So.... it has flaws. It has quite a few flaws, in fact. But if you're willing to play around with this a bit (it may help if you have sewing/costuming experience) to get it to look right, it still is a really cute design.
Experience
I think the biggest problem with this teddy is that it looks so darn good in the pictures that I really had high expectations for it. After putting it on though, and doing much tugging and adjusting to get it to look somewhat right, I got it to a point where it was functional for my body. My boyfriend, of course, didn't see any flaws with it at all. All he could say was: "Sexy!"
Follow-up commentary
3 months after original review
This kinda just sits in the back of my lingerie drawer. I've tried it out a few times since reviewing it, but quickly gave up. It's simply not flattering on my shape, and I'm still not sure there's anyone with a torso quite that long. It also has a small popped seam, even though it hasn't been through rough play. I may pull out the needle and thread to see if I can fix this at all. Too cute of a design to waste...
This product was provided free of charge to the reviewer. This review is in compliance with the FTC guidelines.
Forum
| Discussion | Posts | Last Update |
| --- | --- | --- |
| fabric | 3 | |
Thank you for viewing
Teddy with snap crotch
review page!