Cute, and Comfy Wrapped in One..
All I can say is the would be great for those amoung us with breasts that haven't been affected by gravity yet.
Published:
Pros:
Cute, and the price.
Cons:
Breats part may not fit properly on larger breasts.
Both moonlight magic gowns by Seven 'Til Midnight: are sexy and comfy rolled into one really cute piece, even though they come with the g-strings (which I don't wear). With sizes for this set ranging from small up to 3x/4x you're guaranteed to fing the right size to fit your figure. This is in the usual red or black selection, I just wish there were other color selections but that's just me (maybe). This is a nice gown but I can get a cuter one from my Walmart or K-mart store but at a higher price too. I'd still have the problem with the breasts falling out of the sides, so I went with the cheaper choice instead of cute.
Both pieces to this set are made from 90% polyester and 10% spandex, and as such the care and maintnance is pertty self explaniatory for obvious reasons. Hand wash with cold water with a gentle detergent, no bleaching or ironing and definately no dryer this needs to be air dried to keep the piece in tip top shape. The sweing on this is impressive with no missing stitches that I see every now and then.
It's very comfortable, light weight and this gown fit almost perfectly and it's the same size as the bridal gown I bought earlier, and for some reason it was very ill fitting. The design of the two is almost the same not quite though and the material composition is listed under the pictures.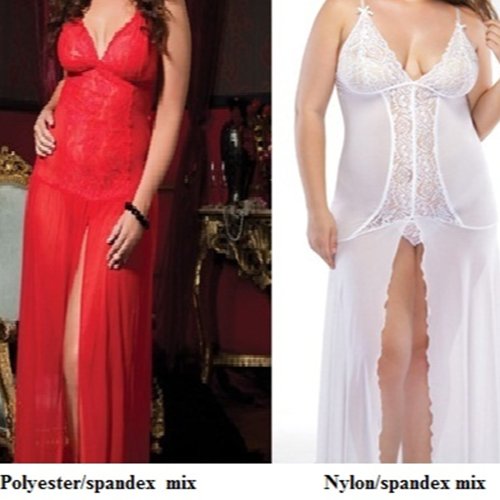 From the tip of the shoulder going all the way to the bottom it measures 5'5", I myself stand 5'5" and with this on it actually stops at the ankles so there's no worry about tripping. Going to the middle of the gown, it is 16 1/2" unscratched and stretches to 30", the middle of the gown has lovely lace with flower designs in it and the lace measures 6", 3", 6" creating a lovely hourglass shape and it is 13" in length. The breast part is this pieces downfall; 9" in length and 6 1/2" at the widest part with no breast support what so ever. No padding, no under wires, nothing but the lace and the shoulder straps.
The g-string is 17" across and can stretch to 23" the middle section is 13" and stretches to 16". It is made of the same material as the lacey material in the middle of the gown except that this stretches.
I still have problems with the sides not having enough material for my breasts and have resorted myself to wearing a bra while in night gowns. For women with smaller breasts than a DD, or even nice firm perky ones this will form to your breasts perfectly and shimmy down framing the body just right.
Follow-up commentary
2 months after original review
This is still a well-fitting and lovely gown, would make a great gift for that special someone for any occasion.
This content is the opinion of the submitting contributor and is not endorsed by EdenFantasys.com

Thank you for viewing
Red moonlight magic gown
review page!