Red moonlight magic gown
Gown by Seven 'til Midnight
Lacking in quality and design.
I don't think that this set is worth its price personally. I find everything in this set to be majorly lacking. I don't think the thong could fit very many people and the dress is just flat out uncomfortable and isn't even going to be shown to my S/O unless I can make some major changes to improve it.
Published:
Pros:
Gorgeous red color.

Affordable.
Cons:
Cheaply made.

Does not flatter all figures.
When this dress first arrived I was very excited, I remembered thinking that this would be a GORGEOUS addition to my frequently growing lingerie collection. However when I first tried this on, I was very disappointed with it.
I found that the dress part of this set just wasn't very flattering to my figure, and that it made my body look like I was a 12 year old girl without any hips. I was very sad to see this.
I instantly started to mess with the set, trying to find a way to make it look better on me. I just DON'T see much room for improvement here. I am hoping that with a little more thought I will find a way to make this work for me, but I don't have much hope left and am not sure that I can fix this mess.
Overall I didn't find this dress set to be very high quality--I guess you get what you pay for.
The thong that comes with this set is small and chintzy, but at least it works and it is fairly comfortable.
The dress is a gorgeous color, but it is scratchy and sewn together poorly.
On the bright side I did find the sizing chart to be accurate, and this dress does come in a variety of sizes ranging from small to 4X. I personally ordered the size small and it fit me very well.
My personal dimensions are
Clothing size: 0-2
Cup: A
Bust: 34" inches.
Waist: 24" inches.
Hips: 33" inches.
Seven til midnight sizing chart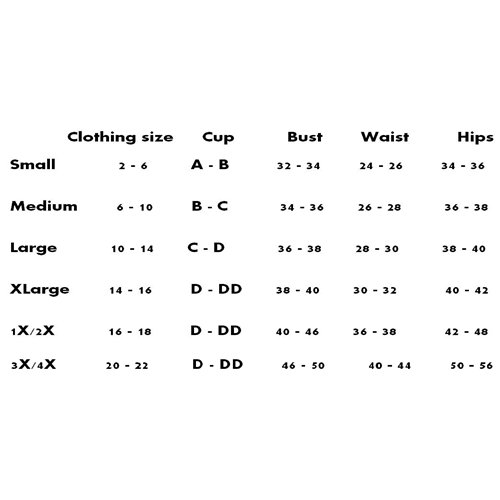 Material
The dress part of this set is 90% polyester and 10% spandex. This means that the material is soft and stretchy.
When I first put this on, I noticed that the lace felt slightly itchy to me, which made this uncomfortable to wear. Usually this is something that I simply look past, but since it was a little too noticeable for me to ignore, I thought I would mention it.
The thong is also made out of 90% polyester and 10% spandex. However unlike the dress, it is actually very comfortable to wear and does NOT have any of that itchy lace on it.
Care
On the tag of the dress it says the following
- Hand wash with cold water.
- Do NOT bleach.
- Do not iron.
- Line/ Air dry only.
I personally would not recommend going against what the tag says, better to be safe than sorry.
Packaging
This lingerie duo comes to you packaged in not only its shipping box, but also in a thin plastic wrap.
This plastic wrap is simply to protect the lace on your new delicates. The plastic wrap can be reused if necessary, but since it's cheap, I don't see anyone wanting to keep it for storing purposes.
Inside the shipping box there was a small little magazine type thing that has a male and female couple in underwear on the front cover.
This magazine has a few of the products that they sell here at EdenFantasys.com in it.
I am not sure that this is something that USUALLY comes with this dress or not, but it did come with my package.
Attached to the lingerie you will find a picture of this set being worn by one of the models- this is the same picture that is on its products page.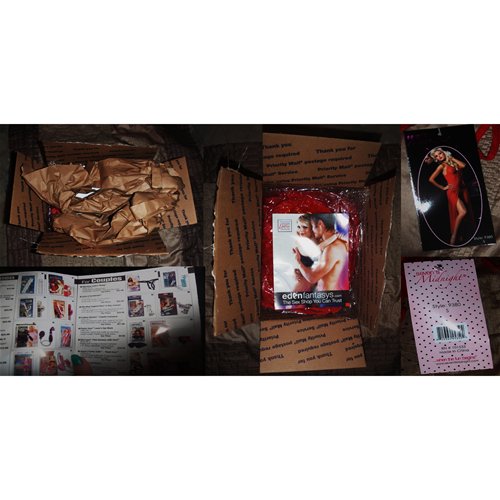 Experience
So far my experience with this product hasn't been very good, I give it a rating of 2 1/2 stars since it really hasn't done it for me in the whole sexy and satisfying department.
The few good things that I have found with this product is that the color is very gorgeous and the sheer lace cups are very nice, but other then that... there isn't much to this piece.
I love the idea behind this piece and the whole dress/lingerie combination, but I'm afraid to say that I will have to keep looking to find something a little nicer then this one to be truly satisfied.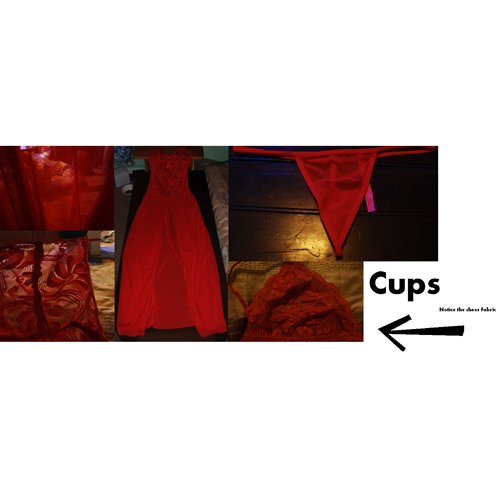 This product was provided free of charge to the reviewer. This review is in compliance with the FTC guidelines.

Thank you for viewing
Red moonlight magic gown
review page!