Cute, Versatile Thigh-Highs
These stockings are not as durable as I was hoping for (they get little black horizontal lines in them when I pull them up, though you can only see them up-close), but the price is really reasonable, because the opaque material is denser than sheer stockings. It is also a very versatile set that you can wear in public, and though they fall down a little bit, they stay up very well with garters. I really like these, and they are some of the best stockings I've bought.
Published:
Pros:
Fairly durable, cute bows, easy to put on, can wear in public, work great with garters.
Cons:
Bows crinkle, stockings get little black marks from stretching (but all stockings do).
I bought these stockings because I love thigh-highs but mine always seem to get runs and dark, horizontal lines in them after one or two uses. I thought that these might be more durable than other pairs I've had because they are opaque, so I figured the fabric would be denser.
They arrived in a slim cardboard box with a plastic bag inside. I would say the packaging is relatively simple and about as classy as stocking packaging gets.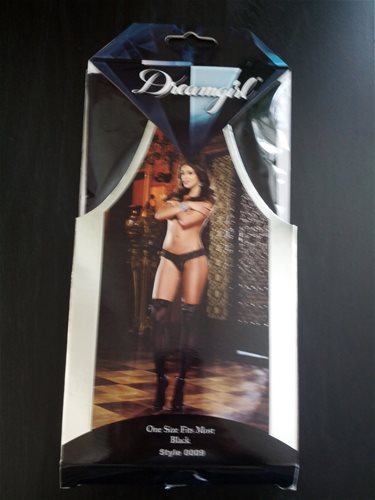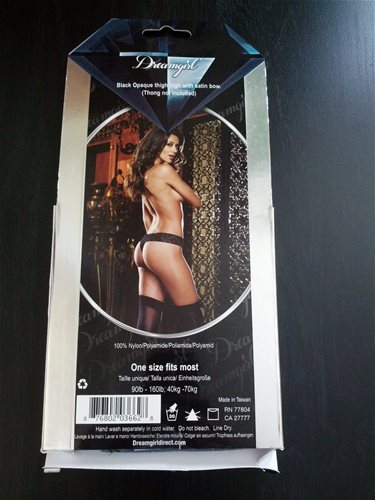 I ordered the One Size Fits Most. I am 5'4" and generally a Medium. I found them easy to put on, comfortable, and a bit stretchy.
Unfortunately though, it seemed that they naturally only went to a couple inches above my knees. I pulled them up a few extra inches, and it left little black lines across them from the first time I put them on. I know that this happens with a lot of stockings, and this doesn't mean that they won't last. The fabric does seem thicker than most stockings, and I don't expect that I will get holes in them, but I think I will get a lot more of these black lines in them. Luckily, you only notice them close up.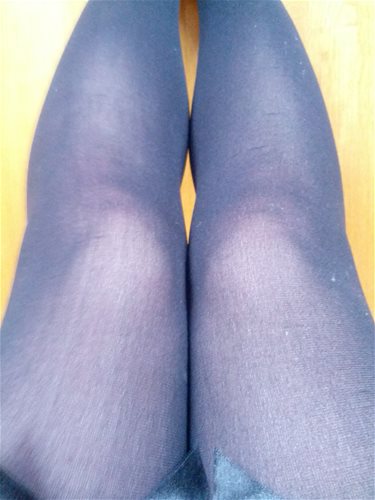 They are shown here, mostly on the right leg.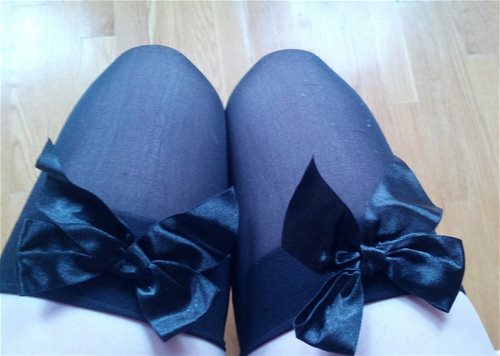 The bows are crimped in weird directions from how the stockings were folded in the packaging, which makes them look a little bit cheap. However, I do like the silky material and I think they're cute and simple. They're a nice touch on the otherwise completely plain stockings. And I'm glad that they are relatively small, as you wouldn't want very long bows that may stick out from he bottom of a dress or skirt in public.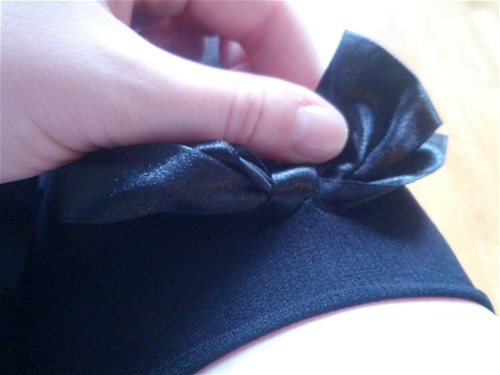 The bows are sewn on pretty tightly. I tried tugging, and they would be hard to pull off. They aren't sewn on symmetrically though, and they are only sewn in one place, the same on each side. I would've liked if they had been stitched on in multiple places so that the bows always face forward.
They fit me fairly well - they are not too tight or too loose. They seem to stay up well at first, but once I walk around, I can feel them inching down a couple inches. After 5 minutes, they start to roll down a bit at the top.
I have tried them on with and without a garter belt. Here is what they look like without: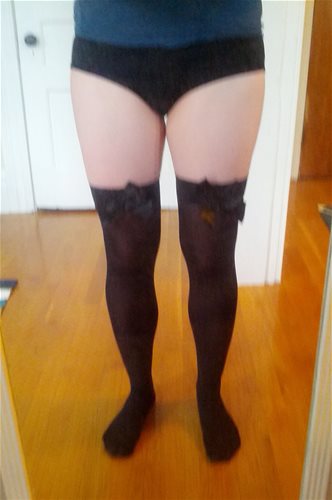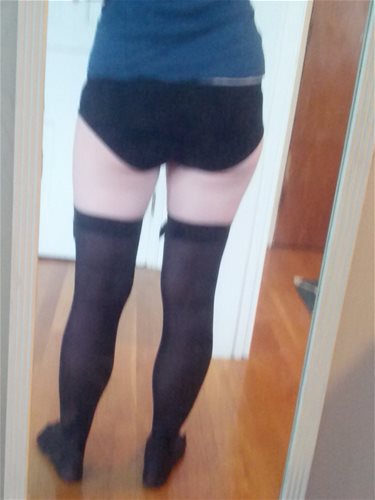 Here is what they look like with a garter belt: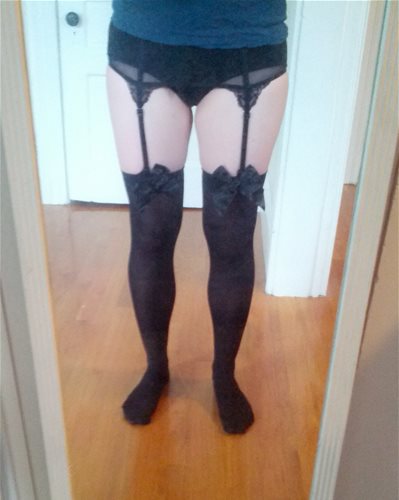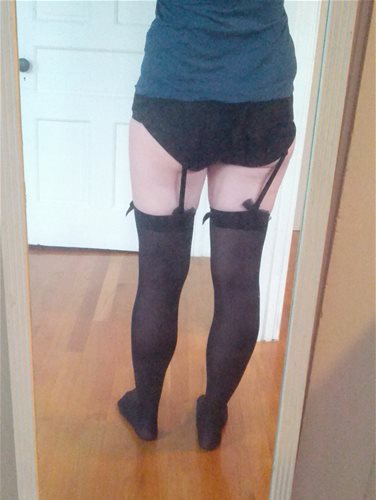 I noticed that they stay up much better (that is, I don't feel them inching down) when I wear them with a garter belt. They were also easy to put a belt on, since the fabric at the tops of the stocking is thick (thicker than the rest of the stockings), so I didn't have to worry about pulling on it with the rubber garter fasteners. I also feel very confident when I wear these with garters, so I am looking forward to wearing them with my boyfriend soon.
I think that these are very cute and simple, and they would go with pretty much anything. I have worn these in public with a long-enough skirt (which doesn't have to be that long, just to a few inches over the knee), and they would never draw attention the way that some other stockings like fishnets would. Also, if anyone found them they might not even think of them as a lingerie item for your partner, but just as regular stockings, so they are fairly discreet.
Overall, I think these are fairly good quality, and the price is very reasonable. I mean, it's hard to find any stockings that don't get stretched out eventually. For $7.50, these seem much more durable than the sheer stockings I have bought from department stores that I only get to wear once.
I hope that I will get a lot of uses out of these. If they get runs or too many little black marks, then I would probably buy them again or something similar. I would suggest these to anyone as long as you take good care of them (don't pull them too much).
I was going to give them 4 stars, but I decided on 5. While I wish the material were even denser and more durable, I really think this is the best quality you are going to get for the price, so what more can you really ask of them?
This content is the opinion of the submitting contributor and is not endorsed by EdenFantasys.com

Thank you for viewing
Black thigh high with bow
– thigh highs review page!