Dear Santa, this Christmas I'd like the other half of my chemise!
Put some "ho ho ho" in your holidays with this barely there chemise from Coquette. It makes a nice novelty outfit or a really excellent cat toy.
Published:
Pros:
Festive, soft mesh, low price
Cons:
Backless, not the most flattering cut, bra band rides up.
Even though Christmas was a month ago, I decided to get this Santa Chemise by Coquette while it was on sale, just in case it wasn't still around next year!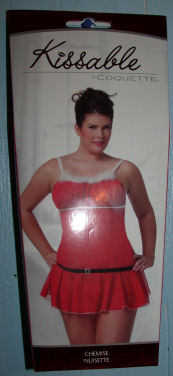 The chemise came packaged in a cardboard display box, like all Coquette "Kissable" line products. I was surprised it wasn't wrapped in plastic or anything, just smooshed in the box.
This piece is available in one size fits most and plus size. Lingerie that's sized like this is the bane of my existence, because at a size 10/12, the one size things are usually too small, but plus size are way too big. I went with the plus sized option on this one, since I figured it would be better to have it a little loose than too small.
Fresh out of the box, I noticed two things. First, it was super wrinkly. The chemise looked like it had just been wadded up and stuffed in the box, rather than neatly folded before packaging. Given that you have to be really careful ironing this type of material, that was annoying. Second, it's really tiny looking fresh out of the package. Since it is made of stretchy nylon, it's like when you take pantyhose out of a package and they look toddler-sized. I took a photo next to an XL Coquette corset for size comparison: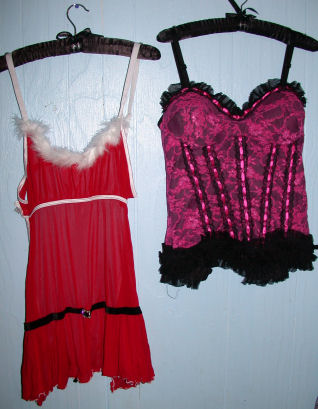 Coquette's size chart says that the plus size should fit sizes 18-26, D cup, 46-54" bust, 38-46" waist, 48-56" hips. In this particular instance, the size chart is total crap. I'm size 10/12, 38D, 33" waist, 39" hips, 5'11". This fits me for the most part, but it's just so WEIRD.
I don't even know how to explain this thing to you guys, but given that's kind of the point of reviewing it, I'll try to start at the top and work my way down. The straps at the top are like white bra straps- adjustable but not removable (and on this piece, you wouldn't WANT them to be removable, since they;re basically the only thing keeping it on.) They are nice and thick, but that's not necessary since this doesn't really offer support, so the straps aren't really holding you up.
The neckline is trimmed in white marabou feather trim. It doesn't look as nice as in the product photos, but it isn't totally crappy, either. It's... festive. The bust area of the chemise has a white elastic seam below it, which will kind of hold your boobage in place, but unless you're rocking some plastic boobs, it isn't going to hold them up. There is a bra band in the back, but it was too loose on me to be effective. The band has two sets of hook/eye closures, and is probably best going to fit around a 40 band size. Although I had the straps on a medium length, the bra band keeps edging itself WAY up my back. At first I assumed it was because this doesn't really fit me that well, but I noticed that when I hung this on a hanger for photos, the band naturally comes way up to the neckline, rather than falling down at mid-back level. Weird.
Although the size chart says this is made for a D cup, the sides of the bust area were really baggy on me. Tightening the straps up helped a little, but it was still a loose fit. I'm definitely on the larger side of D/border of DD, so if you have large breasts and can never find lingerie to fit, this may work!
Here's where things get weird. I never realized that this chemise has NO back! There's the bra band, and the little black belt at hip level continues on around, but that's it. I've had this on my wishlist for ages, and considered ordering it several times, so I couldn't figure out HOW I managed to never notice there's no back! I finally discovered that the back is only shown in the one size photos, not the plus size, so I guess that's how I missed it.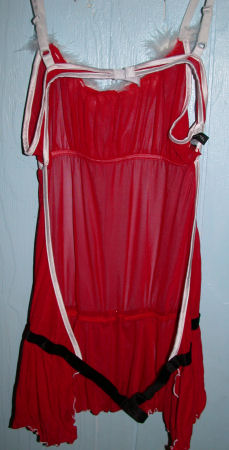 I'm not really digging the no back thing. I want the other half of my chemise! It's really more of an apron than a chemise, now that I think about it.
Due to the whole "no back" thing, you can see skin on my sides when I'm facing forward, since the front panel isn't very wide. I'm so confused by this design decision. I would understand that happening if I'd ordered the one size, but given that the size chart says this should fit six sizes larger than me, it seems like the sides of everyone's belly is going to be hanging out. Showing off belly rolls is TOTALLY a woman's favorite thing, Coquette.
Experience
The bottom part of this is actually really cute. The little Santa-style belt has a velvety texture, and the buckle adornment is a nice touch. As I mentioned, this sits low (it falls about 2" below my navel) and continues on around to buckle in the back, where there are three hook options. In another weird design choice, the black velvety belt isn't that stretchy. It has some give to it, but not a lot, and given the thick nature of the elastic in it, it's probably going to cut in uncomfortably if you're on the larger end of its range.
The tag says to hand wash and hang to dry, but if you've ever tried to get feathers to look cute again after getting them wet, you know it sucks, so I'd suggest trying to avoid getting the trim wet. I'm also a little curious if the black belt's color will run any when wet.
Even though I have my complaints about the design, the fabrics and construction of this are nice. The red mesh is soft and feels really nice against the skin, and all the seams are securely sewn with no loose threads.
Let's break this thing down in numbers:
22" long from feathery trim to bottom hem
12" long from seam under bust down to belt
Under bust 17.5" across on tightest setting unstretched, stretches to about 22" on loosest setting.
Black velvet "belt"- 20.5" across unstretched, stretches to about 24"
8.5" long "skirt" below the belt
Red mesh is 14" wide below the bust 20" wide about halfway down the midsection.
I had some trouble figuring out how to photograph this, since there's so little to it. I hate when I'm reading a review and then BAM, way more than I ever wanted to see of someone. Still, I don't think this review would make much sense without seeing it on a person, so I did my best: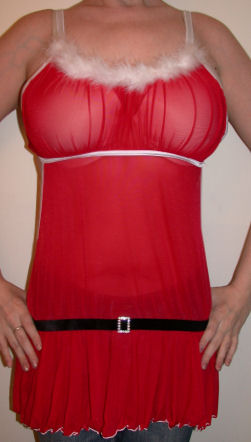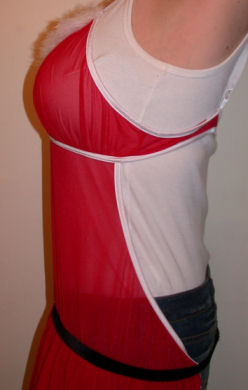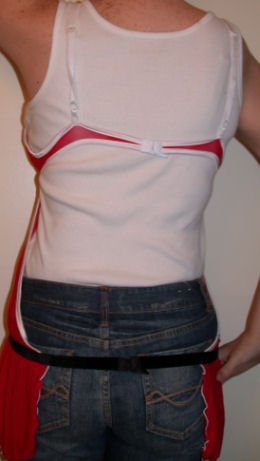 My original thought when I saw this online was that it would be really cute for a Christmas party if you wore it over a white camisole, but given how skimpy it is, the only party it's appropriate for without something underneath is a party in your pants.
I just can't get that excited about this piece. For $20, it's a fun little novelty item to break out near the holidays to let your partner know you'd like them to stuff your stocking, but I really can't see myself getting much use out of it.
A note to cat owners: Wearing this around cats = instant death. I nearly lost a hand just trying to measure it, there were so many sneak attacks. I actually considered removing the feather trim and just frickin' giving it to the cats, but the stitching underneath is SO ugly, that's not going to happen unless I can find something cute to sew on top.
This content is the opinion of the submitting contributor and is not endorsed by EdenFantasys.com

Thank you for viewing
Santa chemise
review page!