Decent and Surprising
This lingerie offers decent material, an accurate sizing chart for the fit, and a product that will speak volumes in the bedroom. Whether you're looking for something a little sexy to wear under a dress, or just something to take off in the bedroom, your money won't go to waste with this product and you'll find yourself pleasantly surprised at just how well it's made. Two thumbs up to Coquette for making something that fits and serves it's purpose!
Published:
Pros:
Adjustable garters, Great fit
Cons:
Scratchy lace, Non-Removeable garters, No plus size
Coquette practices what they preach with the Lace Overlayed Satin Bra and Garter set, and I'm pleased to say it's comfortable enough to wear on a night out. When I first received this package, I wasn't anticipating a good response, but I stand corrected. This neat little bundle is pretty much what you pay for. While it may not be Victoria's Secret, it's worth the price you pay, and the materials aren't nearly as cheap as you'd expect from a "One size fits all."
This garment in particular isn't strictly one size, but there isn't broad range of sizes offered at all, so you'll need to use the size chart to get a good estimate for what size would be fitting for you. I ordered a large and expected it to be too small, but it was just right. My waist measurement is somewhere between 38-39" and the garter fit extremely well with all that curve. I was highly impressed.
The black lace is very giving in terms of waist size, especially with the garter belt. I expected that piece to be the one that fit the least, but everything fit my over-sized proportions just fine. It was snug but not tight, with enough give to look comfortable and fitted to my body.
The panties were a thong cut, but the material in the front covers a fair bit, especially with a size L. They're a comfortable thong, because the material is really soft. And while all thongs give that wedgie feel, this one is more comfortable than most. I could deal with wearing it for a few hours at a time. That is coming from a non-thong wearer, so if you're used to them, you'll love the comfort of the fit. It's roomy.
My chest is a high C, closer to a D. While this bra doesn't look like the spitting image of the model's on me, it fits well enough to still be sexy. The lace on top in particular covered anything that didn't fit into it.
The black lace is a little scratchy around the waist. But for the price and look of the garments, you have to expect that this set is more for show-and-tell than comfort. And it'll look great, so I can't complain in that department. The tiniest bit of discomfort goes a long way with this lingerie.
Here's the set as a whole: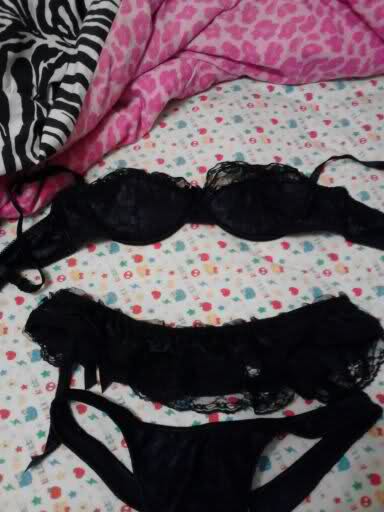 Note: The garters on this set are not detachable!
The panties fit so comfortably and are made of an amazingly comfortable material, as well. They looked big when I first unwrapped them, but the large was my PERFECT size and I was really, really impressed. I love the way they fit, with enough looseness to make me feel like nothing was being pinched or held uncomfortably in place by restrictive fabric. I'm a size 12 in pants roughly, so if you're close to that, a little bigger or possibly a little smaller, they'll fit you just fine!
The garters are adjustable to height and worked really well for my short legs. But the real problem I had with this was finding suitable thigh-highs! If your thigh-highs don't fit you right, this set won't look how you think it should. Just a warning.
Overall, the garment isn't going to be top notch, because lingerie isn't a full-on specialty here at Eden. The lingerie offered is generally good quality and stays true to what is advertised. I had some disappointments with this garment, as I have with all S, M, or L garments that leave room for body types such as mine to look uncomfortable and misplaced. This one surprised me with the fact that while it may be a LITTLE rough around the edges, it fits well enough to make me feel comfortable with my partner. I'll be wearing it very soon.
I would recommend a large size for a fuller figure. You won't be disappointed, especially if you aren't spoiled in terms of lingerie and expect something to look nice without costing you top dollar.
Experience
I'm 5'0 and 160lbs, and I never thought this would fit me. I'm going to keep my experience real and hopefully, for you fuller-figured girls, give you the 'skinny' (haha) on this garment.
I ordered it with Eden Points I'd saved up, in hopes that if it didn't work out for me I'd simply return it or pass it off to a friend. I'm small-framed with quite a chubby tummy and big round thighs.
The garter belt didn't strain against my chub nor did it rub me in the wrong ways. It wasn't limp and un-elastic-y, either, though. It had just enough give and cling to make the garment look comfortable on my body, and not like it was straining against any extra curve. That in itself, when you're doomed to a life of "Well, this just doesn't fit," and shoving things into the back of your drawer, is incredible.
The bra surprised me as well. Usually, the bands refuse to circle around my back due to my large chest, and I can't hook them without it digging into my spine. This was not the case with this lingerie. It easily hooked across my back and sat comfortably on my chest.
I then thought the cups wouldn't cover my full breasts and I'd be stuck with nipples hanging out, but the lace trim at the top covered my nipples. During vigorous activity, one may pop out at any given time (when I leaned over to attach the garter belt hooks and was cursing the tights), but it's simple to pull it back up, and there you have it. When I realized both the garter belt and bra fit me (with absolutely no work trying to adjust it to sit right on my hips or to shove my extra amount of boob into the cups), I already knew I'd have some good things to say.
And then there's the quality. Overall, yeah the lace is a little scratchy, but when all you're really looking for is something wearable for a little sexy time, what have you got to lose? At a price of $30, and with the sales going on non-stop, it's definitely worth just giving it a look-see to see if it'll be suit you.
I feel like I got my money's worth out of this, and I would've paid much, much more elsewhere for the same garment. Check it out, even if you're skeptical about how it might fit. You might find yourself pleasantly surprised.
Some may think the bra fit me in a way that was too small, but I feel really comfortable in it and I'd wear it underneath clothing, even with the scratchy lace. It fit my chest in a way I liked.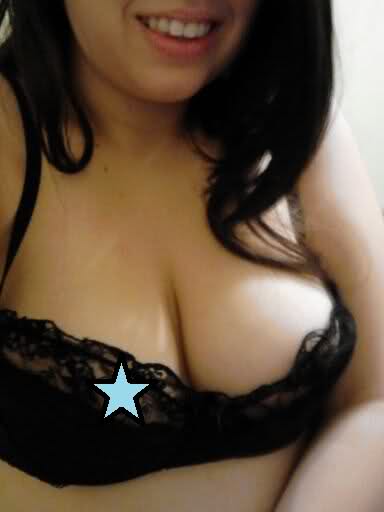 Coquette made a friendly garment that with its adjustable garter straps and nicely fitting bra, will make me a returning customer.
This garment is made of 100% polyester and you'll want to hand wash it. The material is pretty delicate, so it's liable to tear and fray at the edges with too much washing or too much friction with other clothes.
Follow-up commentary
3 months after original review
So far, the sexiest set I've owned and has held up through how often I wear it. I'm still obsessed with the fun lace design and how every piece looks on my body. It's been a little uncomfortable to wear under outfits sometimes, but the way it makes me look has more than made up for that. I still highly recommend this set to anyone who feels comfortable in black lingerie and is a fan of lace.
This content is the opinion of the submitting contributor and is not endorsed by EdenFantasys.com

Thank you for viewing
Lace overlayed satin bra and garter set
– bra, panty and garter belt set review page!