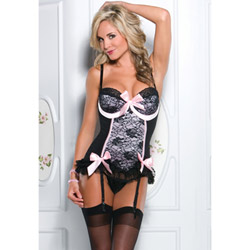 Lace bustier wire cups
Bustier
by Coquette
Destination: Sexy or Bust(ier)!
This is a beautiful, comfortable, very sexy bustier with plenty of options due to all the removable straps and bows. It doesn't come with matching panties or stockings, which you might expect at this price, but it's very easy to match. Each panel has two layers of fabric, and the interior fabrics are all very soft. While it won't cinch inches off your waist, it will smooth any minor tummy or love handle imperfections which will give you the confidence to strut your stuff!
Published:
Pros:
Well made, Smooths slight tummies and handles, Very feminine and pretty, Removable straps and bows
Cons:
Cups are a bit small and don't support larger breasts, Can be hard to close, No matching panties
*General Info:

This lace bustier is a very pretty, feminine piece of lingerie. It's made in China of 82% Nylon and 18% Spandex exclusive of trim (the trim is the boning and the hooks and eyes). This piece has removable shoulder straps (which come in a plastic baggie), removable garters (which also come in a plastic baggie) and 3 pink bows hot glued to brooch style pins so you can remove them or put them somewhere else if you want. One thing I was really impressed with was how the tag and the baggies of straps were attached to the bustier: with a small black safety pin. That ensures there won't be any of those pesky plastic tags to pull the material or be cut off.

*Packaging/Storage:

It comes on a clear plastic hanger, with the Coquette name and logo on it, and inside a clear plastic bag. It hangs on the hanger via two 3.75" long straps sewn into the armpits of the piece, much like a strapless dress would. The hanger is sufficient for future storage.

*Cups:

The product information says that the cups are padded, but really, they are lightly lined at best. There is about 1/16th of an inch of lining in the cups. My breasts are a full C cup, and the cup size for the medium bustier (which I ordered) is listed as a B. That seems true to size. My breasts do fit in the cups, and the underwire gives them some support, but I spill out over the top. My man does not find this to be a negative; however if you are looking for something to hold your larger breasts securely, you will not find that here.

The exterior of the cups is a layer of flowered lace over a pink satiny material, and the inside is a soft black material. There is one fairly substantial seam going up the middle of the cup inside, but it is not bothersome when worn.

The cups are about 5.5" wide at their widest point, and they are the demi, or half-cup, style. The cup is about 3.75" tall, with about another 1.25" of lace trimming on the top.

*Body:

There are 6 pieces of metal boning in this bustier; two in the front, two in the back and one on each side. There is a panel of flowered lace in the front, overlaying pink, satiny material. The center of the front comes down in a very slight V shape at the bottom.

Around the sides there is black "power net", which consists of double panels of stretchy material that provide some smoothing. This will not suck you in or cinch inches off your waist, but if you have any minor issues with love handles or a tummy, this will smooth out those lumps and bulges.

The back closes with 18 metal hook and eye closures set in a black, non-stretchy strip. There are two sets of eyes that are about 0.75" apart, so you do have a slight size option. On both sides of this closure there are panels of the black flowered lace overlaying pink, satiny material. The boning in the back curves in toward the center.

The bottom is edged in two layers of 2" long, very soft tulle, giving it a very feminine flair.

*Sizing/Measurements:

I got the medium size, which is a true fit, for sizes 8-10. It says it is for waists 26-30", but it measures about 28" around, not stretched, and It can comfortably stretch to about 32" around. My waist measures about 30" or 31" and I can very comfortably wear it on the tightest closure. I think a 32" waist could also wear the medium very comfortably. I usually wear a size 8, so this was right on target for me. The sizing chart is very accurate, including on cup size. If you do happen to get a size that is a little too tight at your waist or hips, you can leave the bottom half of the hooks and eyes open. This will allow you to wear the piece comfortably, and it does not look funny at all. The piece will stay up and look fine if at least the top 1/3 or 1/2 of the hooks and eyes are closed.

The middle front of the piece measures 14.5" from just between the cups to the bottom of the tulle trim. The sides, from the armpit down to the bottom of the tulle trim also measure about 14.5". The middle of the back measures 13" long. (This is a measurement I'd like to change. It's a couple of inches too long for me, causing it to buckle out slightly in a few places. It isn't super attractive, but isn't a deal breaker either.)
Experience
*Straps/Garters:

The removable shoulder straps are very stretchy. They have a plastic hook on each end that slides into a stretchy fabric loop inside the bustier. There is also a plastic slide adjuster on the strap. The straps can go from 16" long, not stretched, to 9" long, not stretched.

The removable garters are also stretchy. They have a metal hook on each end that slides into a stretchy fabric loop inside the bustier, and a metal slide adjuster. The garter closures are metal and silicone, with black satiny ribbon covering it. The garters can go as long as 9.25" not stretched, to 13.25" stretched. They can go as short as 5.75", so you should be able to find the right length for your needs. They are definitely quality garters and made to last.

*Washing/Care:

The instructions on the tag are to hand wash this bustier. I chose to put it in a lingerie bag and use the Hand Wash cycle on my washer. You could wash it in a pillow case tied closed at the top if you don't have a lingerie bag. Use cold water only, and lay flat to drip dry. Once clean and dry, close the hooks and eyes in the back, and hang it to store.

*Experience and Personal Thoughts:
This is a sexy, sexy piece. We both fell in love with it immediately. It can be a little difficult to get into if you try to put it on and then close it by yourself. I was able to close it in the front and then spin it, very carefully. But, an easier way is to close it and then slip it on over my head. Otherwise, have your partner close it in the back for you.

It hits about halfway between my bellybutton and groin. It is comfortable to sit down in, and will keep your posture straight. It doesn't come with matching panties, but fortunately it's very easy to match with any black panties you already have. You could easily wear a harness instead of panties with this piece for some strap-on play.

It can be worn during sex in a variety of positions; however, larger breasts may very well pop out of the top of the cups during the act. This is not something my man or I have a problem with at ALL, we find it kind of sexy, but it may not be everyone's preference. I did have one comfort issue in the missionary position with my legs up; the little pins on the bows at the bottom did poke into my thighs. Those bows are removable though, so taking them off fixed that problem. My only other comfort issue is the cups. The underwire pokes under my arms a little because the cups are too small for me, and my breasts jiggle and pop out occasionally. (The cups are true to size though, they are regular B cups as they claim.) None of this is a deal breaker for me, because of how much I love this bustier. It makes me feel super sexy and all sucked in when I put it on. I seriously do not want to take it off!
This product was provided free of charge to the reviewer. This review is in compliance with the FTC guidelines.

Thank you for viewing
Lace bustier wire cups
review page!