Diamonds and Glitter Are A Girl's Best Friend
The Diamond Mesh Dress won me over in the looks department. My husband was even a fan and he's hard to please. I loved the diamond pattern and the addition of the glitter to the design. For a one size piece, this fit very well and was figure flattering. It probably won't fit as many people as the size chart dictates, but should fit many. However, a few quality issues stop this from being a five star piece for me.
Published:
Pros:
Glitter, Figure flattering, Will fit many sizes, Pretty design
Cons:
Some quality issues
Coquette's Diamond Mesh Dress had been on my wish list for a while. I don't know why it never ended up in my cart, but the lovely
Hot 'N Sexy TexasMama
was kind enough to gift it to me for Christmas. So a big thank you to her!!!
PACKAGING
The dress arrives in a white and pink box that says "Kissable Coquette" with a picture of a model wearing the chemise. The back has the same model only shows the back of the piece. It says that it includes the diamond chemise with adjustable straps.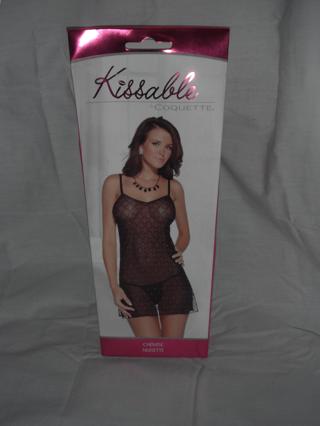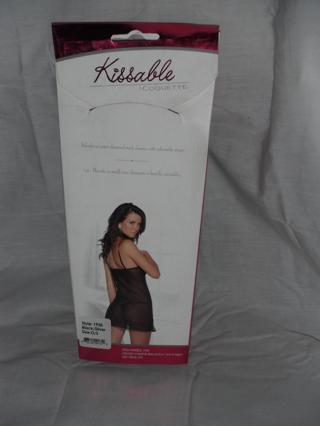 SIZING
The Diamond Chemise is a one size fits all (most) piece. It can also be purchased in a plus size version. For the regular one size fits all I should be between a dress size 4-14. My bust should measure between 34"-40" and be a cup size B. My waist should measure between 26"-32". My hips should measure between 36"-42". My actual measurements are 28" at the waist and 39" at the hips. I wear a dress size 6 with a few size 4's and 8's scattered about depending on designer. I wear a 34DD/36D bra.
The chemise is 22.5" long. Under the bust is 12". The waist is 13". The hips are 16.5". The straps are adjustable. There is no underwire in the bust.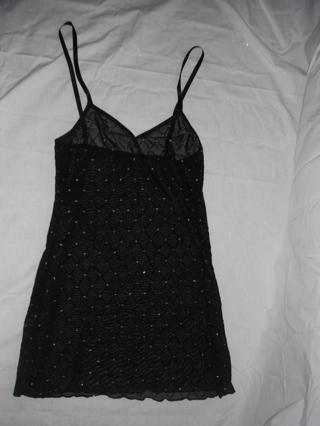 The chemise fits me great, but does not hang on me the same way it does on the model. If you see in the product photos, the chemise looks like it comes out a little bit into a flare on the model's hips. Not so much on me. It hugs my hips a lot more and is more form fitting. There is a good bit of stretch to the material, but it's not super stretchy. I'm not great at doing redone size charts, but my best guess is that this would go up to about a size 10 or 12 comfortably.
MATERIAL
The chemise is made of 82% nylon and 18% spandex. The material is stretchy, but not as stretchy as many spandex materials are. It does have cling to it to an extent. The material isn't completely form fitting, but does cling to some areas. On me, it clings to my hips. If you're concerned about showing every lump and bump, this piece won't do it as bad as some but will do it. The stretch allows it to fit a range of sizes, although perhaps not as many as Coquette says it will.
The material is a mesh material. It is see through to the point where if you put your hand behind it your whole hand can be made out. This does not leave anything to the imagination but does create a very sexy effect.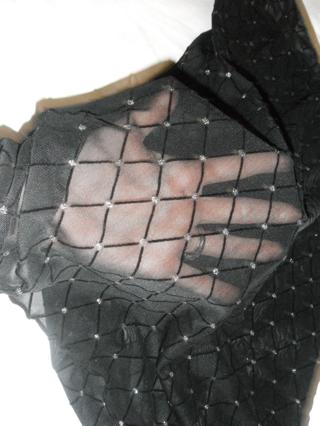 To the touch, the material feels slightly scratchy. When on, it feels very comfortable. I would have no problems sleeping in this and I'm very particular about materials and itchy materials. I found it felt very soft once it was on. It's not plushy as the material is thin, but it does have a soft feel to it once it's on.
DESIGN
The chemise gets its name from the diamond pattern on it. It has black mesh which is then separated by a darker black diamond sectioning. The diamond pattern feels like it is done in some type of a velvety material. In between each of the diamonds is a glitter accent. This adds a sparkle to the chemise that catches light and generally adds a touch of something extra to the diamond design.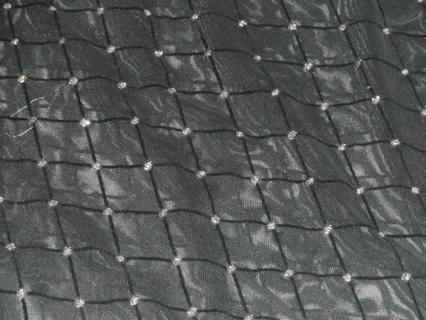 QUALITY
Coquette normally has very high quality lingerie. The diamond chemise isn't low quality by any means, but there are a few things that should be pointed out. There is fraying in a few places - one very large one on the strap and some light ones near seams. In between the where the cups meet the seaming isn't done exactly right. It is sewn together in a point which is then visible when worn. There are also some loose threads in this area. It's not a big issue, but the fact that you can see it when it's worn bugs me. There are other loose threads here and there along the seaming.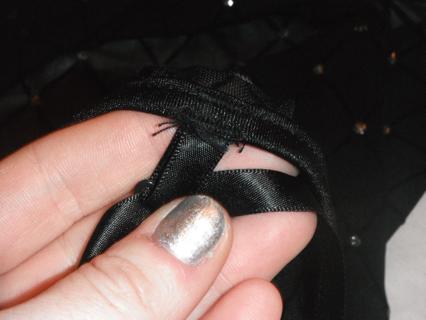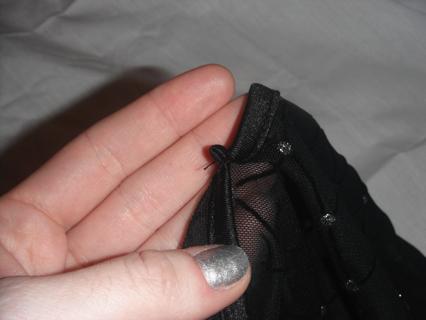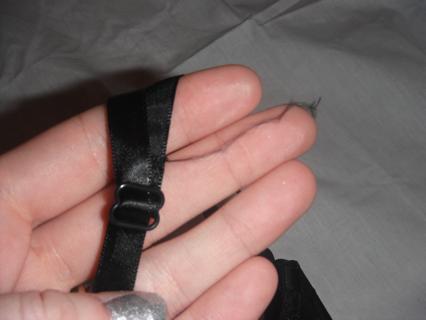 CARE
You should hand wash this in cold water. It should be line dried. It should not be place in a drier or ironed. It should not be bleached.
Experience
I think this looks beautiful on. It hugs my hips just a little, but not so bad that it makes me not want to wear it. I love the glitter accents on it. I love glitter in general and I'm always happy to see it featured in lingerie. I think this is mostly figure flattering, especially for something that has spandex and for a one size fits all piece.
My husband also really likes this. He says it's not his favorite, but said he would rank it "up there" or "a strong four stars." He's not as big a fan of glitter as I am and I'm guessing that's what's pulling down his rating somewhat.
I would have preferred this to have underwire in it as a larger breasted girl, but I've learned to manage without it in lingerie.
This would be a five star piece for me based on looks. What pulls it down is some of the quality issues. It's not bad quality, it's just certainly not the Coquette quality I'm used to. The seam in the middle of the bust drives me crazy and the loose threads are worrisome. So I'm pulling this one back to four stars based on that. I think it's lovely, but the quality just isn't quite there.
Note in these pictures that I wouldn't normally wear anything underneath. It is see through and I didn't think you guys wanted to see all of that! The bottoms are a little tight on me and create a bit of a tummy roll. Believe me when I tell you this looks a lot better without all the stuff underneath it!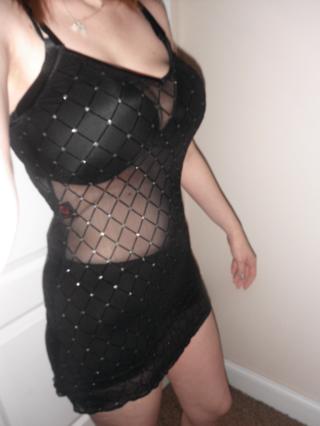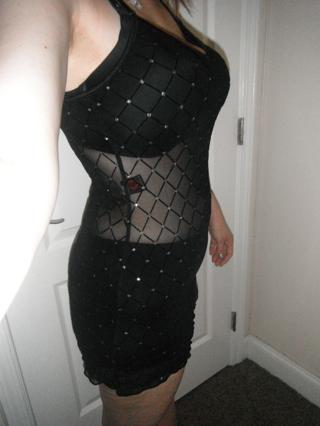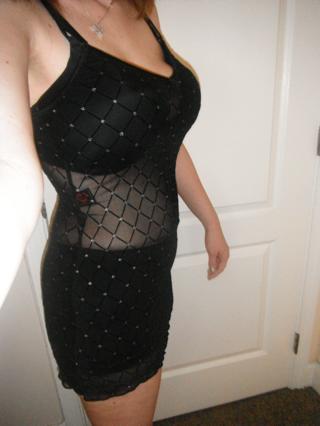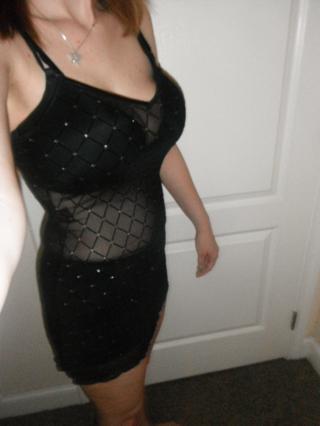 This content is the opinion of the submitting contributor and is not endorsed by EdenFantasys.com

Thank you for viewing
Diamond mesh dress
– gown review page!