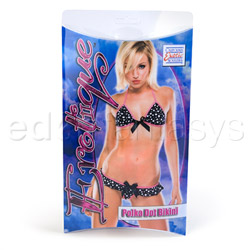 Erotique polka dot bikini
Bra and panty set by California Exotic
Doc, I see Dots
I love clothes but If I were you I would just pass this thing up and try to get something nicer.
Published:
Pros:
One size fits most.
Cons:
Made cheaply and quickly.
Right off the bat I can tell you this product was sewn by machine. I can tell you this because of how the stitches look and the fact that I have sewn for 22 years. The one they used is what I know as a double lock stitch and this stitch is good stitch for clothes that get worn a lot. How I know it is machine stitch is because how uniform the stitches look. I also like how they stitch the bows in placed and did not use glue. Glues are too rough or come out in the wash.



Talking about washing, how do you wash this product? They did not say on the box so here is best way - wash by hand and hang to dry- but knowing how people are, the best way is to machine wash this product. Set your washer to hand wash or the lightest setting you have and after that grab a pillow case. Yes, it is the pillow case trick. The pillow case trick is to stuffing the outfit into pillow case. Tie the pillow case up and throw it into the washer. If you have to have it soon and need to use a dryer keep in pillow case and set your dryer on the lowest setting.




I have a problem with the top. It does not give support. Yes that is right. If you have a bigger cup size like I do, I would not wear this all day because of the fact it give not support at all. As for the bottom I would not wear this product because the skirt curls up and could be seen.




Let go back to the sewing part. This item was made as quickly and cheaply as possible. They only cut the fabric and they do not fold it then sew. This important for three reasons, folding the fabric help feel better on the body, it is stronger and keep it better together, and the fabric can scratches you if not cut right, which this item was not.




All they did was take maybe five dollar and made a top and bottom. If I were you I would not pay more then 20 dollar with tax. Even if it only takes five dollar to make if you are not going to make it ten dollar is understandable and anything higher is highway robbery.
Follow-up commentary
2 months after original review
I know that my husband love how this looks on me but I still do not like it. Thought it might grow on me but it has not. It is not in my kind of style.
This product was provided free of charge to the reviewer. This review is in compliance with the FTC guidelines.

Thank you for viewing
Erotique polka dot bikini
– bra and panty set review page!