Dotted Disappointment
The tricky thing about lingerie is that a piece that works great for one person's body can be a complete mismatch for someone else. This set was an absolute fail for me, but it may work out for those who are often faced with cups on XL lingerie being too large.
Published:
Pros:
Vintage vibe, may work for certain body types.
Cons:
Cheap materials, scraggly-looking lace, very small cups for the size.
This corset and g-string are a part of Magic Silk's Vintage Dots Collection from their "Exposed" line of lingerie. To be honest I'm not usually a big fan of this brand, I feel like a lot of their items look cheap. I really liked the look of this collection, though. The combination of the color scheme (black and white with a pop of pink) and the vintage inspired feel just appealed to me.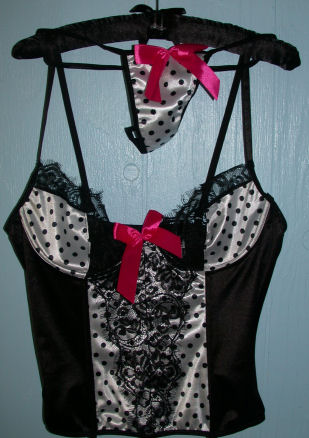 The sizes available for this are kind of weird; you can pick S/M, L/XL or Plus Size. This sounded like it would work out pretty well for me because I always have trouble choosing between L and XL, especially in companies I'm unfamiliar with. Still, it seems like just a small step up from products that only come in one size and plus size. The LXL is made to fit sizes 12-18 according to the size chart, but I found that to be pretty off.
The corset comes sealed in a plastic bag within a cardboard display box, which features a photo of a model in the outfit on the front, a size chart on the bottom, and photos of the other pieces from the Vintage Dots collection on the back. It's not exactly trashy-looking packaging, but it's not the classiest thing I've ever seen, either. It has that "I bought this in a sex shop" look, though, not "This came from an upscale boutique." A tag is attached directly to the corset, which carries on the retro theme with a jukebox motif. The garters arrived attached to the corset, which I suppose saves you some work if you want to wear this with garters right away, but I prefer when they come in their own little bag.
I wouldn't actually call this a "corset" since it's not structured, doesn't lace up, and doesn't really do anything to define your shape. It does have 4 pieces of plastic boning sewn in (two in the front and two in back), but it's nothing like a corset in any other way. It hooks up the back with hook and eye closures, of which you have 2 columns to choose from for a slightly looser or tighter fit. It should be hand washed and laid flat to dry.
The front of the corset is made from white poly blend fabric (80% polyester, 12% nylon, 8% spandex) with black polka dots. On top of that, you have black lace and a big pink bow. The busy front design of the corset is balanced out by a very simple solid black back half. I was disappointed to see that the fabric that makes up the corset (both the plain black and the polka dot) is pretty cheap looking. It's soft against the skin, but just doesn't look luxurious or high quality. The lace trim is not scratchy, but is obviously low quality, too.
The tops of the bra cups, like the polka dot panels, are decorated with eyelash lace similar (in theory) to what adorns the Coquette Eyelash Lace Bustier. It looks a little odd on this corset, though. The problem is that while Coquette used nice quality lace, this is pretty subpar, so instead of the pretty "eyelash" effect, you get scraggly threads. I wasn't a fan of the "hairy chest" look, so if this had actually fit me, I probably would have trimmed the edges of the lace. The bra cups have underwires, but no extra lining or padding.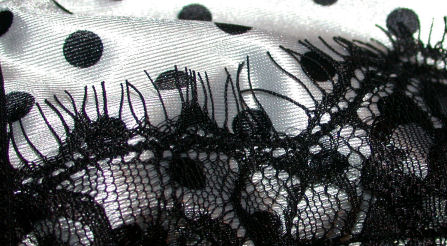 The corset comes with a matching polka dot g-string. It's pretty decent as far as g-strings go, made from the same fabric as the corset with the same big pink bow.
The big problem with the "XL is 12-18" size chart is that there are size 12's with DD breasts, size 18's with B cups. If you're on the lower end of plus sizes (12-18) and have a B or C cup and are always frustrated that larger sizes have large cups, this might be the corset you've been looking for. In my case (I'm a 38D), the fabric of the cups didn't even begin to cover half my breasts, it didn't even come up to my nipples. Going up a size wouldn't work for me, since I'm already at the low end of the size scale (10/12) and this is a little loose through the torso. Total fail for me, but hopefully a victory for others who have trouble finding tops like this that fit. I laid the cup up against a normal D bra so you can see how short it falls: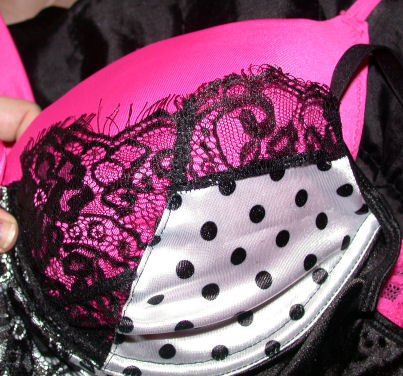 Experience
Measurements for this set:

Corset
11" tall from between the cups down to the bottom
9.5" tall where it hooks up the back
16" across bottom hem when laid flat
Bra cups are 5" tall at center seam

G-string
14" across the waistband when laid flat, will stretch to about 21" across
7" butt floss (from the bottom of the triangle up to the waist band)
4" wide at the top of the fabric triangle, 7.5" long from top to tip, 3" long crotch liner

I'm giving this one 3 stars. It's not horrible, and it would possibly be great if you're the right size (ideally 14-16 and a B or small C). However, the fabric and lace are obviously cheap, and this is NOT an actual corset. Although it's less expensive than the nicer corsets and bustiers available, I expected something a little better quality for the $40-50 price range.
This product was provided at a discounted price in exchange for an unbiased review. This review is in compliance with the FTC guidelines.

Thank you for viewing
Corset and g-string
review page!