(Plus Size) I thought Corsets were supposed to be uncomfortable!
It's really hard to find cute stuff for plus size gals. I would like this better if I was about 20 pounds smaller. I'm deducing one star because I'm concerned how the frayed look will hold up and because it needs to be hand washed.

But this is VERY comfortable to wear and I really think it's a look that guys might like even if gals don't.
Published:
Pros:
PINK bow
"frayed" look
very comfortable
Cons:
PINK bow
"frayed" look
hand wash
I don't know about you - but I love it when Eden Fantasys brings in new lines of products for us to try. Yes, it is scary trying a new brand of lingerie - but Eden's return policy is awesome and a lot of times I find a winner!
I love this piece for its comfort and design. It doesn't look as good on me as I want, however, I am trying to lose weight and I know that as I start losing more late, I will be able to rock this piece.
First of all, this piece is sold on Eden Fantasys is sizes SM, LXL and Plus Size.

I found one size chart, but Beck found a better one - thank you Beck!
This item comes packed in a box: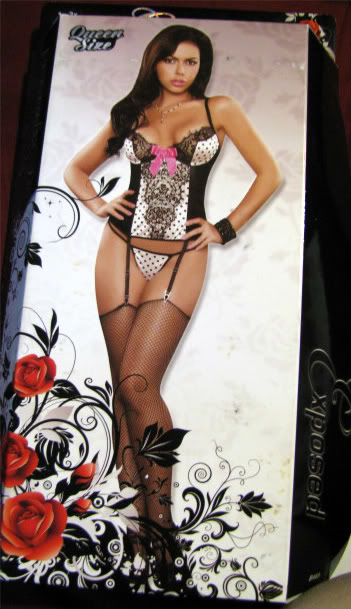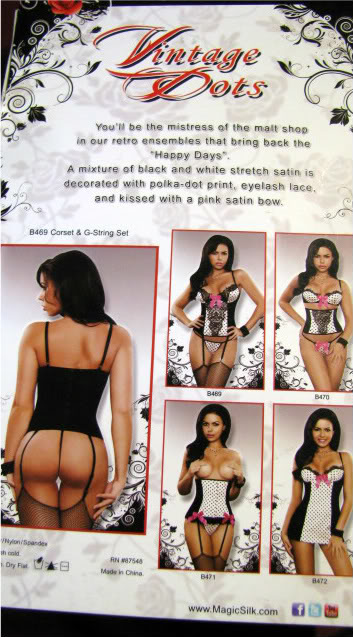 According to the tag, this is 80% polyester, 12% nylon and 8% spandex. I love products that spandex in them - they always seem so soft and comfortable and yet a bit form-fitting. The tag states that this should be
hand washed in cold water
and laid out to dry flat. I agree with that because of the fringe on the top of the breast area - you'll learn more about that in the photos.
I'm going to do something a bit different here. I'm going to show you photos of me modeling the piece with a pair of panties from Cato's, then I'm going to give the measurements and show you my daughter modeling the same piece but with the g-string it came with.
Front: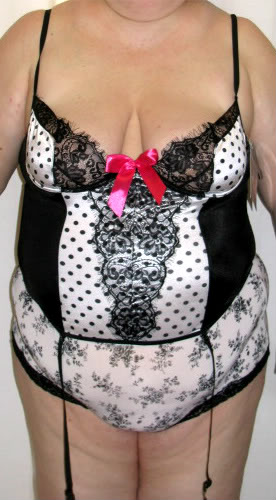 Side: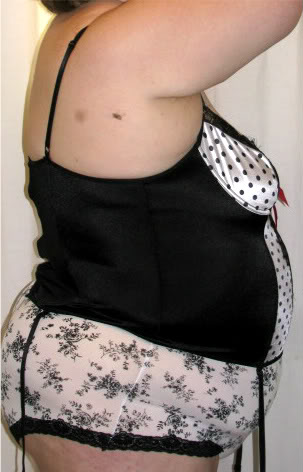 Back: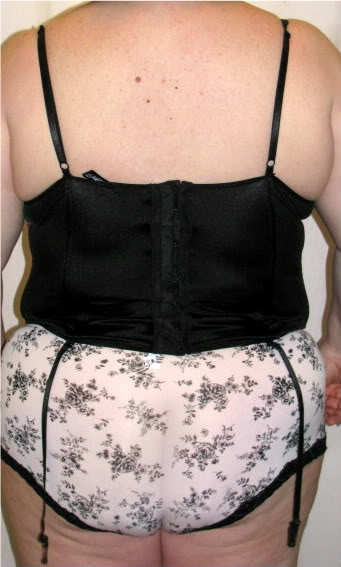 My daughter wanted you to see how it bunched up a bit in the back: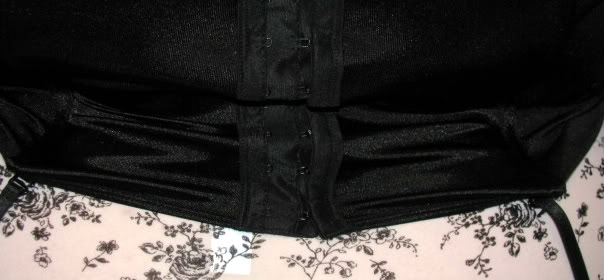 The breast support - now that is NOT shoddy workmanship - it is supposed to look like fringe on the breast: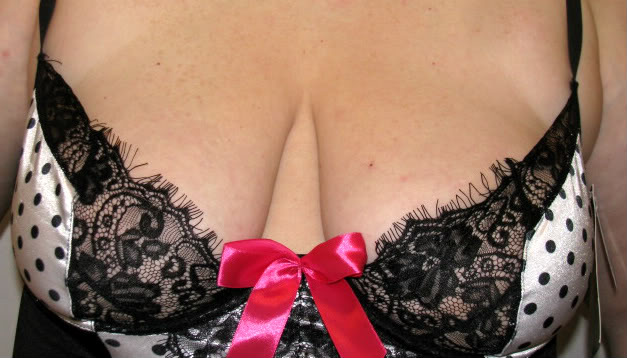 Before I move on to measurements of this piece, I want to share that I have 49" waist and a torso length of about 18.5" or 19".
This piece is 12" long from the pink bow to the hem and 16" long from the bra strap to the hem. It is also 18" wide - these measurements are all unstretched. The polka dot portion is 8" wide and there is boning that you can't really see on either side of that. Those two boning pieces are the only boning in this corset.
The underwire bra is 5" long and 8" wide. The straps are adjustable to 18" and are 3/4" wide. I found them to be very comfortable.
The garters detach and are adjustable to a length of 10" plus the clip.
There are 12 hooks down the back with 2 sets of eye closures.
Now for my daughter modeling the outfit as it is designed: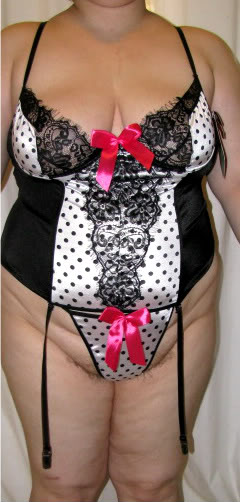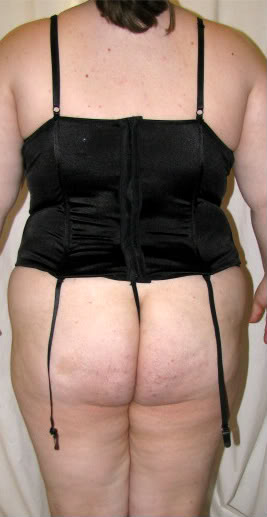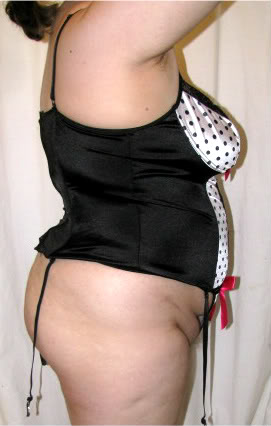 Experience
I have mixed feelings on this right now. It is a very comfortable piece and I love how it looks on my daughter. Since my goal weight is lower than she currently weighs, I know I could look really good in it, in time. But PINK? I'm not a fan of pink - even though I saw the bows before I ordered it. I am definitely going to remove the bow if I keep it.

I also have mixed feelings about the frayed look. I like the look of it- but my concern is how it will hold up.

I'm going to give this some more thought - I really do like this piece. I think I'm going to set aside and use it as a "reward" for when I've lost forty pounds. I think at that point, I could do it justice - and vice versa.

I just can't get over how comfortable the fabric AND the underwire is. I really didn't mind wearing this underwire piece. In fact, I forgot it had underwire!
This content is the opinion of the submitting contributor and is not endorsed by EdenFantasys.com

Thank you for viewing
Corset and g-string
review page!