Drive slowly after dark, there are dangerous curves ahead. (XL)
Do you love the fashions in 'Mad Men'? Want to look like one of the gorgeous and curvy women from the 50s? This dress is definitely for you. It hugs all your curves ('all' being the operative word, so if you aren't comfortable with your body, you may want to skip this) and makes you look like you're ready for a night on the town with Don Draper or James Dean. I feel like a perfect pin up in this!
Published:
Pros:
accentuates curves, material feels nice, retro look, easy to get on, can hide 'problem areas'
Cons:
material is see through, very little breast support, can make your ass look flat
This is my first time reviewing clothing, so please be patient with me, fellow Edenites! I completely fell in love with this dress when I saw it in the New Product section, and I was lucky enough to snag it as an assignment. The design reminded me of classic pin up style from the 40s and 50s, which is an era I love.
The packaging was really simple. The dress was hanging on a plastic hanger and had a plastic bag covering it. There was just one tag, and it was pinned to the side of the dress with a safety pin. The tag says the material breakdown is:
Dress Lining: 92% Polyester/8% Spandex;
Mesh: 95% Polyester/5% Spandex
Also, hand wash in cold water.
The inner lining is really soft and silky, and while it is a bit clingy, it doesn't bunch up randomly or 'stick' to my skin. The mesh overlay is also really soft but also strong. I'm not worried about it randomly snagging or tearing during normal wear. Also, when I checked the hem and seams, there weren't any loose threads or oddly finished edges.
I don't know if you should lay this dress flat to dry or hang dry, but I'm leaning towards letting it dry while lying flat on a towel, just because of all the ruching.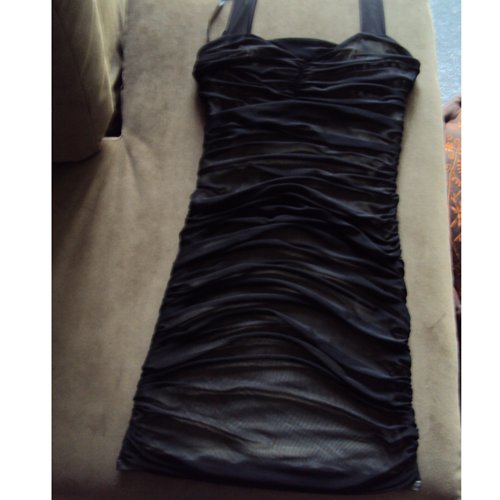 Laying flat, the dress measures 16 inches across at the best, 13 inches across at the waist, and 18 inches at the hem.
Sizing Information: The DreamGirl website says that an XL should fit:
Size 14-16
Cup D/E
Bust 38-40
Waist 31-33
Hips 40-42
Weight 160-180 lbs
Me:
Size 14
Cup DDD
Bust 38
Waist 33
Hips 42
Weight 200 lbs
I'm a bit heavier than intended and have a Rack O'Doom, but apart from that, I should fit everything. So, here's the breakdown from the top down. The dress ties at the top into a halter, and the straps/ties are really long. Unstretched, they're a whopping 25 inches from tip to where they meet at the dress. I use a double bow to tie it off, but my boyfriend offered a cool solution to use up the extra length. Instead of tying it at the back, he crossed the ties at the back of my neck and brought the ends around to the front, then tied a bow, like a bow tie. It looks really cute, and I didn't feel that it was too tight or changed the level of support that straps offered.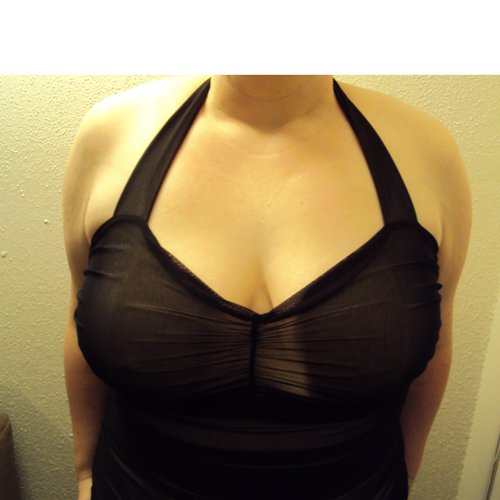 The neckline is a really flattering sweetheart neckline, and I think that it will look great on people with large or small breasts. There isn't much support, so if you're over a C cup or not terribly perky, you'll want to wear a strapless or halter style bra. Also, the material is fairly sheer, so a nude or maybe a lace bra is going to be best to hide your nipples. If you're daring enough to go without a bra, pasties are going to be your new best friend. Also, your underwear (should you choose to wear it, that is) will need to be nude. The material is sheer enough that any other colour is going to be very obvious.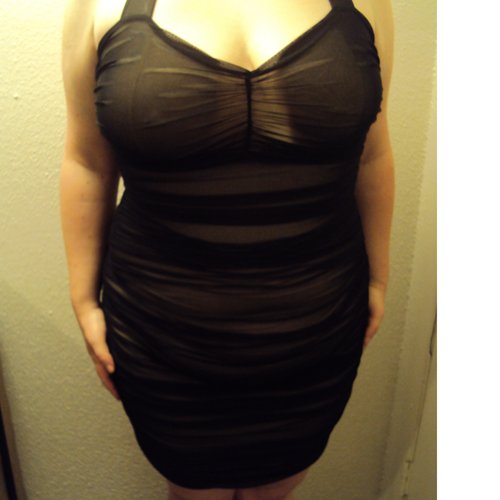 The dress fits me really well, despite me being over the recommended weight limit. The ruching does work well to camouflage my stomach and I love how it clings to my curves. I feel like I'm all hips, tits, and ass in this dress and love it!
Experience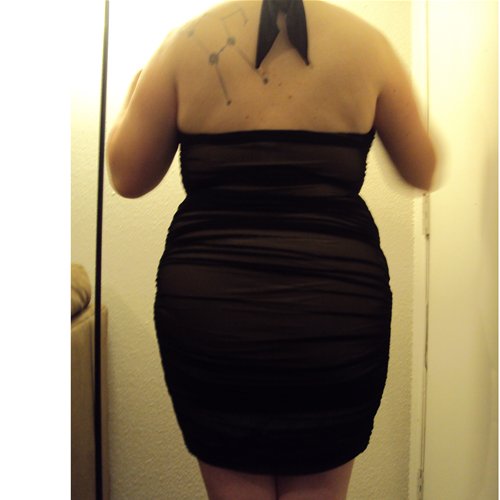 So, for the back, you can see that it does go a bit low. You'll want to do some adjusting so it will cover the back of your bra, and possibly use some double sided tape to keep it from riding up. Again, it fits really tightly, hugging all your curves, so if you're not a fan of how your body looks or don't like tight clothes, this isn't going to be the dress for you. I also hadn't adjusted the ruching in this pic, so it's lying oddly on my butt making it look a lot flatter looking than it normally is. (I swear, I really do have an ass! I do!)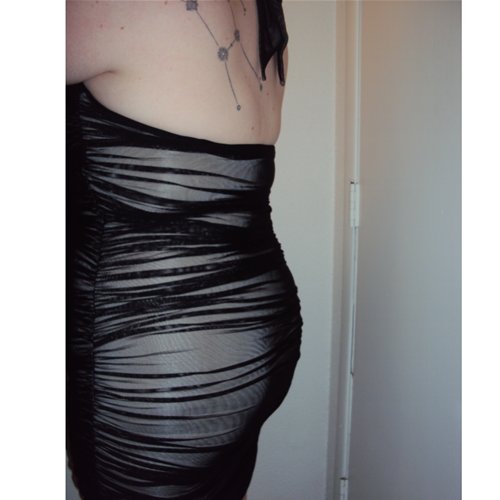 So, this is kinda a wonky side/butt view. This shows how the dress reacts to a flash (It doesn't. Every time we took a pic with flash, the outer layer went weirdly translucent.), as well as showing how the ruching looks when you have it adjusted so there are 'wrinkles' over your butt. The fabric texture visually breaks up the lines of your ass, so it creates a more 3-D look.
The length of this on me is a bit different from the model. I'm only 5 ft 6, so it hits me about two inches or so above the knees. There's much less chance of me flashing anyone if I need to bend over or having it ride up when I sit. Speaking of sitting, I have noticed one issue with this dress. If you're not careful when you sit, your perfectly arranged, butt enhancing ruching will get shifted. You can usually fix this by rubbing your hands along your sides though.
Overall, this is a gorgeous dress. I love that it's so forgiving to my body type and I do think that it will work on a variety of shapes. The material is soft and seems like it will hold up well over time. It's a great retro-looking cut, I think that the dual layers of fabric make it more interesting than a plain version of this dress would, and I have a feeling that it's going to be my new party dress. For me, this is a solid 4 out of 5 stars!
Follow-up commentary
3 months after original review
I love this dress so much. Have I mentioned that it looks awesome on me and clings to my curves? Because it still does. I also love that it is going to continue to look good on me as I start to lose weight. The material is so forgiving!
This product was provided free of charge to the reviewer. This review is in compliance with the FTC guidelines.

Thank you for viewing
After dark
– mini dress review page!