This dress Is Too Gorgeous To Only Wear After Dark
The After Dark dress is both appropriate & flattering for all ages. This is the type of dress that looks gorgeous on any size. Once on, this dress has a very classy, sleek appearance. It isn't trashy, but it's a dress you'd wear for a special occasion or outing.
Published:
Pros:
Flattering.
Gorgeous.
Appropriate.
Quality.
Cons:
None.
The After Dark dress... Where do I begin? This dress is the best dress available from these lingerie brands. A dress as nice as this is very rare from lingerie companies, but Dream Girl went for real quality, class and a touch of sex appeal with this.
Let's talk design and I promise I will try to contain myself. This dress is basically a soft, slinky tan colored knit dress with stretchy, black mesh overlay. The black mesh covers the entire dress and is transparent, so you get a glimpse of the tan underneath (shown below.)
Before we go on I want to go ahead and share the good news. This is
not
transparent and even better, it's actually a dress! It's the length of a real dress, which is another rarity among lingerie brands' "dresses."
The sides of the dress have extreme ruching all the way down, so it creates the gathered effect with the mesh material. This is what adds something more stylish to the dress as well as create a curvier appeal. It does add curve to my body, but it's flattering. The ruching of the mesh does this while still being a kind of cover-up for what most of you call "flaws." It hides the slight "roll" I get when wearing underwear and it also hides panty lines and any other bumps & lumps that clingier, non-ruched dresses tend to show off. The ruching sort of smooths things out & enhances curves without showing off as much as a Body Con dress does.
There is ruching in between the breasts as well, which hides my nipples! Small chests wouldn't totally need a bra, but a strapless will suffice. There is no support, padding or underwire. This is tied behind the neck with halter-style ties. The halter ties are 1 1/2" wide and 28" long each, which is pretty wide & very long. If tied tightly, they will give your breasts some lift & support. They're made of the same exact materials as the dress.
Looking closely at the cut of the bust, you notice that Dream Girl spent time here. I love the cut! I might say it has a "sweetheart" neckline.
Material & Care
92% Polyester, 8% Spandex. Mesh: 95%, Polyester/Spandex 5%.
Handwash in cold water. Air dry. Made in China.
I was completely blown away once I held this in my hands. The material is heavy, and feels like quality. It's soft, bouncy, moveable & totally comfortable.
Dress' Measurements
From top of bust to hem: 29"
Bust: 12"
Waist: 11"
Hip to hem: 13"
"Cups" about 6" long & 5 1/2" wide
According to Dream Girl's size chart, this should fit a size 2-6, 32-34" bust, 24-26" waist, 34-36" hip and 90-120 pounds.
I'd say the size chart is accurate. It's likely going to fit 90-120 pounds beautifully. I weigh 93, so pay attention to my "Fit" section to know how it fit my size & get an idea of how it will fit you. I do think someone 120 pounds will find this snug.
My Measurements
Bust: Right: between a B and C cup. Left: 34B
Jean/shorts/size: Zero
Weight: 93lbs
Height: 5 2"
Waist: 26" Lower waist. Where I'm a bit wider, the love handle area: 29"
Fit
[img|
From the look of the product photo, I was under the impression this would be a little showy and I was prepared for it to be way too short for actual wear, but in reality, the product photo has nothing on this beautiful, high-quality dress! It's much nicer than your club-wear/lingerie dresses and actually looks a lot more classy on. The length is about a foot longer than what the product page shows!
This does fit snugly against my body, but not tight. I can move freely in it & even bend without discomfort or the worry of my buns showing. I was surprised to see how long it was because the product page shows a very, very short "club" type of dress. The hem hits about at my knees, depending on if it's riding up a bit or not. It does ride up a little when I sit, but it's long enough that even when it's bunched, it's still a totally appropriate length. The extreme ruching up the sides cause the dress to sort of fit snugly and the gathered fabric does mean it shows off your figure well, but without exposing every curve and crevice. It's a very flattering dress that will most definitely flatter any size.
Experience
When I put this on, I felt as if it looked like a dress for a special occasion such as an anniversary date or something special like that. I have several nice dresses that I can dress down for everyday wear, but this doesn't look right with sandals. It looks best with heels. It is a dress that'll last for the long haul and look beautiful on every body type, provided you get the size for you. It looks awesome on both curvies & non-curvies!
Packaging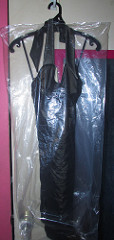 This comes on a hanger with a plastic bag over it, which is great for storing. I often use garbage bags to place over my dresses, so this is handy. I'd keep the bag. There is a tag on the dress with a person wearing it (and it looks like a totally different dress in that image. Much like a provocative club dress). This tag can be removed & you can gift the dress in its bag, though.
This content is the opinion of the submitting contributor and is not endorsed by EdenFantasys.com

Thank you for viewing
After dark
– mini dress review page!