Ehh...meh...
I could take this or leave it. I'm not a huge fan of this set, even though I had wanted it for so long. The thong is a terribly fit, the garter belt is okay, and the bra I'm on the fence about. Depending on your cup size and breast shape, this bra may not fit you well at all.
Published:
Pros:
Cute color combination, lace isn't itchy, adjustable garter belt, fit a range of sizes.
Cons:
Thong, "cups" will not fit everyone, only comes in two sizes
This set includes a shelf bra, garter belt, and thong. It comes on a plastic hanger in a plastic sleeve.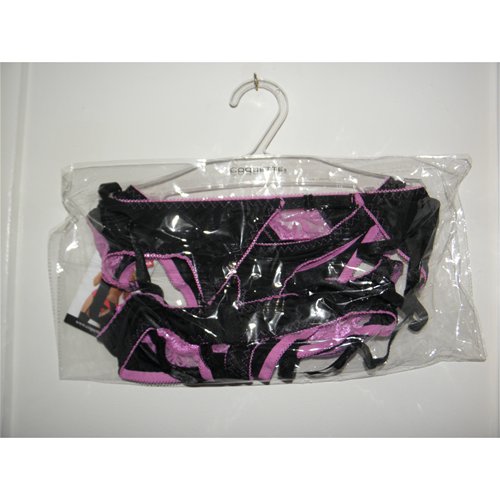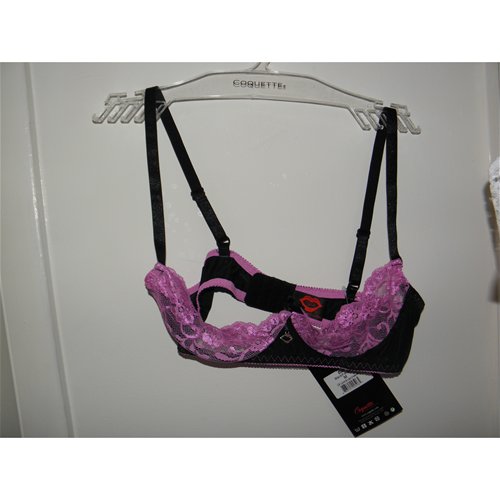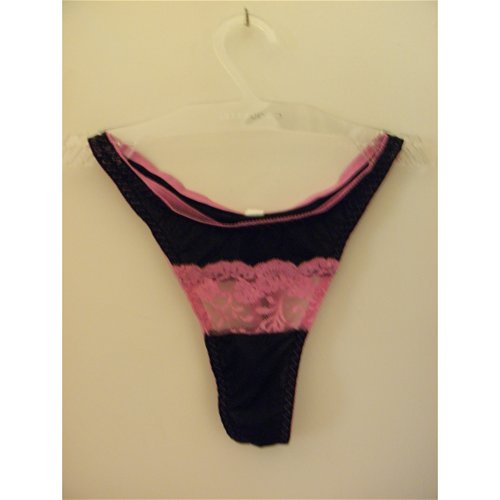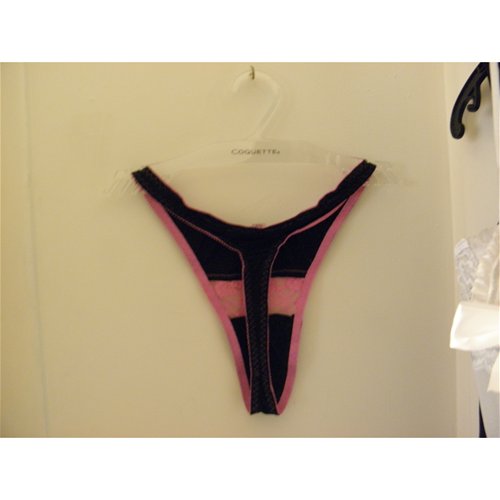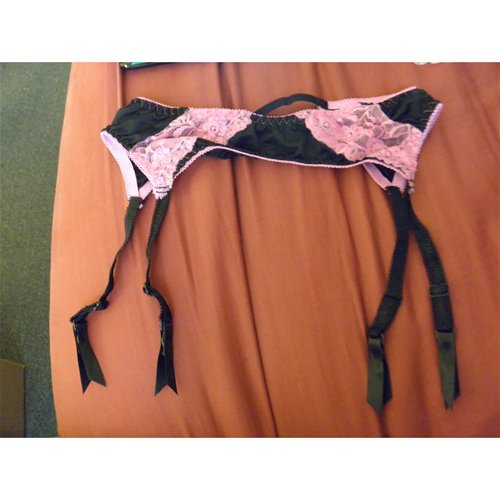 The bra has typical hook and eye closures on the back. It also features a charm shaped like lips, between the cups. Although, that could easily be taken off.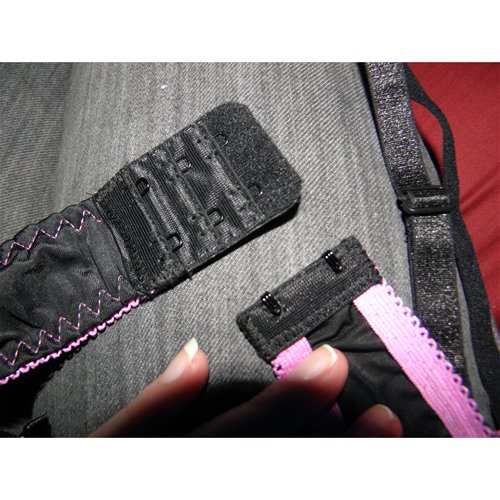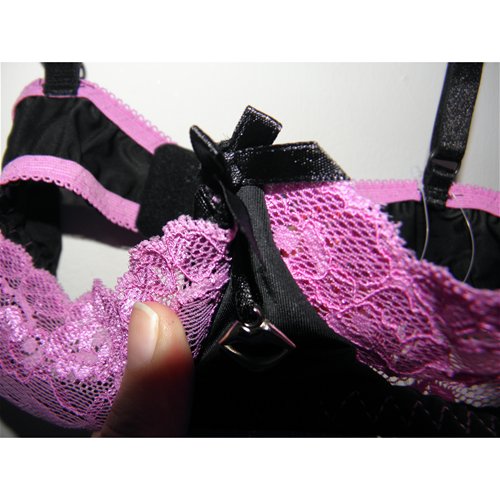 The thong, I can't even wear. It's so awkward! On me, it comes up really high and looks very 80s and unappealing to me. My partner asked me to model it for him, and I did, but I didn't even want him to see me in it. To give you an idea of how it fits me awkwardly, I've hung it on the hang with a thong that fits me properly in front of it, so you can see the difference in size and shape. I seriously hate the way this thong looks on me, I feel so unappealing putting it on. If worn so that it doesn't look baggy, low and weird, then it looks way too high. It goes well above my hips, and to high up my back for my liking. In my opinion, if I'm wearing a thong, it should never have anything to do with my back, even my lower back.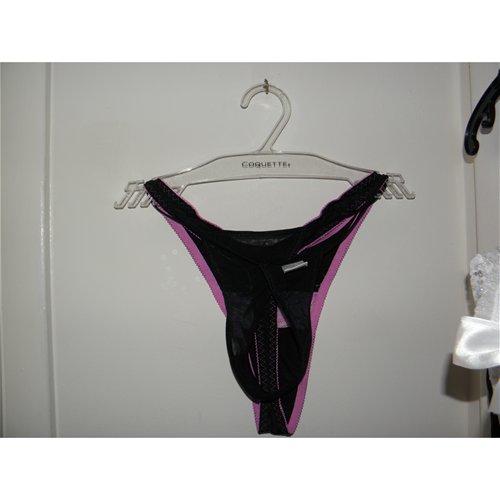 The garter belt is adjustable, it can be tightened or loosened by adjusting the strap on the back, which is like adjusting a bra strap. It unhooks with a little plastic clip, something like ones I've seen on bikini tops.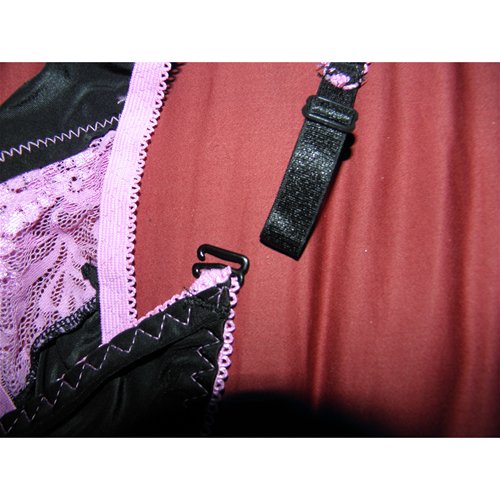 The set is 80% nylon and 20% spandex. It is made in China. It is hand wash only.
It's kind of lame that this is only available in size small and medium. However, fear not, because even if you wear a large (like myself) the medium will fit you comfortably, since that is what I got. There is a lot of room for adjustment with this set, so it will fit someone who wears a size large as though this were a size large. I've gotten enough Coquette lingerie in the past, but only in size large, as that is my size and it fits me well. However, this set fits me just as well as a large would. I have a C/D cup size, and my measurements are 38-30-38. I have wide hips, and a wide bust line, so I tend to go for a large rather than a medium. Even given that, the bra and the garter belt can be adjusted to fit me just fine.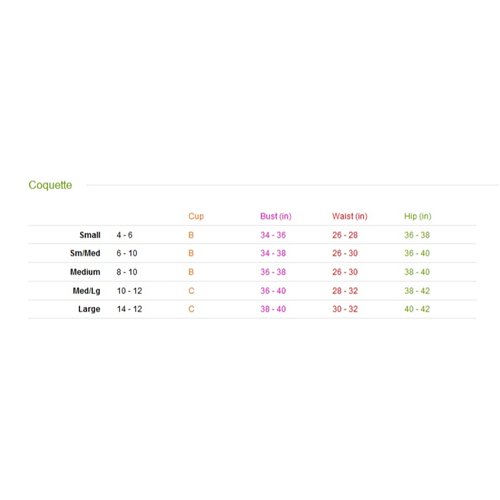 The cups, however, have no room for adjustability. I see that the size chart says a B cup would fit best into a medium, and I'm not sure that is the case for this. If you are a large D cup, or anything large than a D, you would probably not want to wear this. I find that with me, the pink lace can bunch up underneath my breast and I pretty much have to adjust myself into it properly in the mirror. Still, it can bunch up. If I had smaller breasts than I do, I could see the lace being baggy and making things look deflated.
Also, if you have very round and even breasts, you would probably like this bra more. If you don't, it could fit you in a way that you may not like. Pretty much everyone has one breast at least slightly larger than the other, and that includes me. With this, I feel that that is very accentuated when by these cups, or lack thereof. I feel like the slight difference in the size of my breasts is highlighted more than ever when wearing this. I've found that wearing pasties with the bra makes it look MUCH better than without, but the size difference can still be apparent. Also, depending on how high or low your nipples are, that will have an effect on how this bra looks on you and how you feel about the fit of the "cups". I took a few pictures of me in this, and I am not comfortable with posting them in my review as they show more than I am willing to show, but I will say that my breasts look lopsided and uneven in them. I do not believe myself to have lop-sided breasts, and I don't think they ever really look all that uneven, but one breast looks lower than the other, and the lace "cups" don't look the same on both breasts. It looks more empty and almost deflated on one, and can look more bunched up under the other. Which then, in turn, can make my nipples look totally different as well.
Experience
As for support, the bra does have an underwire, which gives it somewhat of lift. There is no padding or anything like that, as the cups are only that inch or two or pink lace.

I had wanted this set for over a year, and I finally decided to order it. I was kind of expecting to be wowed by this and love it instantly. Honestly, I have been considering returning it or giving it to a friend, either way I think I will get rid of it. I like the garter belt enough, but I'm not sure how much wear the bra will actually get. Also, I'm never going to wear thong. If I were to keep any part of this set at all, it would be the garter belt. I just don't have much practical use for this bra really, I suppose. I'm not sure how I feel about the way it fits me. It didn't really seem too appealing to my partner either.
Follow-up commentary
2 months after original review
It's difficult rating this for a follow-up review, so it's easiest if I just say I still like it. I think my review title says it all; that's pretty much how I felt about this set from the beginning, and it hasn't really changed much. I haven't really worn this and I almost forgot I even had it. The panties were just the worst thing, and if those are still in my closet they're going to have to go! I would have no reason to ever wear those things. My feelings on this haven't really changed, and I'm not sure how much I'll actually end up wearing this.
This content is the opinion of the submitting contributor and is not endorsed by EdenFantasys.com

Thank you for viewing
Fuchsia shelf bra set
– shelf bra, panty and garter belt set review page!