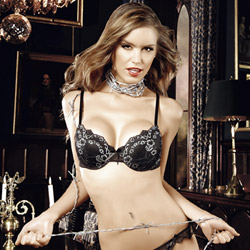 Embroidered bra
Bra by Baci
Embroidered Excellency
Baci's Embroidered Bra is a lovely way to glam up your bra collection. It is versatile and comfortable enough to work as a t-shirt bra, and pretty enough to make you feel sexy when said t-shirt comes off. While it won't give you out of this world cleavage, it should support you with its true-to-size fit. For the price, I really can't fault it much!
Published:
Pros:
Comfortable, pretty, fits true to size, decent quality
Cons:
Minor stitching issues, mismatched metal detailing, shows through some tops
Packaging
The packaging for this bra is a big step up from what you may expect from Baci. It comes nestled in a glossy box featuring the model from the product page. Unfortunately, I misplaced the box itself, but it is identical to
this one
from another Baci bra I reviewed. While not ideal for storage, it does protect the bra from getting warped during shipping.
Materials, Design, & Craftsmanship
The bra is made of 90% nylon and 10% spandex. There is also firm underwire in the both of the cups that will give a fair amount of lift. The lightly padded cups have a tiny bit of give, but the elasticity is mostly concentrated in the band. The inner cups are lined with a soft black material common to molded bras. This material is also on the front of the cups, but is covered by a lace-like black mesh. The mesh itself is embellished with sparkly silver embroidery. The embroidered mesh continues up above the cups in a scalloped fashion. The mesh on most of the cup has small gaps in the fabric, but these gaps increase in size once you get to the scalloped part. I think this is what gives it more of a lace appearance. The band and connector between the cups are made of your standard black mesh.
As far as the finer detailing goes, the silver embroidery most resembles a loose floral pattern. It is not entirely symmetrical across the cups, but still manages to look mostly balanced. Oddly enough, Baci paired gold metal hardware with the bra's silver detailing. While not the most attractive, they could probably be covered up with black nail polish or something similar. The gold metal bits are used for the straps' adjusters and to connect the straps to the back of the bra. The bra fastens in the back with a hook-and-eye closure. The closure has three adjustments, so it offers a decent amount of flexibility for different bodies.
When it comes to craftsmanship, I'd say it was decent for the price of the bra. It did come with a few loose threads, but they did not compromise the bra once they were snipped off. I did not find any frays or loose threads in the mesh or in the delicate embroidery, but think that they will only stay this way with proper care.
In caring for the bra, you should hand wash it in cold water and then let it line dry. That's all, folks! Since it's not the highest quality bra, I would recommend hand washing over machine washing. It's a bit of a nuisance, but it should really prolong this bra's life.
Fit
I ordered a 32B in the bra. I am most comfortable in a 30C, but go with a 32B when my size isn't offered. My breasts are definitely B-cups, but my smaller band size means that some B-cup bras are too large on me. With the 32B, I found that I was able to get a snug fit without any gaps in the cups. If you have a similarly small band and cup size, it should fit well on the tightest setting. True 32Bs, including those who are a fuller B-cup, should have good luck with any of the three settings depending on personal preference. If you're a small C or above, I would recommend going up to one of the C-cup sizes. In other words, this bra is very true to size.
I would say that this bra is pretty functional and very comfortable as far as everyday wear goes. The light padding conceals nipples, and the lace detailing doesn't show through normal shirts. That said, it might poke through on thinner tops. When worn under a form fitting top, the cups do round off the breasts but will not make you look any more voluptuous than you already are. However, this is to be expected with the uniformly placed light padding in the cups. While the cups are only just large enough to hold in the sides of my breasts, my wider set chest make this an issue in most bras.
I've taken a few measurements for those interested in more specific sizing. Please feel free to ask for other measurements if you need them:
Cup length down center: 4.5"
Cup width across center: 6.5"
Length across both cups: 12"
Total bra length, unclasped: 24"
Total bra length, unclasped and stretched: 39" (due to the stretchy band)
Experience
All in all...
When I first tried on the bra, I wasn't its hugest fan. I was hoping for a pretty thing that would really amp up my bust. Once I admitted that lightly padded bra wasn't likely to do that for smaller breasts, I started to really love this piece. For the price, I think it would be a nice purchase for someone looking to glam up their everyday bras.
Pictures
Here are a few pictures so you can get a better idea of how the bra looks and fits. You can see that the lace does sometimes get caught in the bra, but it's an easy fix.
Front of bra
Wearing bra
Bra under clingy top
Bra (bottom) compared to Baci's Four-Way Convertible Bra, 32B (top)
Follow-up commentary
19 months after original review
I still agree with my initial review. While it's not quite the same as a top-notch $50+ bra quality, it's cute and affordable. I have to hand-wash it to keep it from looking ragged, but it's well-worth it!
This product was provided at a discounted price in exchange for an unbiased review. This review is in compliance with the FTC guidelines.

Thank you for viewing
Embroidered bra
review page!