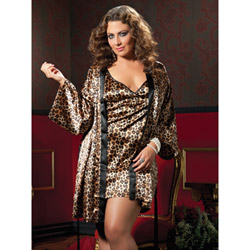 Joan chemise and robe
Chemise
by Seven 'til Midnight
Feeling Smooth And Sexy!
This can be adjusted for many body types. It is well made. Feels great against the skin. Great cost. Even though I will have a few alterations done to the chemise. I would recommend this to my friends. I am not really disappointed in it. Maybe if you could order the chemise in one size and the robe in another that would be great!
Published:
Pros:
Lots of room, Adjustable, Easy care.
Cons:
To bum baring
This is a two piece set. First the robe. I got the 1x/2x because I wanted room in my robe. They come in small, medium, large, 1x/2x, 3x/4x.
The robe and chemise are made of 97% Polyester and 3% Spandex. Spandex is a synthetic fiber known for its exceptional elasticity. Spandex is very strong and durable material, able to be stretched repetitively and still recover original length. It is resistant to body oils, perspiration, lotions, and detergents with no static or piling problems.
Spandex can not stand high temperatures so never soak, boil or bleach this material. Wash in tepid water and allow drying in an airy place. I wash in cold water then air dry.
It feels almost like silk. The black ribbon on the robe and the tie feel slick to the touch. The fabric has very little stretch. It is not see through. The cheetah pattern is nice in the brown and black. It's not over done. The fabric had a slight smell of plastic, most likely from the packaging.
With the robe on, measuring from the back of my neck the length was 40 ins long. The shoulder length was 17 inches long. They are 10 inches wide. My arms measure 11 inches round. Open from one black seam to the other 51 inches wide. My waist is 35 inches, when I wrap the rope it folds the black seam hip to hip. I weight 150 lbs. What I am trying to say is I have plenty of room. This would fit any body type and many sizes.
With the chemise on, from the cinch line under the breast the length is 23 inches. There is no under-wire. The straps are tied into the trim of the bra. They are a black satin. The way you can adjust these is by tying them in the back. So if you have bigger breast then you can have some support. You can choose when your tying it in the back, which is nice. There is a second strap at the hips as well. My waist is 35 inches and the straps tied to the smallest possible spot. I still had a good 4 to 5 inches or more in room. This would fit several body types and sizes as well.
I have bought a lot of robes over the net and been disappointed in the sizes. I love this robe very much. I could have even gotten the large and been good on the size. The chemise is good in the length. Even in the boobs where I have the most problems when it comes to lingerie. But on this one I will have to sew up the back a little. It dips to low for me. It dips down about six inches below my ass. I have kids and my luck I would forget and that would not be good.
This came in a very big brown plain box. With a plain label as well. The chemise and robe came wrapped in a clear plastic bag. Nicely folded. No wrinkles. Everything is recycle-able.
Very discreet and travel friendly.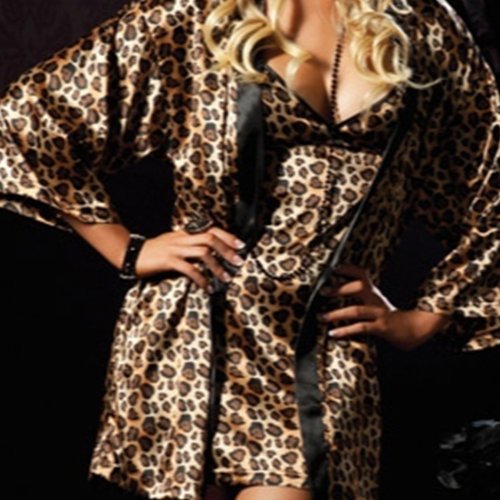 Experience
I had a robe like this a long time ago. I miss it a lot. When I got this one I was hoping not to be disappointed again. I am glad to say I am not. It is light and airy. It covers well. It makes me feel sexy. Even in front of my kids. Like a little secret under it that they don't know about makes it more exciting.
The chemise is great too. Even though it is one size to big for me. But I had no choice if I wanted my robe the way I wanted it. It didn't come in extra large. And sometimes that is to small on my shoulders or arms. I can't stand them being tight when you bend your arms or bend over and the pull of the fabric.
My biggest problem with lingerie is having to alter the breast area. This time I don't have to do that. What I am going to alter though because I got it to big is, in the back the ties. I am going to sew up six inches in the ass so it won't show and remove the hip ties. The ties in the middle of the back I am going to sew together so I don't have to tie them at all except at the neck. Why? Because I love this chemise. I just can't tie it up because of health problems and this will make it easier for me. So anyone who is like me can love there lingerie and still feel sexy. And those who don't have problems will love this the way it is because it is very sexy in the back.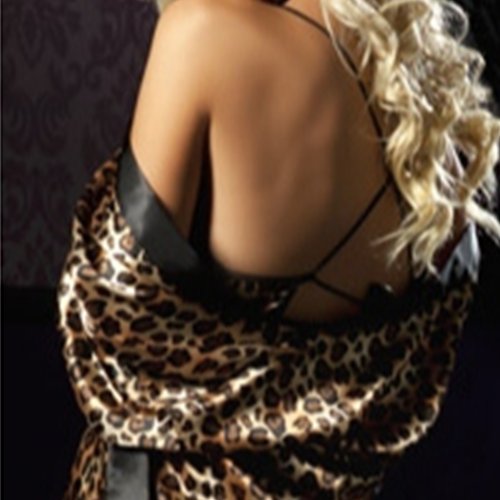 Follow-up commentary
20 days after original review
I still like this. However I have altered it to fit a little better. I snipped the strings. Now it ties at the neck only. That makes it easier on me I can't reach behind me. Then I took and sewed the two fabric hooks together across the back. This pulled it tighter around me and gave it a little more shape. Then I shorten it a bit. I am short so it was just above my knees. I shorten it to mid-thigh. Now I love it even more. I do wish it was in a different pattern. But I love it all the same.

I find that I always have to make some sort of adjustment because we are all different. Thing can fit everyone perfect. This was my way to make this my perfect buy. Thanks
This product was provided at a discounted price in exchange for an unbiased review. This review is in compliance with the FTC guidelines.

Thank you for viewing
Joan chemise and robe
review page!