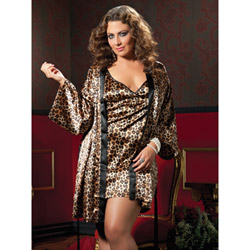 Joan chemise and robe
Chemise by Seven 'til Midnight
Joan Chemise and Robe
This is a great quality outfit, for the price you can't beat it! Lounging around or surprising your lover, this outfit is perfect no matter the occasion. Robe is huge, but comfortable. Chemise shows a little of the backside, creating a sexy peek!
Published:
Pros:
Light & Airy-Perfect for hot, summer nights. Good for lounging or "sexy nights",Tie up back
Cons:
Ties can be confusing, no under wire to help hold up breasts
The Joan Chemise and Robe set is a great set for a great value. Usually, when ordering lingerie you have to remember that "You get what you pay for". In this case, I found that the chemise and robe were high quality and flowed very nicely with my body.

The only issue that I had with this robe is that the ties get pretty confusing sometimes. In the back of this robe, there are four loops. Two on the top and two on the bottom, to create a "lace up back". The back is open, down to my butt crack, so its a nice little peek at the booty. I am 5 foot 8 inches-and I have a rather long torso. Depending on how long or short your torso is, will determine how much of your bottom the back will show. On another "poor note"...I don't have the perkiest of breasts. I have had four kids and it shows. There is NO under wire in this chemise, which is a bit of a downer, seems how my breasts tend to sag a little in this outfit. There isn't anything to really "hold up" my breasts, other than trying to tie the shoulder ties tight enough, but then it just looks weird. So, keep that in mind when looking at this one.

The Robe and Chemise is made of Polyester and Spandex. This material is NOT stretchy, but it does have a nice "give" to it, in the event that its a bit of a tight fit. It flows easily and if you can manage to lace it up just right, it will fit your curves perfectly. The lace up back does take a bit to get used to and find a "comfortable fit". Its one of those outfits where having someone to help you is going to be a big help. If you have a mirror, then I would suggest using that when trying to achieve a desired look.

What I really like, is that you can lace it up in different ways. You can go across each loop side to side, and tie it off, or you can go criss-cross and lace it up.

I am a size 15/16 normally and I ordered the 1xl/2xl sizes. The robe is HUGE, but the chemise is perfect. Though, I think that the robes are supposed to be huge like that. The Robe comes with a black tie around that does come off the loops on each side.

The tag on the outfit says to hand wash in cold water, line dry. It also says not to use bleach (obviously). Overall, I would have to say that I am very pleased with my outfit and I see it holding up pretty nicely over the years. I love the pattern (larger leopard spots-black/brown/gold).

This outfit would be great for just about any occasion that calls for lingerie, or one of those "just because" nights. Its a nice outfit to wear for someone else, but also a comfortable and decent outfit to just lounge around the house in. I would call this a "family/kid friendly" outfit, because I would not feel awkward or inappropriate to wear this around my kids (as long as the robe is on of course-the back shows entirely too much to not wear the robe around family/friends or company).
Follow-up commentary
2 months after original review
I am still in love with this outfit! All of the outfits that I purchased together (there was about three of them like this one-just different designs etc) have been awesome this summer! This has been an unusually warm and sticky summer. Being able to have something that I can throw on, that actually allows my skin to breath and still make me feel sexy and comfortable at the same time has been great. I especially love this one because of the print. I also have had my father in law recently move in due to health issues. So, this outfit really was nice, because it wasn't too revealing. With having the robe with it too, makes it much easier for me to feel comfortable in my "PJs" while my father in law is around. (I have kids too, so there is another "Lingerie obstacle"!). Overall, I love the outfit, it has held up great and I will definitely be suggesting this to my friends and family!
This product was provided at a discounted price in exchange for an unbiased review. This review is in compliance with the FTC guidelines.

Thank you for viewing
Joan chemise and robe
review page!