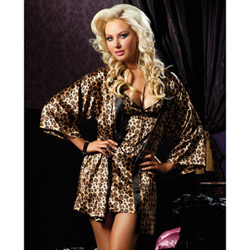 Joan chemise and robe
Chemise
by Seven 'til Midnight
Poor Joan, she fell to pieces!
I don't think I've ever been this disappointed by a lingerie set! At less than $30, I wasn't expecting great things from this chemise and robe, but I was at least expecting it to survive being tried on for the first time!
Published:
Pros
Tie in the back of chemise can be adjusted for larger hips
Cons
Bad craftsmanship, fragile, not the most comfortable material, fabric doesn't breathe well.
Ladies, gentlemen and others of Eden, meet Joan. Am I the only one who finds it amusing when lingerie is given a name? All I can think of now is that episode of Buffy where everyone loses their memory and Buffy decides to call herself Joan. ANYWAY.
The Joan Chemise and Robe is... (drumroll!) a chemise and robe! I really wanted this set because I have the matching
PJ shorts set
from Seven Til Midnight, and I love the shorts from that set but not the top. I figured that adding this set to my collection would give me some freedom to mix and match between the two sets.
This set is available in sizes S, M and L, with plus sizes 1X/2X and 3X/4X. I went with large, since that's the size I have the other set in, but I probably would have picked XL if it had been available, since I like robes and chemises to be a little more loose-fitting. According to the size chart, the L should fit sizes 10-14, C/D cup, 36-38" bust, 28-30" waist, 38-40" hips. I'm size 10/12, 38D, 33" waist and 39" hips, so other than my waist I fit the chart to a tee.
Both the chemise and robe are made of leopard print polyester (Well, 97% polyester, 3% spandex). The fabric isn't great quality, but it's not terrible. It's a bit softer than the fabric used for the DreamGirl babydoll and robe sets, at least. The inside of the fabric could definitely be a little softer, though, especially since that's what will be up against your skin. I'm almost tempted to wear the chemise inside out since the outside is much softer than the interior!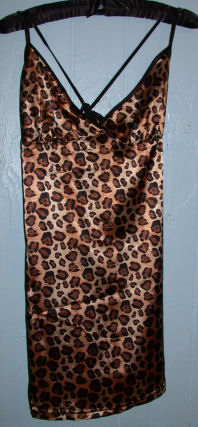 The front half of the chemise is prettim simple, straight down except for seams running below each breast. These don't offer significant bust support, but at least it's a little something to help keep things in place. The back of the chemise is a whole different story. What is with lingerie designers wanting to put super complicated backs on chemises and babydolls lately? Once the straps come up over your shoulders, they criss-cross in the back, and are then threaded through loops to meet back in the center and tie in a bow.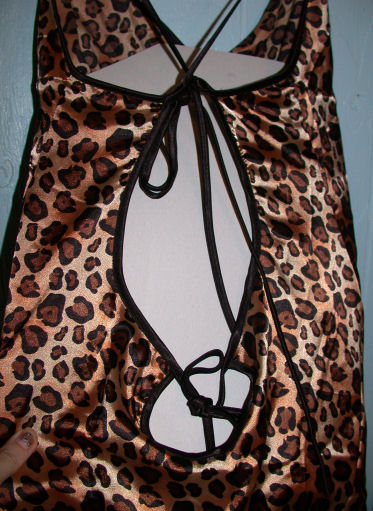 I stuck some poster board in there so you can see the ties.
With the laces tied the way they were when the chemise arrived, it didn't even begin to fit me. I have zero patience for complicated lacing (except on a corset) so instead of trying to loosen the crazy criss-crossings until it fit, I untied the top strings and relaced it my own way, taking the strings over the shoulders and then through the loop on their own side (instead of criss-crossing) and then tying in the middle. MUCH easier, and just as effective!
A few notes about the chemise: First, no matter which way you lace it, there is no bust support. Also, unless they are VERY perky, this doesn't really work with large (I'd say C+) breasts. Just worn naturally, the seams that are supposed to sit below the breasts fall just above my nipples. I can place my breasts into the "cups", but to get them to actually stay there would involve tightening the strings to the point that they cut into my back, so that's a no-go. This set would probably work best on a smaller cup size (A/B or a small C) or someone with very perky or augmented breasts that don't need any kind of support.
The bottom of the chemise was really loose on me, even with the lower set of ribbons tied at their tightest. I do like that having a set of strings to tie at the hips offers some customization in size, though!
That brings us to note number two. As I was adjusting the top of the chemise while trying it on and experimenting with fit, it CAME APART in my hands. The black trim that goes along the top of the chemise totally separated from the leopard print fabric, creating an almost 2" wide hole. I've seen some loose threads on lingerie here and there, but I've never had a piece totally fall apart while I was looking at it before! I wasn't even tugging or pulling hard on the fabric or anything, just pulling the chemise up a bit to sit higher. If the poor chemise can't even survive being tried on, I can't imagine it would hold up well over time!!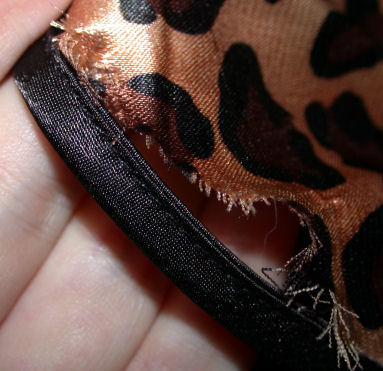 Fabric separating from black trim
The care instructions for both the robe and chemise say to hand wash cold and line dry, which sounds like a good idea since it seems this set is pretty fragile!
Experience
The robe is, in my opinion, a somewhat better piece than the chemise. It's easy to keep handy to toss on in the morning when venturing out of the bedroom for coffee. It was SUPER big on me, it will easily fit sizes much larger than the chart indicates. The fabric isn't what I'd ideally pick for a robe, though. It doesn't breathe well, so it isn't something I'd want to wear for extended periods of time.
Unfortunately, as I was looking at the robe to see if it had an interior tie like some robes do (in addition to the thick ribbon that goes through belt loops to close it), I spotted... A HOLE. Towards the bottom of one of the side seams, the material seems to have just totally fallen apart again. (This was before I ever even tried the robe on, btw. This poor thing was dead on arrival!) Are you kidding me, Seven Til Midnight? I totally understand that when you're mass producing garments, especially at this price, there might be a flaw here or there, but to have a hole in the robe AND have the chemise come apart is really bad!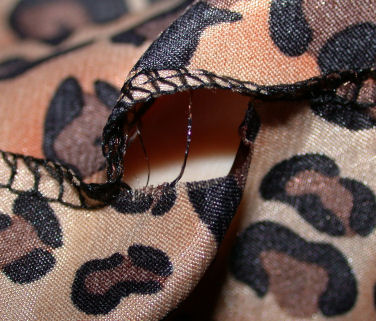 Hole #2
I have no idea why this currently has a 5 star rating with like 27 votes. (Do people not know the difference between star ratings and lures?) I was all set to give it 3 stars, since it may work for others even though it wasn't great on me, but then it came apart at the seams on me, so I'm dropping it down to 2. The robe is decent (if you get one without holes), but the chemise is crappy. My luck with products from Seven Til Midnight has been hit and miss so far, but I think this is going to be my last purchase from that company.
This product was provided at a discounted price in exchange for an unbiased review. This review is in compliance with the FTC guidelines.
Thank you for viewing
Joan chemise and robe
review page!