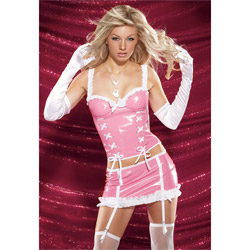 Fetish PVC corset
Corset
by Coquette
Fetish Candywoman Corset
This bright pink PVC corset offers a unique and sexy look. The construction is solid and should last a long time but the PVC may be a bit uncomfortable for some. This corset's thickness and sturdy design will be flattering on many body types- small and large, hard and soft. If you want to try something made of PVC, this corset is a great choice.
Published:
Pros:
Solid, well-made design that is very flattering for all body types.
Cons:
Material and design is a bit restrictive, bright pink may be extreme for some, zipper can pinch!
This Fetish PVC Corset stands out among sensual wear on EF. It has a total cute-yet-naughty, good enough to eat look. I'm not a big pink fan but I think it is an appropriate color for the look of this corset. Also, pink tends to bring out my more feminine side that brings out positive responses from others. The wet look of the PVC mixed with the bright pink color gives this corset a very unique, yet sexy look and feel.
Upon receiving the Fetish Corset, the first thing that I noticed was the sheer intensity of the pink. Based on the photos online I thought that the pink was a bit more subtle but there is absolutely nothing subtle about it! Mixed with the white lace accents, this bright pink looks like a delicious, edible candy. The white lace accents comprise ruffling on the top and sides, back and front ribbons and a bow in the middle! The pink PVC is a shiny, smooth and thick material that, combined with nylon lining, is not breathable. The corset's cups include underwires and the body six boning supports - two in the front, two in the back and one on each side. There is a white zipper on the left side. Overall, the corset seems to be well constructed and sturdy.
It is best to completely loosen the back ribbon in order to put this Fetish Corset on with the most ease. The first time I put it on, I had to keep taking it on and off to loosen the ribbon more until I could zip up comfortably. Be careful- the zipper does pinch your skin if you let it too close! Once you loosen the ribbon, slip the straps over your shoulders and zipper up bottom to top. This is a bit of a tricky procedure as the corset is a bit stubborn with its solid build.
Once on, I found this corset to be quite comfortable. It has a nice solid feel that gives your torso a smooth, shapely look. The white bow does not like to stay straight and seems to be easy to remove if desired. The back ribbon is quite flattering on my back, which is wide and muscular. Although I am a 36C and 30" waist, I went with a large because my back is so wide. I definitely made the right choice, a medium would have been too small. Even with a large, the corset's cup only fits half of my breast.
The thick, non-porous nature of the PVC makes this corset a bit uncomfortable to wear for too long or under highly active situations, like dancing vigorously in a hot and steamy club. However, a bit of discomfort does not hurt anyone, and goes well with the "fetish" aspect of this article. If you do get all sweaty, which you should, simply wash the corset by hand with some warm water and mild soap and lie flat to dry. I find it is best to hang this baby in my closet while not in use.
If you like the look of this unique corset and look good in bright pink, check out this corset. Now I just need to order the matching
Fetish PVC mini skirt
or
Fetish PVC shorts
to go with my corset!
This product was provided free of charge to the reviewer. This review is in compliance with the FTC guidelines.
Thank you for viewing
Fetish PVC corset
review page!