Finally a teddy I feel smokin' in!
With ruffles, removable garters and pretty satin ribbon halter ties, this soft teddy is perfect for wearing under my clothing to surprise my partner with. The only pain about this is the crotch snaps! They're awful when worn for a while. The good news is, the crotch can be left unsnapped and still worn under clothing. Re-snap when you're ready to show it off!
Published:
Pros:
Soft.
Mostly comfortable.
Sexy!
Cons:
Snap-crotch feels like a cooter-girdle!
This sexy teddy is adorable! The thin two layers of ruffle under the bust and the even thinner ruffle trim around the leg and back add femininity. The paisley design in the lace is unique and a lovely change from your regular mesh material. I do feel that the back of this teddy was left out during the design process as it is simple mesh, not lace like the front. The ruffle trim that lines my booty cheeks made up for that.

MEASUREMENTS:
From between cups to snap crotch: 15" long.

From where the lacy triangle cups begin to the hip: 19 1/2" long.

From beginning of lace cup to bottom of cup: 9 1/2".

Bust: 12" across. Each triangle cup is 6" wide.

Hip to hip: 12".

From top of back to butt/crotch snap: 17 1/2".

Snap crotch area, exactly like a bras hook and eye closure peice is 1" wide.

The most narrow part of the butt is 3" wide, located right between the bum cheeks. The widest part of the butt is 10" across.

Halter ribbons each measure 23" long.

Leg "holes": about 8".

Garters: 8 1/2" at longest. 4 1/2" at shortest.

The elastic is located in the back ruffle trim, the chest and also in the ruffle trim that runs around the leg. The elastic is fragile and won't allow much stretch without ripping. The lacy front has a decent amount of stretch while the mesh back has less.

MY MEASUREMENTS:
Bust: Right: between a B and C cup. Left: 34B
Jean/short/size: Zero
Weight: 93lbs
Height: 5 2"
Waist: 26" Lower waist. Where I'm a bit wider, the love handle area: 29"

Those measurements should give you an idea of what the "one size" will accomodate. Since the 90% Nylon & 10% Spandex material is lightweight and fragile, this won't fit much larger than my measurements. However, it could fit a medium. The lace is comfortable, as is the mesh back. The long satin ribbons tie behind your neck, halter-style so you can adjust to fit you best. I've already said the lace is delicate and the ribbon ties sewn to the lacy cups will not hold up really large breasts. It will fit a B and small cup just fine, but larger & they'll fall right out. This certainly isn't poorly made or sewn badly, it's just simply fragile and will snag, tear or rip with too much stretching.

MORE ON COMFORT
I would rate the comfort level of this teddy, on a scale from 1-10 an 8 for mostly one reason. The lace is about as comfortable as Coquette's famously soft lace, if you've felt it. The mesh back is fine as well. The pretty ruffle trim isn't even noticeable on my chest, back and cheeks, but the snap crotch, oh the snap crotch. It's horribly uncomfortable. If you need an idea of how it feels, try putting a bra on as panties, the eye & hook snaps resting on the crotch, then pull up. It's uncomfortable, and since the 3 rows of 2 hook & eye closures hardly allow much adjustment, I think it'd have been better if it was just a panty-style bottom. On the other hand, snap-crotch garments can be handy for sexual encounters. Unfortunately, I like wearing my teddies under my clothing and surprising my partner with it. I tried that with this and ended up un-snapping the crotch and letting it hang like that for the entire day. It didn't feel uncomfortable under my clothing without the darn crotch snapped. It's like a girdle on my crotch and when I'm working, and raise my arms, it rides up in the crotch a bit and causes my crotch to bulge out the sides. However, when the teddy is not worn for a full day of activities, it's fine under clothing.

This can be worn under a t-shirt, possibly one with a V-neck and jeans, shorts, a dress or a skirt without showing. The ribbon halter ties can poke out behind the neck, but isn't hardly noticeable. Otherwise, everything stays hidden under your clothing unless that clothing is super revealing or the shirt rides up your back. If that happens, the mesh back may show, but won't draw wild attention if it does.

Since the chest area is made of thin, transparent, lacy triangle cups, there's somewhat of a V-neck. This means it can be worn under most clothing without the top peaking out. The ruffle under the bust isn't as bold as it looks in the product page, in my opinion. It lies pretty flat and doesn't show through my tops. Yes, the entire teddy is transparent.

The bust has no support, but small to medium breasts will probably do fine. Too large breasts will rip the ties.
Experience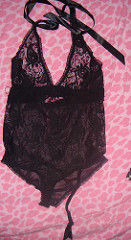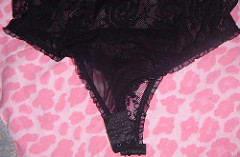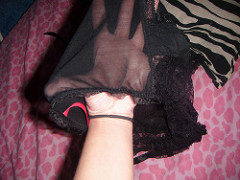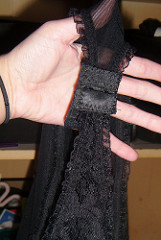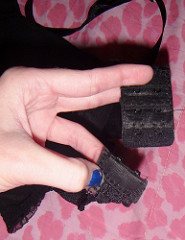 One of my favorite things about this teddy is the removable garters! I love how sexy the garters look when I'm undressing, but while wearing it for the day, under my clothes, I don't want danglin' garters! These babies are also sturdy. The clasp is plastic, not metal and there's the pretty black, silk ribbon covering the clasp. Those make it hard to see when attaching stockings, but they do add something cute.
Now that we've gotten that out of the way, I'll clue you in on the fit. Fabulous! Ya'll might remember my last teddy review and the sore disappointment I felt. This teddy made up for that over and over. It fits so well and comfortably hugs my curves.
For the most part, this teddy is simple. There's not much to it besides the design, which I've gone into great detail about. Other than that, it's a simple, but sexy teddy. I normally do bright, funky colored lingerie, but the teddy is such a sexy piece that when done correctly and fits nicely on the body, it's one of the sexiest pieces of lingerie there is, in my opinion. The thing about teddies, it's hard to find those that fit nicely, don't ride too far up and looks smokin'. This teddy is lovely and makes me feel so sex-kitten! The last teddy, the huge disappointment, did not. I was on the hunt for one that really brought that part of me out and this did it. I like something that's sexy and can be hidden under my clothing for the day. That's another hard to find kind of lingerie. Those few aspects made this perfect for me.
Now, I hope you'll forgive my Richard Simmons style in the photos. I didn't want to flash ya'll! The shorts are wild, but wihtout them, the teddy looks nicely and doesn't dig into my sides as it does with shorts underneath.
As for my Lovie's opinion, he adores it. Then again, I looked like a tied-up ham in that last teddy and he went wild. Still, I feel sexy and it's a fun piece to slide into when that mood strikes and I plan to go all day long in regular clothing only to show a peek of what's underneath. Then, the clothes come off and the teddy stays on for oh about 10 minutes. If you're the kind of person who looks for lingerie that can be worn during sex, this would work since the crotch simply snaps. You could keep it on and unsnap the crotch to reveal, well, your crotch.
Follow-up commentary
1 day after original review
Collages of photos for items like this make things hard to see, but since I needed to take several up-close photos of the crotch, lace, etc, I decided to put them together down here. Also, my review portion wouldn't allow any more words so pictures would not fit. Instead of posting a huge collage with photos of different portions of the teddy, I went ahead and added photos of me wearing it so you can see the full teddy, not just broken up photos of different areas of it. It's easier for me to see the piece this way, so I assumed it'd be for you guys. You can see the ruffle trim in the photo, the teddy lying out with a garter strap attached, the crotch and more. I normally like to put my photos where it belongs, such as when I type the measurements of the garter, I'll put the garter picture and so on--it wasn't letting me do that on this one!

If you need additional info, please message me. There simply just is not enough room allowed for lingerie reviews.
This content is the opinion of the submitting contributor and is not endorsed by EdenFantasys.com

Thank you for viewing
Paisley lace teddy
review page!