I am impressed, even if the first one arrived with a hole in it.
I absolutely love this teddy! It's paisley print, which my partner loves, and it is unique while also classic black. The removable garters make this piece versatile in what it could be worn under to surprise your partner, and a crotch that snaps open makes it easier for your partner to please you after you've pleased them with the view!
Published:
Pros:
cost, unique print, ribbon halter ties, removable garters, snap crotch, good fit (for me)
Cons:
not one size fits all
I am impressed, Seven Til Midnight. I have ordered a couple things from Seven Til Midnight, and as a more affordable company than brands like Coquette and Escante, it naturally has some problems. The Paisley Lace Teddy is not without its problems, but for me personally, it is perfect. This and the Come Hither Romper (which I also reviewed) were my first two teddies, and I will definitely be purchasing more. I never looked twice at teddies, and now I can't get enough of them.
The Paisley Lace Teddy comes only in a one-size-fits all size and in black. The black I think it perfect for this pattern, but navy and red would probably be cute too, other typical bandana colors. Even if they were available, I would still have bought black though. There is also a very thin ruffly trim around the edges that adds some femininity to the teddy. It also features two layers of ruffles below the bust. It is a halter top that ties via a very long ribbon that should accommodate many heights, necks, chests, et cetera. However, the rest of it will not accommodate your size unless you are a size small, which luckily I am, because I am obsessed with this piece. The garters are really adjustable and totally removable, so you can wear this with or without stockings, and you can also use the garters on other pieces, which is really convenient!
Ribbon for the halter (which is super soft btw):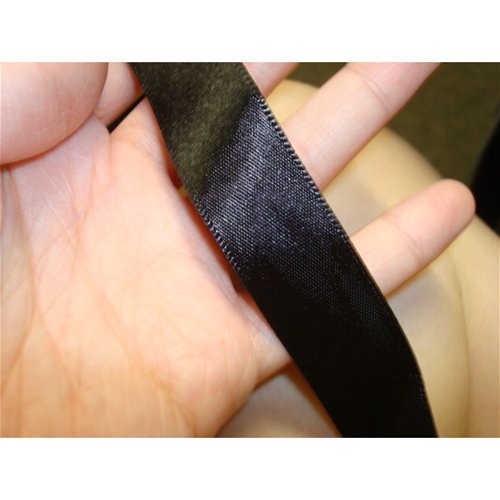 Garter: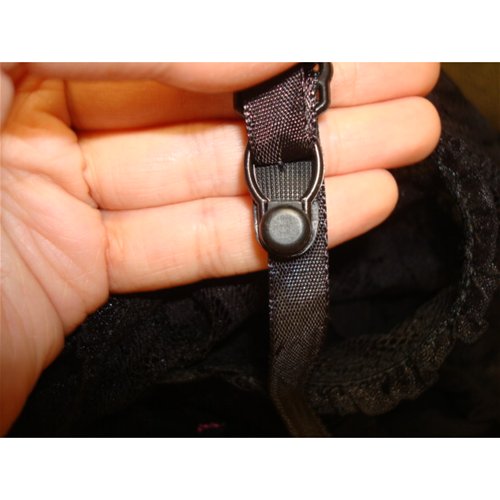 It came in this package: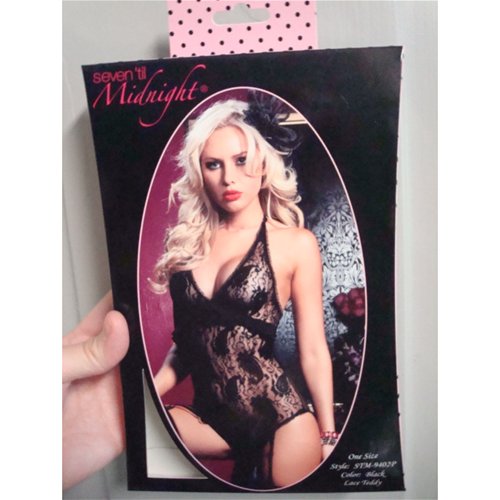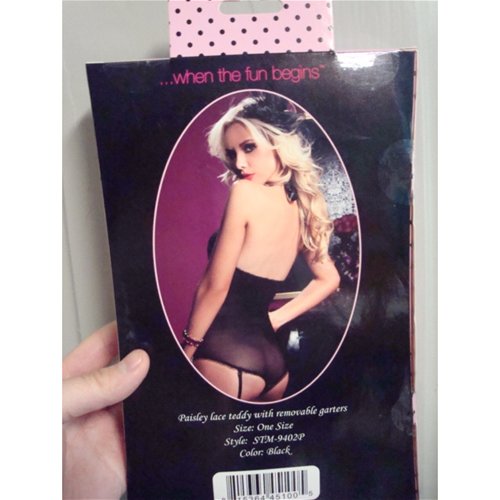 Measurements:
Ribbon halter ties - 24.5" long, .75" wide
Triangle tops - 8" outer side, 8.5" inner side, 5.75" bottom
Width under bust - 12" unstretched, 16" stretched
Leg holes - 8"
Removable garters - 5.5" at shortest, 10" at longest
Crotch width - 1.25"
Width between 3 hook closures - .25"
Height from below bust to crotch - 15"
This teddy is not very stretchy at all. The mesh back was definitely for the purpose of making it stretchier, but it doesn't really work, especially since people need more stretch on the front of their torso. However, the mesh would be helpful for people with small frames but a bigger ass.
I don't think this teddy would work for very many people, and I think that Seven Til Midnight would have greater success with this in the s/m/l/xl format of sizing. I don't understand how you can make something like this one size when there is very unstretchy lace that composes half of the garment. It would be better if they made the back with the paisley lace and then made individual sizes to fit more people properly. I do think this will be very flattering to people with small frames and for people who typically find that their boobs look great in halters (like myself).
There is a crotch to this, but it snaps like a bra with a 3-hook closure. This gives it some additional adjustability, but not by much since the hooks are only .25" apart. So between the loosest and tightest hook, you are only getting .5" extra height on the teddy. It might really help people though. The inside of the closure is a felt-like feel, so I wouldn't want to wear this for too long. I would definitely consider sewing some black cotton to it. I just hate lint up in my cooch, you know? It unsnaps really easily though, so you can have the look of having a crotch in the teddy but also the ability to unsnap it. It also can pull up to your stomach or wherever is more comfortable once you start going.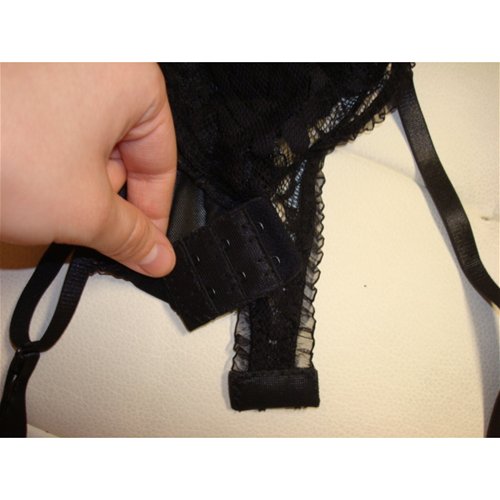 There is a big pink tag in the back, typical of Seven Til Midnight, with care instructions and size info. It is 90% nylon, 10% spandex, and should be hand washed cold with no bleach and line dried. It should not be ironed. I will be particularly careful with this piece since the hook closure could get caught on itself. I will not ever put this in a washing machine!
Experience
I am a size 2 with a 32C and 26" waist. I am about 5'2". This piece fits me really well, and I really like how I look in it. The reason I bought this piece was because my partner has a bandana fetish, so I thought that the paisley-printed lace would be appreciated. I bought it as a surprise for the night my partner gets back in town, so I haven't shown it off yet, along with all the other lingerie I've bought in January, unfortunately. But that's what follow-up reviews are for! I'm planning to put a skirt with it, and maybe even a blazer, and wear it to the airport for a nice surprise.
My only personal problem with this piece is that it arrived ripped. I pulled it on, was so excited, and then turned to the side and...well...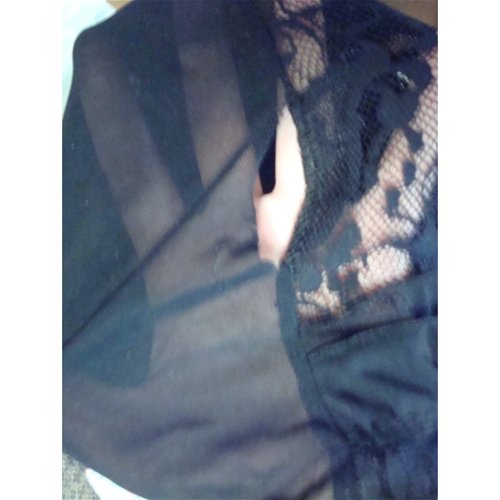 But I called EF, and told them about the problem, and they told me just to ship it off to them with a label they would send me by email (free shipping!) and to call them when I shipped it so that they could send a new one right away. That way I would not have to wait for their 2 weeks of processing. I dropped it off within an hour or so and by a few business days later, the new teddy, unripped, was waiting for me! I was so excited, opened it, put it on and...no rips! It's unfortunate that that happens sometimes, but I don't want to knock a star for it because it could happen to anyone and the new one was totally undamaged. I'm just glad it didn't happen after it had already gone out of stock.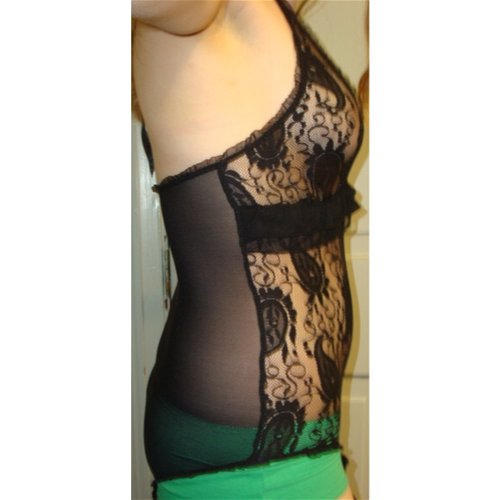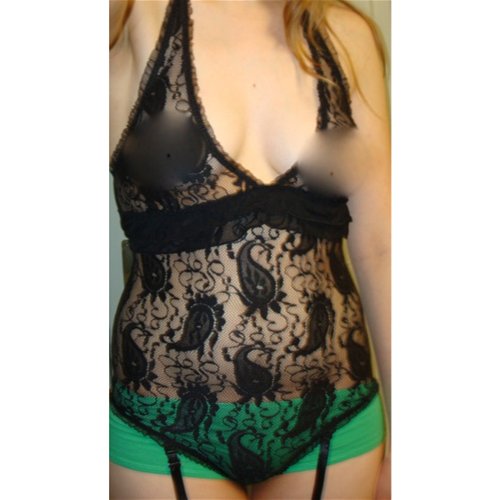 I'm giving it 4 stars, especially given the cost, with one star taken off for the fact that this is essentially a size small with "one-size-fits-all" tacked onto it.
This product was provided at a discounted price in exchange for an unbiased review. This review is in compliance with the FTC guidelines.

Thank you for viewing
Paisley lace teddy
review page!