For long legged ladies!
Overall, I wouldn't purchase these again. These were a big disappointment for me. The only difference in these is that these were abnormally long. Maybe they made them that way to fit very full thighs. I am not sure on that part but it does make me wonder if they would work for someone shorter but who has larger thighs. I am giving these 4 stars for the quality, the beautiful, soft lace and the nice texture of the fishnets. I am deducting a star because of the outrageous length.
Published:
Pros:
Soft material, Sexy style
Cons:
These are made for very long legs.
Introduction
Upon arrival of the lace top fishnet thigh highs by Seven til Midnight that I ordered in One Size Queen, I was surprised at how small they looked. I thought they would end up fitting me fine because the length looked very short. Shortly later would I learn that I was sadly mistaken. I will discuss in the performance portion of the review.
Packaging/Material
These arrived in a box packed with plenty of packing material and it was in a not so discreet package with a picture of the model on the front in a G-string and covering her bare breasts with one of her arms, the back she is wearing a g-string with an exposed behind. Inside, one thigh high was on a white, rectangle cardboard and the other was wrapped around it. This was all enclosed in a clear plastic packaging. These are made of a lightweight nylon/spandex mix.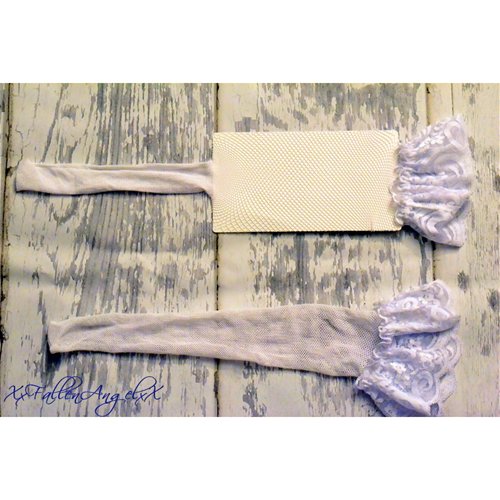 Sizing
These thigh highs arrived and were 17 inches in total length, unstretched and I didn't try to stretch any further because of the issue that I had with them being very long already.
There was still room left for a longer leg. I got them stretched to about 35 inches and that was at the top of the crease of my leg. These run really long. If you are about 6 foot, these would be idea for you as a perfect fit. The model on the photo must be really tall because they fit great on her. The part around my legs fit great but the length was just distributed wrong. Surely they must understand that not every lady is above 6 feet tall.
The lace band measured at 8.5 inches in diameter unstretched. With it stretched, it went out to 11 inches. I am about 5'2" and my thigh size at the upper middle part is 23 inches. My full thigh is 14 inches long from the upper crease to my knee. My lower leg area measured from my knee to my largest toe is 22 inches.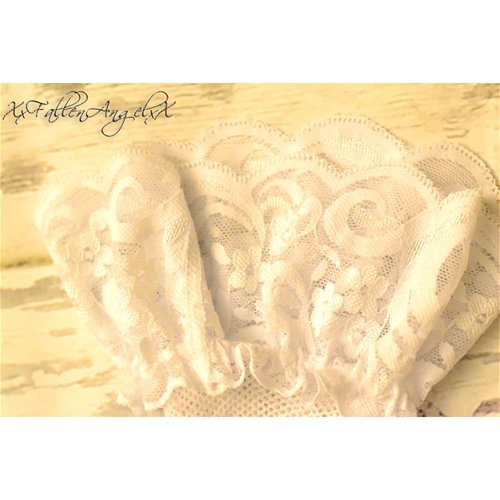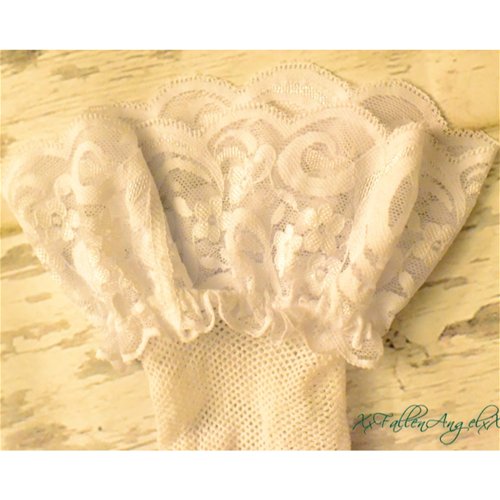 Performance/Function
I will start off with the good qualities of these thigh highs. The lace is well made and stretches nicely. It is a soft lace, and it's non irritating.
The fishnet portion of the thigh high is soft.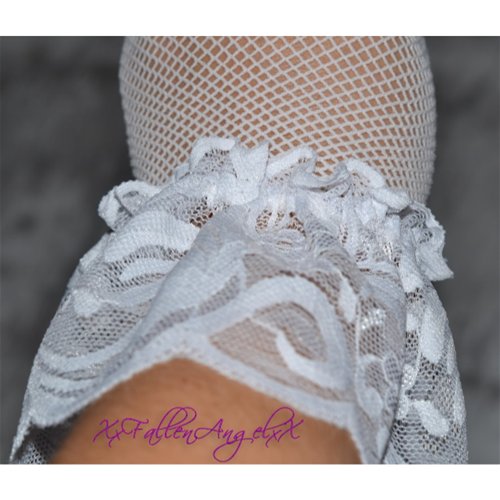 This is one of the softer textured materials that I have worn. The toe area of these fishnets actually worked and the fishnets are a smaller size so my toes did not come through the netting. I was impressed. This almost always happens when I wear fishnets with no reinforced seam at the toe area.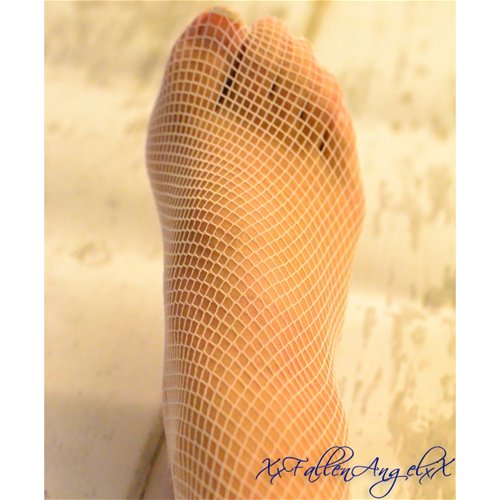 As for the sizing on these, it was a total bust. I put on the thigh highs and they went up to the crease of my upper leg and on top of that, there was still a ton of room! The lace was up so high and stretched out so it just continually rolled down my leg. There was no staying up with these thigh highs while wearing them. The band looked hideous. They weren't tight on my legs but they left bunched up material which I will show in the photos below. It looked like the once appealing lace had become a very twisted piece of material. I tried to maneuver them to get them to work somehow but it just wasn't happening.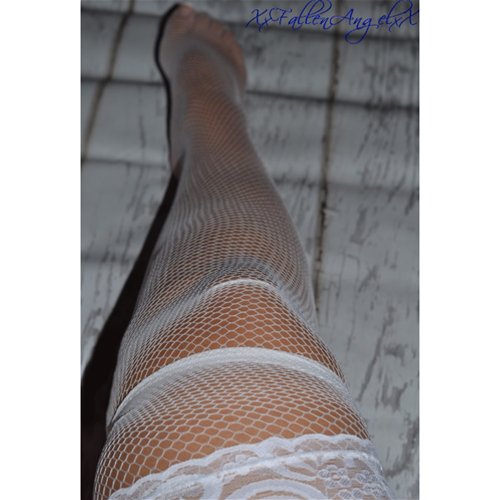 Don't get me wrong, these are pretty hot looking on my legs and that makes it even more of a disappointment because I was so stoked about wearing these in the bedroom and possibly out on the town with a costume. I would have to pair these with a garter belt that was very short in order for these to be worn but that may not even work. All in all, these are very beautiful and they do deliver in the sexiness department. The only concern is if you are under 5'10", you will be in the same boat as I am. You will have a sexy pair of thigh highs but all you will be able to do is look at them. I am trying to devise a plan to where I can cut these off and see if my sewing machine can do any dream work so I can wear these daring white fishnets.
Care/Washing
I would hand wash these in cold water and line dry. Do not bleach and do not dry in a dryer. I would use a delicate detergent as these are a softer fabric. Woolite should work great. I use it often and it works well for my lingerie.
Experience
I put these on to give them a try after the first fitting. I pulled them both up and went to walk around. I didn't make it out of the room before they actually turned into a doughnut shape and started rolling down my leg like a giant snowball. They seemed to stop a little above my knee. I was determined to make these work, so I am going to do some work on these and see what my creativity can come up with. I am hoping that these can be wearable. I will add that if you have longer legs, these may very well be some of the sexiest fishnets for you and I urge you to buy them if you want a sexy pair in your collection. I am still looking for that perfect pair to fit us shorter women. If only they made a petite plus size. At this point, I can only dream.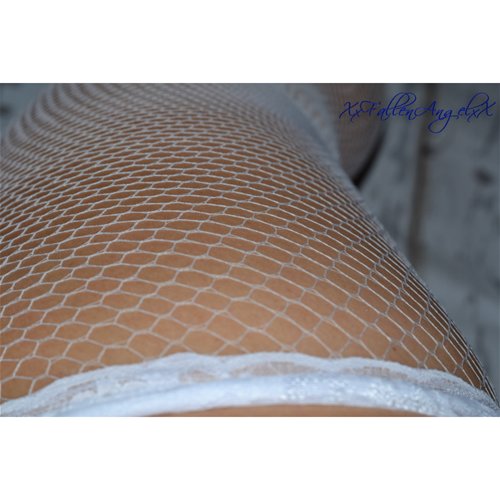 Follow-up commentary
14 days after original review
These are still very long and these will never fit me like they should. I had high hopes for these and I was let down. I hope to find some more that work for me.
This product was provided at a discounted price in exchange for an unbiased review. This review is in compliance with the FTC guidelines.

Thank you for viewing
Lace top fishnet thigh highs
– hosiery review page!