White Fishnets
Overall, these are nice basic stockings. A reinforced toe would certainly be beneficial, especially with these being net. Though, these aren't bad stockings, and they could be worn with lots of things! The price isn't bad either!
Published:
Pros:
Price, available in one size & plus size, nice length, comfortable thigh band, comfortable overall
Cons:
No reinforced toe, no care info/bleach info
The packaging for these is pretty average hosiery packaging. These come packaged in a sort of cardboard box sleeve, like so: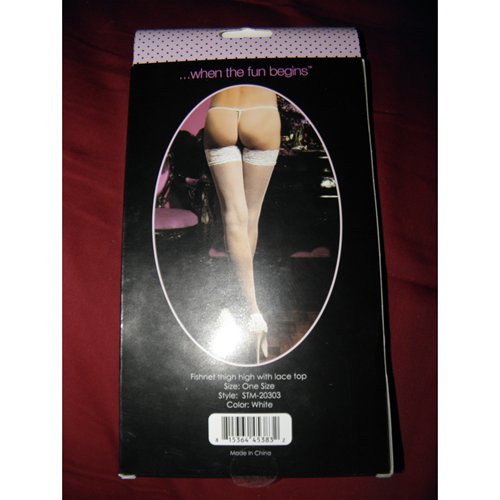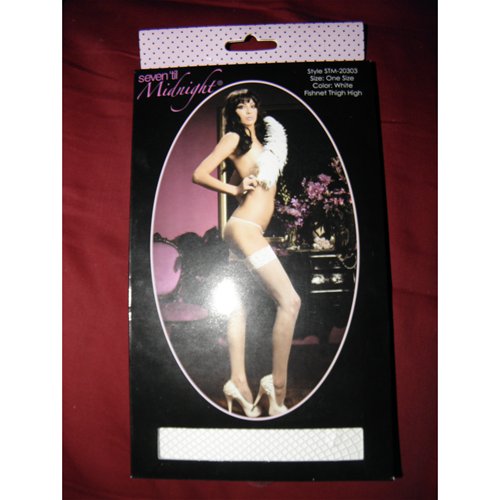 I ordered these in one size fits most, not plus size. One thing that I noticed as soon as I got them out of their plastic sleeve was the fabric. The fabric felt so smooth! This feels different from other fishnet stocking that I own; these are much softer to the touch.
These do not have any care instructions printed anywhere on the package. I am to assume that these are handwash, line dry, standard hosiery care. However, they are white, and I'm not sure about using bleach on them and it doesn't say anything about it anywhere. I'm not sure how bleach would affect this material at all, but it would be nice if it kept them bright looking. Since these are white, it would be nice to know about using bleach on this material, but I'm going to assume it's not bleach safe.
The one issue that I really have with these stockings is the lack of a reinforced toe. I prefer hosiery that has a reinforced toe, especially if it's net, because it feels more secure and less apt to snag. I think this is especially important for netted hosiery to have because it prevents your toes from going through the net awkwardly, and keeps the toes from getting ripped up. Aside from that, these are very comfortable and fit well. I sometimes order a queen size or plus size in hosiery when it is an option, because I find that it fits my legs better in some cases. I am tall and have long legs, and these are not short on me at all. They meet the middle of my thigh, and I don't feel like they are busting at the seams or pulled up so much that they could tear. They have a nice length, they measure about about 33" long on me right now. These are a comfortable fit on my thighs, which is very important. My thighs are a little thick, and the lace bands fit very comfortably. The lace does not itch at all, it, like the net, is very soft. I love how smooth these feel, all around. The lace is very stretchy and nice, and could fit thighs larger than mine comfortably. I'd say if your thighs are over about 25" inches around, you might want to go for the plus size.
The lace around the bottom of the band, where it connects to the lace, is a bit ruffled. The lace isn't stitched directly at the edge of the lace, so there is a bit of a ruffle effect along the edge. This is not terribly apparent, and it does not detract from them visually at all.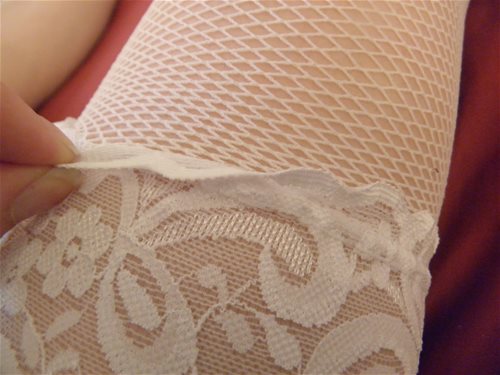 One thing I like about these is that they can be worn with lingerie, or with a nice dress or outfit. These can be great in public or private! These seem to stay up fine on their own, the bands don't seem to roll down excessively. You won't necessarily need to wear a garter to keep these up, but it wouldn't hurt.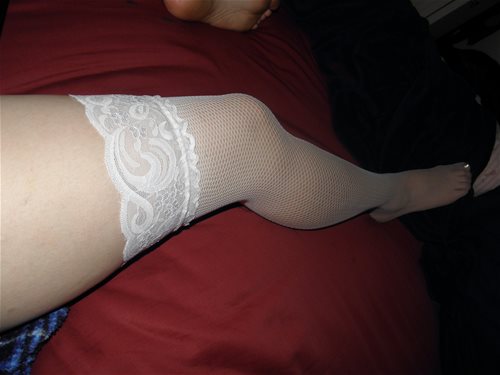 This content is the opinion of the submitting contributor and is not endorsed by EdenFantasys.com

Thank you for viewing
Lace top fishnet thigh highs
review page!