For mindinght adventures!
Although it is not super exciting when it comes to its appearance, it has no lace or cute pattern, it is one hell of a sexy corset. It fits your shape and accentuates that hour glass figure women use to attract their prey! It is super simple but it works and it feels sexy, it might inspire you to do a bit of burlesque.
Published:
Pros:
Perfect fit, robust, easy to care for
Cons:
doesn't come in other colors (may be a con for some...)
Use:
Of all the corsets I own, this has to be my most appreciated one of all. This is one sexy looking corset. Not only that, it really does work well as a corset is intended to be used or is supposed to function.
The Tesa's Midnight zip-front corset is not super high end, it is not super lacy and full of detail work, but it works. It can be worn as pictured on the model, with a pair of jeans. It can be worn on top of a blouse or white fitted t-shirt (if you're a little shy) but it can also be worn with a sexy bra and underwear. In fact, whether the underwear are sexy or not, it doesn't really matter. You're partner is not going to be looking at your crotch, he/she will be scoping out the major cleavage!
It is easy to put on and adjust and it also really accentuates your hour glass figure, or helps to create one if you're a little boxy or squarish (like me). It can go on really tight while maintaining a very comfortable fit. It is absolutely a great item to have.
Here's an image of the front of the corset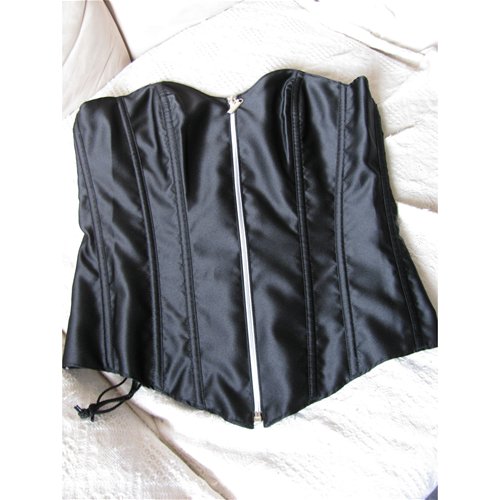 Material/Care and Maintenance:
Alright, so this wonderful corset is made of 100% Polyester. It is a material found in A LOT of lingerie, it is really easy to care for and is quite durable. The fabric on the outside has a sort of sheen to it, the fabric is really tightly knitted and it feels smooth but very robust. It isn't as smooth as silk but it feels nice none the less.
The cleaning instructions suggest to hand wash in cold water and to wash it separately. Also, it is strongly suggested (very logically so) to not use bleach on the product. To dry the product it is suggested to let it drip dry and to avoid wringing or twisting the corset. I have washed it in the gentle cycle once and let it dry flat on my clothing rack and there have appeared no ill effects after having used this method. You can follow the directions if you are really worried about damaging the corset, but mine has held up fine.
Here's an image of the back of the corset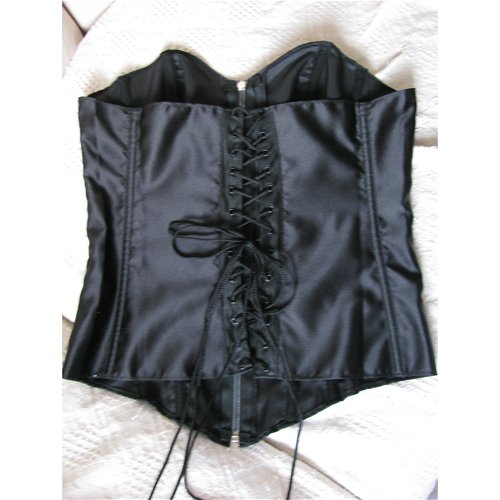 Design/Craftsmanship:
As I pointed out above, this corset is quite simple, no bells and whistles about it, as many say. It is a black corset with a silver zipper closure down the front. It has, what feels like, plastic boning all around, four in the front, two on the sides and two in the back. The back of the corset has two strips of fabric through which eyelets hold the string to tighten the corset.
There were no loose or frayed strings on this corset (there still aren't) and the seams are well done. The corset is quite nice in all its simplicity.
In terms of sizing, it is spot on. The corset is not tightened to the max and it fits me just tight enough as is. In terms of how easy it is to tighten it, I adjust the strings before putting it on and continue to adjust through trial and error. However, the strings are located in the middle of the back and are adjusted so that you simply have to pull on the them without assistance in order to adjust the corset to the desired tightness. I haven't used it this way but it is possible do do so. There are instructions on how to do this that come with the corset but I threw it away as I didn't need them.
The design of this corset is perfect. It very well hides the nipples and since it has an "M" shape it allows a lot of cleavage to show, without having the tops of your nipples showing. Although the boning isn't super high end, it works really well. My favorite part of the way this corset was designed is that it pooches down at the waist, perfect way to hide that little tummy I have a hard time to burn down in my work outs. It is a "long" corset, meaning it will flatter women with long torso's. I tend to look a little weird in corsets that are short so this particular corset by Tesa looks fabu-liscious on me.
Here's what it looks like on!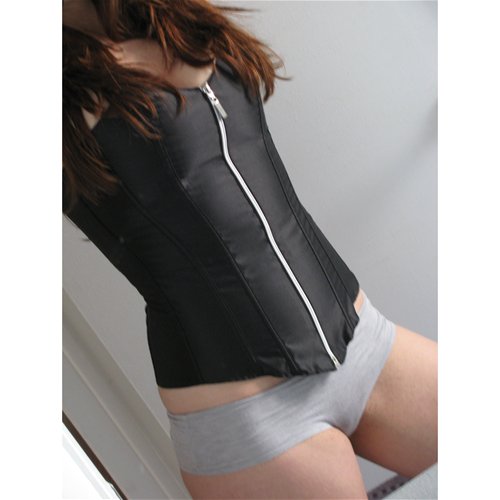 This product was provided free of charge to the reviewer. This review is in compliance with the FTC guidelines.

Thank you for viewing
Midnight zip-front corset
review page!