Wow! Had no idea I even had those!
Yowza! When I put this thing on I just want to prance around and show off my brand new boobage. No pancake boobs with this corset! It fits like a dream, holds up to wear and tear, allows for movement while still holding up its shape, and the zipper means you can hop in and out of it in a jiffy. What's not to love here? It should be a staple for everyone's lingerie collection.
Published:
Pros
Simple, sleek, classy, zipper for easy wear, lift and support for breasts
Cons
Boning can rub you the wrong way during extended wear.
Summary

Oh, corsets. They're incredibly sexy and flattering for all shapes and sizes. They help to create that highly sought after hourglass shape. They're perfect bedroom wear, but they can also be worn as part of a cute outfit in public! Double duty for the win! A basic black corset is a lingerie drawer staple because there's so much you can do with it. It's classy. You can dress it up. Add accessories and create sexy looks with it. Wear it with jeans, a sexy skirt perhaps, or slinky little panties.

When I came across this one it immediately went into my cart. It's incredibly simple, but it's also has the nice zipper detail with gives it a little originality. Surprisingly, I didn't have a single all black corset in my plethora of lingerie. This one also looked modest enough to be worn outside the bedroom. Why not, right? I hadn't tried any of the Escante corsets but I decided to give them a shot. Corsets in a 32 are a rather rare find.

Design/Material

This corset is incredibly simple. It's made of a black satin material which has a nice sheen to it, but it's not overly shiny which can make corsets of this style look too cheap. There is a slight rouching effect, but it's in no way wrinkly and looks incredibly elegant when worn. I was quite impressed by this because Escante managed to excel in an area that other manufacturers don't quite get right.

The sweetheart neckline is incredibly flattering to those with smaller breasts, such as myself. It seems as the shape of this corset does provide support for the breasts due to the shape of the cups. Other corsets I own are completely flat across the front. This gives me a bad case of pancake chest, and creates an odd shape for those with larger breasts. It allows for sexy cleavage without any spillage, constriction, or gaps in the bust. The bottom is nicely tapered in the front which gives extra coverage to the mid section and is a sexy compliment to the curves of the hips.

The back of the corset laces up. The string is the simple nylon cord design, but it is rather strong and holds the corset. There's no modesty panel, so take that into consideration if you choose to wear a bra. The laces meet in the middle of the corset and are easy to adjust. This also helps to conceal a bra band if you need that. The zipper in the front makes putting on and removing the corset a breeze. Busk and hook closures are often such a pain and take a little effort. Not this one. The zipper also seems to be made of quality material and zips up smoothly

The boning is pretty nice considering it is plastic. It a medium amount of rigidity which allows it to shape the body well, but it also allows for movement. I have a fancy $250 steel boned corset and it's a little hard to move in that one. It helps with posture but I can only sit pretty in it. I went out to a night club and danced the night away in this one comfortably. The only issue I had with the boning was that it rubbed me a little wrong at the top of my back and the front of my hips, but I was was doing some serious dancing, so that was to be expected.

Overall, this seems to be a corset that will hold up for quite a while. It's not the best quality out there, but it's made very well. I didn't notice any defects in the stitching or the fabric. After putting it through some abuse it has fared incredibly well. I'm confident about buying from Escante again.

Sizing

This corset fit me like a dream. It's rare that I find one that works for me since I'm such a little lady. My bust measurement is 31", waist is 25", and hips are 31" as well. Technically in bras I'm a 30C, but I normally go with 32B so I normally have a little but of breathing room in corsets or have the dreaded experience of lacing it up all the way and having it bunch up in the back. Not the case here. I had laced it up all snug and still had a nice little amount of space in the back to show some skin through.

Size Range:
Escante Sizing for Small
Dress size: 2 - 6
Cup: A - B
Bust:32 - 34
Waist: 24 - 26
Hips: 30 - 32
Weight: 90 - 120
Experience
So, apparently I can fit into the Escante small, and the corset sizing runs a little differently, so I'd think that the 32 goes with the lower end of the small, which is where I fit. Here's my guess:
Dress Size: 0-2
Cup: B/C
Bust: 30-32
Waist: 24-25
Hips: 30-32
Here's a pretty picture of me wearing it. Apparently I have boobs! I was not aware of this! I would have added a few other pictures here, but this one is from my phone and I wasn't able to get it from the back. I'm just shocked at the amount of cleavage and boobage I have from this corset, especially since my boobs are never on speaking terms and refuse to meet in the middle.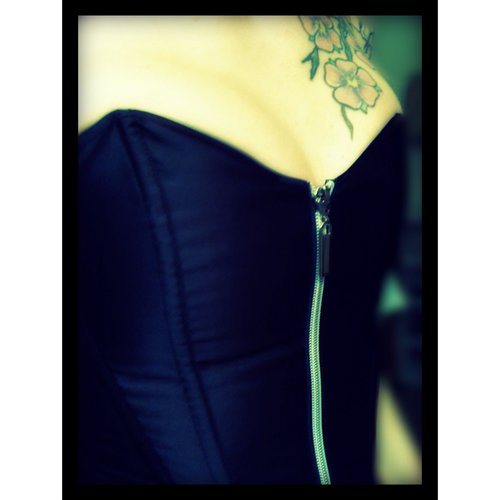 Care
Make sure you get this dry cleaned or clean it lightly with a slightly damp cloth. It seems pretty snag resistant, so it can be stored in a lingerie drawer or on a hanger with no issues.
Follow-up commentary
12 days after original review
I've had this for about 4 months now and I've really only worn it once and I feel its days might be coming to a close. I got a steel-boned corset that's a lot like this one and it changed my ideas of what a corset should be. If I ever do want to go out dancing again or look cute in public I might break this one out because it's a little more comfortable than the other one, but my steel-boned totally trumps this.
This content is the opinion of the submitting contributor and is not endorsed by EdenFantasys.com
Thank you for viewing
Midnight zip-front corset
review page!