Friendly game of tackle anyone?
Ever had your partner ignore you during a football game? I can guarantee that won't happen when you are wearing this. This is one of the most comfortable outfits I have ever worn, allowing you to move about freely and cheer for your favorite team....or game.
Published:
Pros:
Very comfortable, will stretch to accomodate many different shapes and sizes
Cons:
Won't fit anything over XL
This is by far the most comfortable, easy to wear costume that I have gotten to date. The Football Player Female by Coquette is made of 80% Nylon and 20% Spandex. It stretches nicely allowing free, easy movement. It is a one size fits all. I am 5'5 and weigh about 120 lbs. It fits me great and there is plenty of stretch available to go easily to a Large or XL, anything over that it will probably not be very comfortable, if it's possible.
The top is a crop top that is black with red satin-like trim and a white mesh across the shoulders. It has the numbers 69 on the front in a white iron on. It feels a lot like a regular football jersey on. I am a 34B and it fits quite nicely across my breasts, what there are of them anyway. The material and the way that it is made will allow for breasts a lot bigger without compromising the material.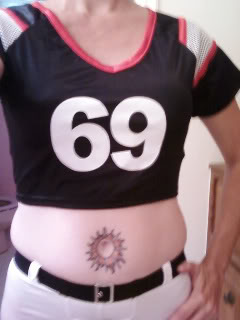 The bottoms are a white satin-like material that again is very stretchy to accomodate a lot of different bootys. There is an elastic belt that is attached with a metal buckle that is not adjustable, but it doesn't need to be. There are 8 hoops made of the white material that allow you to lace it, much like a football with an elastic cord, letting you adjust the size on the bottoms. At the bottom of the right side, there is a red stripe and a black stripe matching it to the top.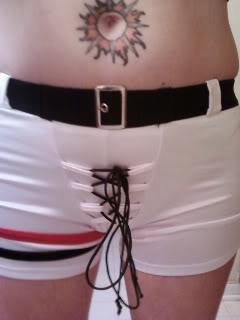 The back of the shorts are a solid white, with the belt running through a loop in the back. They are a bit see-thru so if you are planning on wearing these out you may want to wear some white boy shorts. As you can see in this picture, my tattoo is visible through them, as well as the tag, which I will be removing.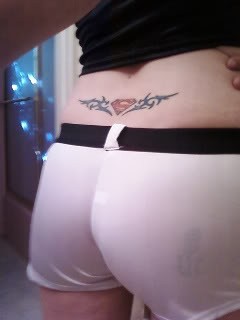 Care is easy, just hand wash it in a mild detergent and allow it to air dry completely before putting it away.
My husband loves this costume as well. I don't think he knows what to do with himself anymore as everytime he comes home I have some new outfit to show him. He seems to thoroughly enjoy himself, so who am I to question it?
This product was provided at a discounted price in exchange for an unbiased review. This review is in compliance with the FTC guidelines.

Thank you for viewing
Football player female
– costume review page!