Fuchsia Fun! (Plus Size)
The fuchsia panties from Coquette are beautiful and delicate. I like having these in my large collection of lingerie and I'm looking forward to buying the other colors. It's nice to see a panty that fits more petite ladies without sagging or falling off my body. They sit perfectly at my hips. I really like that the panties can be worn for everyday use as well as for bedroom play. Coquette, you get 5 stars for these!
Published:
Pros:
-Lightweight
-Sexy
-Non itchy
Cons:
-Runs smaller than plus size
The Fuchsia lace crotchless panty in OS/XL by Coquette is a flirty little panty that is excitingly appealing. The panty makes me feel a sex goddess while I'm wearing them.
The plus size option of these is smaller so please check out my measurements so you can get an idea of how these fit. I actually like this size because it fits more like a Large/XLarge in my opinion. These actually fit exactly like a few of my size 7 panties. I measured them together and their sizes were almost exact. These were a bit bigger than my size 6 panties. These are very stretchy so they can fit larger hips than mine. I'd think that the OSFM would fit a very small size. Check out my size chart below.
I have included a photo to help show the fit and pattern.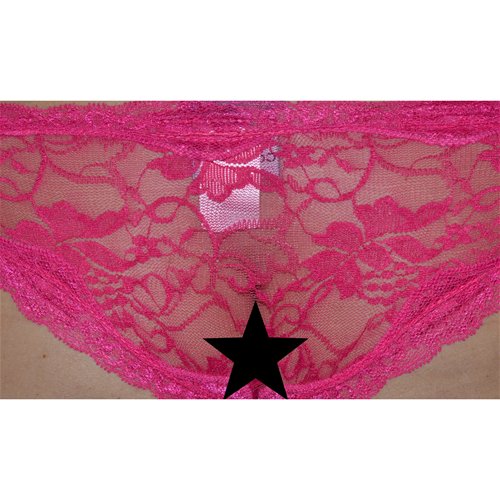 Packaging
The panties arrived in a clear plastic packaging that Coquette always sends with their items. This helps with shipping and if the package gets wet, your panties will more than likely stay dry.
There is a tag attached to the panties by a small black safety pin and very thin, black satin ribbon. I like this feature because some companies just put elastic tags that can snag delicate panties and cause rips. This tag is very easy to remove because of the safety pin. I'm glad that Coquette tags their lingerie items this way.
Coquette's sizing chart:
Cup Bust (in) Waist (in) Hip (in)
Small 4 - 6 B 34 - 36 26 - 28 36 - 38
Sm/Med 6 - 10 B 34 - 38 26 - 30 36 - 40
Medium 8 - 10 B 36 - 38 26 - 30 38 - 40
Med/Lg 10 - 12 C 36 - 40 28 - 32 38 - 42
Large 14 - 12 C 38 - 40 30 - 32 40 - 42
X Lg. 14 - 16 D 42 - 44 34 - 36 44 - 46
O/S 4 - 14 B 34 - 40 26 - 32 36 - 42
1X/2X 18 - 22 D 46 - 50 38 - 42 46 - 52
3X/4X 24 - 28 D 52 - 56 44 - 48 54 - 58
Q/OS 18 - 26 D 46 - 54 38 - 46 48 - 56
Measurements
Waist measured across unstretched: 15- 1/2"
Waist measured across stretched: 20"
Top front to top back unstretched: 18"
Top front to top back stretched: 23"
Length of total crotch area: 4"
Width of each crotch panel: 1.5"
Satin Bow Size: Bow was made using 3/8" ribbon and are 1.5" wide
Side panel(Hip) Measurements from top to bottom: 2-1/4"
Leg opening unstretched: 22"
Leg opening stretched: 26"
These panties stretch both vertically and horizontally.
My sizes are:
Breast/Bra Size- 38F
Waist- 37.5"
Hips- 42"
Height- 5'2"
Usual panty size- 7
Material
The panties are 100% Nylon. The main material used for the stomach and back area is sheer for the most part and there are no opaque areas on the panty. The pattern on the panty is made up of large flowers with what seems to be vines along with smaller flowers. The lace used along for the waist, crotch area and leg openings is a scalloped lace pattern. It seems just a tad lighter and shinier than the other lace. The lace hasn't unraveled on me while wearing them. I kept waiting to see if it would happen but it hasn't so far.
There is a pink bow directly in the top center of the panties. Satin ribbon was used for this bow. Satin bows sometimes do become frayed after washings and repeated wear. If this occurs, take a lighter and lightly run across the tails of the bow. You can do this before the first wear as well to keep it from fraying in the future. The bow is sewn on well and will require some work to remove it. I wouldn't suggest removing because it could rip the delicate lace.
The seams on the panty are sewn with a commercial Serger sewing machine, there is a double wide locking on the threads which works great to ensure a longer lasting seam.
I'm rating this at 5 stars because I really like the fit. It's nice to see a smaller panty made that contours to my body so perfectly. I like that they're lightweight because in the summer when I'm out, I get hot and a nice pair of thin panties is what I always reach for in my lingerie chest or drawer. These are also easy to take off. They slipped right off under my skirt when my partner initiated some foreplay. They also come off easily with teeth, assuming that teeth would be involved in your foreplay.
Experience
These panties make the cheeks look even more rounder and sexier. These do seem to run a little small but I think it's only because there isn't much to them. I really like the style of them! I can wear them as an everyday panty because the crotch doesn't hang open. To keep them open during intercourse, I just held them open with my hand. They didn't stay open on their own. You could wear them for bedroom play or for everyday use. These are versatile enough to do both. These are another panty from Coquette that I find truly comfortable and sexy.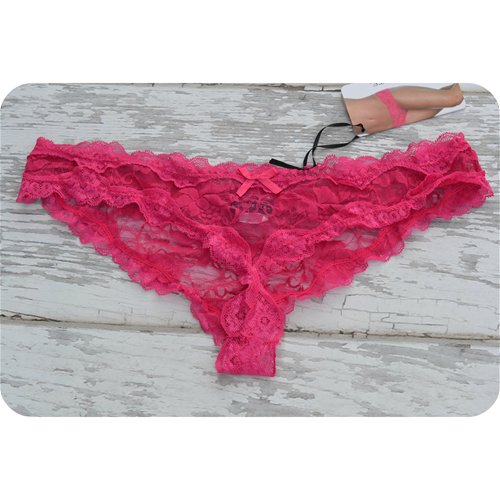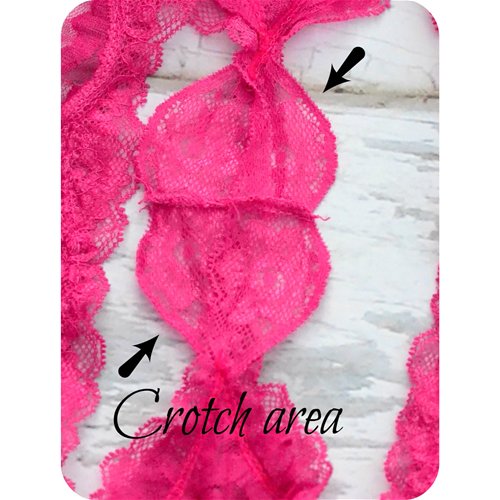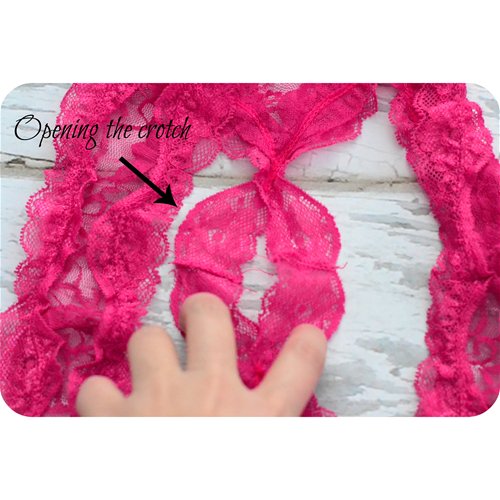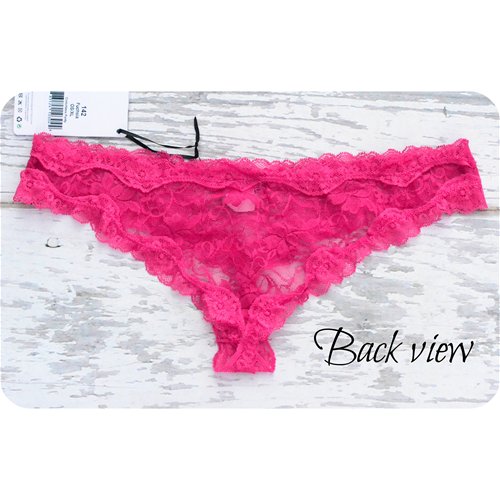 There is no cotton crotch with these because they are an open crotch panty. The lace used for the crotch area seems like it would be itchy but it isn't. It's not bothersome to me during intercourse or during light activities. These panties could work for both genders but would be better for a female gender because of the smaller fit crotch area.
The panty has 3 tags sewn into the upper back.
The bottom tag states the material: (100% Nylon)
The bottom white tag also states the care instructions and where the panty was made:
Exclusive of trim, hand wash only and hang to dry.
Made in China
The white satin middle tag states the size:
OS/XL
The top black tag states the brand:
Coquette
The weight is very light. They weight 0.1 lb.
If you were going to wear these for long lengths of time, please remember that there is no cotton crotch lining and if worn too long, some materials can cause irritation to the vulva and vagina, such as yeast infections, etc.
The lace on the waist and the lace on the leg openings didn't cause any discomfort, itching or digging in.
Washing/Care
I know that with some lace panties, they tend to snag and become unraveled when washed. I have been guilty of forgetting about hand washing them and I've thrown some into the wash. Some make it out okay, some don't.
With these, I'd be extra cautious because they are a thin and very lightweight lace. These may be some of the thinnest panties that I've purchased that aren't a thong or G-string.
For the care of these, I would use a gentle cleanser on them and hang in a bathroom on a shower rod to drip dry. They should dry fairly quickly, given the material and weight. I just folded them over a small plastic hanger and hung at the end of my shower curtain near my vent. They dried in about 10 minutes with warm heat flowing near them.
When I first received them, I used a lingerie wash that I purchased from
here.
It does have a scent so if you wanted something non scented, you could use your choice of detergent.
If you are a plus size of 3X/4X, these will most likely not fit you comfortably.
If you are petite and a size 10-16 these should fit great. These would fit a small 13/14 perfect. (14-My size)
These panties come in the colors : Fuchsia, Black, White, Red
These panties come in the sizes of: Plus Size and OSFM.
Follow-up commentary
25 days after original review
These are still some of the cutest little panties that I own. They really show a lot of my booty and my partner loves this about them. When I wear these, he calls my cheeks "Melons"... Thanks for selling me these panties, Eden Fantasys!
This content is the opinion of the submitting contributor and is not endorsed by EdenFantasys.com

Thank you for viewing
Fuchsia lace crotchless panty
– sexy panties review page!