Fun, sexy, comfortable all in one!
If you are looking for a sexy dress to wear both in the bedroom and out in public for fun events and clubbing, this dress offers you the best of both worlds.
Published:
Pros:
Sexy, fun, holds up after many uses, easy to care for and store, very discreet
Cons:
High cost, must be hand-washed, garters are not removable or adjustable
WHO SHOULD USE THIS, AND WHERE
The
pleather dress
made by
Coquette
is a fun, sexy dress that can be worn both in the bedroom, and if you are daring enough, out of the bedroom as well. This dress is, of course for women, or anyone who identifies as female, of course. It may not be the best choice for trans-women who have not had bottom surgery and are uncomfortable with anything showing, however, because of how short it is and ow tightly it fits. Even if you're wearing panties, it can show the panty-line, so that is just a caution. Other than that, it is a sexy piece that can add some flair to the bedroom or make a fun outfit for those daring enough to wear it out to the club!
DRESS DESCRIPTION AND SIZING INFORMATION
The size chart indicates that it should fit women with the following sizes:

For me, I am a large 38C, 38" bust, 32" waist and a 40" hip. I weigh about 130lbs and am 5'2. This fit me fine, though it was pretty tight from top to bottom when I tighten the lacing on the back up. There was plenty of wiggle room in the cup area, even for larger breasts, you would simply have to loosen up the lacing on the back, which can be very tight or very loose depending on your size, which makes the dress even better!
From the highest point of the cup area to the bottom hem-line, it measures about 25 1/4". It is 31" across at its loosest point, and 26" across if you tighten the lacing as much as it will go.
Because of the length, however, some taller women will want to keep in mind that this may not cover much and so if you intend to wear this out to a club or somewhere in public, so you will want to do some measurements at home on yourself if you have intentions of using it for this purpose. In the bedroom, however, it should work just fine!
The red to the dress is very vibrant and gives it almost a 'goth' style look to it, which is something I love. This is what attracted me to the dress in the first place, since that is my preferred style. Here is a photo of the dress from the back: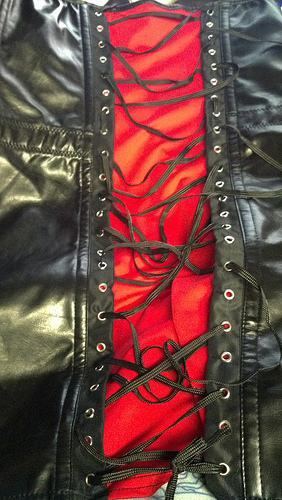 MATERIALS
The dress is made of
polyester
, which is a fairly stretchy material which gives it that leathery texture and look. It doesn't have that shine that some of the wet-look clothes do, which was something I was pretty happy about, because I am not a fan of the wet-look outside of the bedroom. The zipper seems to be metal, which is great, because I can't stand plastic zippers. They break easily and snag often, and become unusable after only a few uses. The metal zipper hasn't failed me yet, so I am very happy about this. I've managed to wear this outfit out of the house on several occasions, and so far it is showing no signs of wear and tear. It is easy to care for because of the material, and the polyester gives it just enough stretch to not make it uncomfortable to wear after a few hours. It does, however, cling to your body and if you are in a club dancing or building up body heat, it doesn't allow the skin to breathe, so it can hold in the sweat, which may be uncomfortable for some.
It comes with two adjustable straps, which fit at both the tightest and loosest setting with the lacing. I personally prefer to wear it with the straps on, because I tend to have fears of it slipping down too far and having something showing while in public, though it seems as though it won't really slide down because of the material. It is just personal preference that I wear them. There are also 4 non-adjustable garters, which I removed by undoing the stitching to them. I had no use for the garters, and the fact that they can't otherwise be removed or adjusted was just an annoyance to me.
Experience
CARING FOR THE DRESS

The dress is very easy to clean and care for. The instructions say to hand-wash this, and it is recommended that you line dry it. Drying doesn't take too long, maybe 30 minutes for a complete drying, in a closed in bathroom. Typically, since I do not tend to get sweaty or get any type of lubricant or any sort of mess on the dress, I don't need to hand wash it often. I simply wipe it down with a wet washcloth and let it dry for about 5 minutes before hanging it back up.

I have only had to hand wash it twice so far, and it has held up after washing and drying just fine. It can form wrinkles if it is folded, but if you hang it up for a few hours the wrinkles work their way out of it easily. You may want to wash it prior to wearing, if it is too wrinkly, and allow it to hang-dry, to get excess wrinkles out.

PACKAGING AND PROPER STORAGE OF THE DRESS

There is no real packaging with the dress aside from the plastic that it comes in. For storage, it is best if you can hang it up. It looks like a party dress, not something you would necessarily wear in the bedroom, so it really shouldn't be noticed if you hang it with other clothing in your closet. It is fairly discreet. Hanging prevents wrinkling, which can be obvious because of the material and colors.


ADDITIONAL INFORMATION

I purchased this dress because I loved the 'goth' look to it, and figured it would be something I could wear out of the house. I was thrilled that it managed to serve its purpose. I had been slightly worried since a lot of the time when you purchase dresses from the site, they are a lot more revealing when actually worn than they appear in the display photos. I purchased the dress prior to any reviews being up, so I was thrilled when I received it and found that it was exactly what I'd expected. I've had this dress for a few months now, and am very pleased with it. It is well worth the high cost!
This product was provided free of charge to the reviewer. This review is in compliance with the FTC guidelines.

Thank you for viewing
Pleather dress
– mini dress review page!