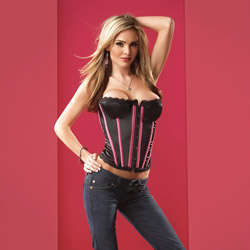 Satin padded corset
Corset by Coquette
Gamer Girl's (and Guy's) Dream Come True
This corset broke my heart. It looked gorgeous on me, but its quality of construction led to two of the busk buttons popping off. Even so, it is definitely wearable for short periods of time. I'll never try to wear it for 6 straight hours again, but I still plan on using it to let my boyfriend know it's time to put down his games and start playing mine.
Published:
Pros:
Looks GREAT, great for bedrooms and costumes.
Cons:
Not suited for long periods of wear, busk buttons not well-secured.
I, Miss Cinnamon, have wanted a corset since... before high school. So, like, BEFORE I REALLY EVEN HAD BREASTS. I blame Evanescence and the allure of sexy lace-up, shaping, constricting top-wear. I bought faux corset tops left and right. Browsing through Goodwill's clothing selection for anything that looked even remotely corset-y became an after-school past-time, an extracurricular activity, if you will.
My senior year of high school, I became involved with the local live-action role-playing group, in which we pretended to be vampires (less lame than it sounds, but I'm working with a word limit here). Now obtaining a corset became integral to my social status in the gaming community in AND out of character. How could a comely vampire female exist apart from a corset? How could any self-respecting gamer girl not own one?
Little more than a year later, I have buckled to peer pressure and am now the proud owner of an attractive, flattering, but slightly malfunctioning
Satin Padded Corset from Coquette
. In fuchsia & black, no less!
The corset fell out of the shipping box and into my greedy little hands, still meticulously wrapped in red tissue paper. I got a little choked up. It was as if whoever had packaged it had gone through especial trouble to make it look like a gift from the gaming gods. "Here is thine badge of vampire smexiness, ye little one." I eagerly retrieved the corset from the paper and pulled it out of its plastic bag. I then blinked once, twice, and made a sad face.
Somehow, the top busk closure's "button" part had fallen out. It was still in the bag, looking rather lonely. I took it out and tried to press it back into its proper place in the busk, but to no avail. Oh well, I wouldn't let that ruin my day. I had accidentally ordered the corset one size too small, but then I heard that you are actually supposed to order corsets 2"-4" smaller than your actual waist size for the slimming effect. I wanted to see if the small size fit me before trying to exchange it for a larger size. As it turns out, it just barely fit, but it fit well. I am a 29" waist, but ordered a small, which goes up to a 28" waist. After tightening the corset as much as was comfortable, I was able to still tie a comfortable bunny knot.
Being my first corset, it took a lot of pushing and pulling and tugging away while reading on-line guides to finally lace myself into the pretty thing. When I finally managed to get it on the next morning (I had to take a break before I went out and set someone on fire), I spent nearly an hour ogling myself. Damn, but this corset made me look GOOD. The black satin cups, which I had worried were too big for my A-cup breasts, were softly padded and supported my breasts gently while giving my bust a fuller appearance (but not ridiculously so). Fuchsia stripes highlighted where the corset bones were, creating an optical slimming effect in my waist. The similarly colored ribbon lacing criss-crossed across my back attractively, while black lace trim on the top and bottom of the corset softened the lines.
I was utterly in love with it, top busk closure be damned.
Experience
Of course, the subsequent action was to wear it to the next game. While my boyfriend was outside talking geek-speak with his gamer friends, I got ready in his bedroom. I laced up my corset as tightly as I could without endangering the ribbons, which are really not appropriate for a corset as they are too thin. I'm not coordinated enough to tie a bow high up in my mid back, so I sauntered out into the living room where a heated discussion was taking place.
I basked in the silence permeated by thuds as several male jaws hit the floor. "Tie me up, please?" I asked my boyfriend sweetly, who grinned and complied.
At the game, I received many compliments, from male and female friends alike, about my new corset. However, our games, though not physically strenuous, typically last 5-6 hours. This was more time than this corset could handle being consistently worn. As I was conversing on a couch with someone else, I noticed that yet ANOTHER busk button was missing, this time the very bottom one. After a bit of looking around, I located it not far away from where I was sitting. The remaining three closures creaked ominously and I sat up straight and stiff as a ramrod, afraid that if I slouched or leaned back at all, the whole thing would fly off me and jaws would drop for an entirely different reason.
Overall, I loved this corset to death. It was beautiful, the colors were perfect, and it felt amazing when it was on. However, the quality of the construction is not perfect. The ribbon used for lacing up is similar to the satin ribbon you might find at a craft store. It's pretty, but not ideal for lacing up a corset. It also creases very easily. The busk buttons (is there another term for this?) are only very tentatively held in place, and at signs of improper stress, will likely pop off. The bones are rather soft and flexible, which leads me to believe that they are plastic.
The
Satin Padded Corset by Coquette
is great for short periods of wear and seduction. Anything longer than half an hour, though, and you might want to have something more comfortable to change into.
This product was provided free of charge to the reviewer. This review is in compliance with the FTC guidelines.

Thank you for viewing
Satin padded corset
review page!