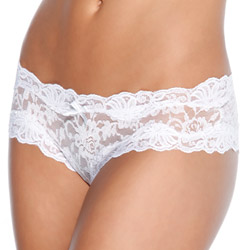 Crotchless panty
Crotchless panty
by Coquette
Get Your Clit Floss, Here!
In a pinch, these panties will suffice but I honestly expected something of much better quality from Coquette, especially given the cost.
Published:
Pros:
Lace
Cons:
Construction, Quality, Crotch
I've always been kind of baffled by claims that wearing a thong felt like flossing your butt, until I wore these lacy panties from Coquette for the first time. And oh how I wish it were my butt that were getting the flossin'.
I ordered these delicate, 100% nylon, adorable panties in a size small. They appear to run true to a size 5 panty. I was very, very pleased to find that they hug my hips perfectly and sit right beneath the small of my back. I was not so pleased to find out that the crotchless part of the panty is some weird, torture-device inspired, "Y" configuration of lace.
Due to an overall lack of fabric in this area, the crotch finds its way into the folds of the labia and sits squarely on top of my clit. Instead of crotchless, you get camel toe! Strangely, that's erotic in its own right.
If I rock back and forth, the two straps of fabric kind of pinch a little bit. It's not painful, exactly. Nor is it overwhelmingly pleasurable, either. It's just this wad of fabric flossin' my clit. And yet, somehow someway they are oddly comfortable.
Sex? Hahaha, no way. They're hard to move to the side and the opening isn't big enough to just spread eagle and go to town with a dildo or lover. The lace at the crotch is also really hard to get 100% clean by handwashing, and for this reason I completely ignore the manufacturer's directions to handwash only. Nope, in the lingerie bag and wash they go! I do set them on top of the dryer instead of tossing them in, though.
The overall quality is okay. I expect better stitching on a $12 pair of panties, but it is lace, so there's a little bit of lee-way there. And I also expect for the lace details to be perfectly centered underneath the bow and not off to the side all willy-nilly like the pair I received. This tells me the construction of the garment was rushed.
Front:
Back:
If you follow the directions explicitly, never bleach them, never wash them in the machine or tumble dry them, then they should hold up for a fair amount of time. But, this is not going to be that eternal pair of underwear that survives all manner of play and treatment. The lace is going to rip and holes will develop at some point in time. If you're just looking for something to play around in, these will do the job. If you're looking for something well-made and durable, look somewhere else.
I will wear these on occasion, but they aren't going to be my go-to pair. So disappointing as I was really looking forward to owning a WHITE pair of crotchless undies. I'll be keeping my eye on new designs from Coquette to see if they release anything that rivals this pair.
Follow-up commentary
4 months after original review
I never, ever wear these. They just sit in the closet gathering dust. I did wash them one or two more times in the washing machine just to see how they would hold up and whatever spandex was holding this together started to unravel and it became stringy. The more you cut off, the more there was to deal with.
This product was provided at a discounted price in exchange for an unbiased review. This review is in compliance with the FTC guidelines.

Thank you for viewing
Crotchless panty
review page!