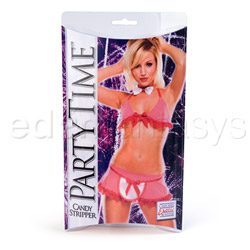 Candy stripper
Costume
by California Exotic
Get Your Sweets, Taffy and Lollipops
The Part Time Candy Stripper will have you running for a toothbrush because it is just that sweet. Mostly cute and a little bit sexy, it features a daring micro skirt and an innocent small cup bra top. It will fit most small and medium girls and can be altered to fit XS.
Published:
Pros:
Cute, flattering outfit on smaller girls. Sexy peek a boo skirt, soft fabric.
Cons:
Sized Sm/Med not one size fits most, cheap bow tie.
Sizing:


My recommended One Size Fits Some Sizing:

Bust: 30-34inch under breast
Cup: B or C (Bra Size:34B/C to 38B Approx.)
Waist: 25-30
Hip: 35-38 *panties may be too tight at 38in*
Neck: up to 17in but fairly tight at 14in


Summary:

The Party Time Candy Stripper is a five piece costume that is easy to wear and very girly. There are ribbons, lace and bows, and even a bow tie. Honestly all you are missing is a lollipop!

The top is a shelf halter bra top held together by stretchy elastic. The straps do not adjust, and on an A cup the top tends to ride up because there are no 'girls' pulling it back down. That is why I would recommend a B or C cup to stretch down on the top and keep it in place. (If it continues to pull up, tighten the back straps *see bottom how to* ).

Although the back strap is also not adjustable, it does have good stretch and can fit some range of sizes. Because the cups are not supportive and the shoulder straps are not adjustable (and are a bit tight), D cups or larger might not fit well into this top.

I was surprised to find out that there is a 1 inch lace band at the bottom of the bra. You cant really see it that well in the picture. The lace doesn't lie flat, it frills out adding some 'look at me!!' to the chest area. For my A cups it was too much frill, it made me look and go: "um, OK my eye is drawn to my chest, but what am I looking at?" For B and C cups, I would expect that the extra details would be quite flattering.

The skirt flares out a bit and hangs from the hips. There is a lace hem on the bottom of the skirt that gives it a little extra weight to make the skirt fall nicely. The skirt is cut extremely short in the back to expose the bottom half of your backside.

The panties are unlined, and are basically a triangle connected to two pieces of inter- lapping elastic. They are rather tight, but that is basically because you are wearing an elastic band and nothing else. On a 34 inch hip they fit rather comfortably, on a 38 inch they may not.

The apron ties in front of the skirt and is truly the only one size fit all portion of the set. (Well up to maybe a 42in hip.)

The bow tie, just like the panties is nothing but elastic. It fits comfortably around a 14 inch neck and has enough give to fit up to 17in. On me it wasn't too tight, but it wasn't exactly comfortable either. I personally do not enjoy tight things around my neck. Functionally, the bow tie was annoying. The bow portion of it is poorly constructed and can easily slide out if not paid attention to. I honestly don't know why the makers didn't spend a tiny bit more time and put a stich in the bow so it didn't slide out. Oh well.



Quality:

Except for the elastic pieces (bow tie and panties) the outfit is really comfortable. It is made out of polyester but is smooth like satin. The seams are pretty strong, but there aren't many of them to rip. The outfit is made out of stretchy polyester, nylon and elastic bands.

There are some lace hems and a bow on the bra that is sewed on, that with heavy wear might pull loose. For that reason it is probably best to hand wash this set. If not that, definitely cold water wash gentle cycle.



How to make this fit an XS or 30-32 Band Bra:
(This outfit was altered to fit a 30A )

Top:
1. Tie a knot in the elastic in the middle of the back
or use a sewing machine to take in some of the elastic band

2. Safety pin the the front of the bra so that the two cups are closer. The large red bow will hide the safety pin.

Skirt:
Safety Pin or sew along the seams of the skirt to desired size.
Experience
My favorite thing about this set is that it is easy to take off. Once I pinned it to my size, it was very flattering to my small chest, and the skirt was so sexy from behind. I think this set would look very 'cute' on smaller frames.

I am giving the set three out of five stars. Four stars originally because I was able to make it fit me (Five stars is reserved for a piece that fits.) but I subtracted one star because its just too darn syrupy sweet for me.
This product was provided free of charge to the reviewer. This review is in compliance with the FTC guidelines.

Thank you for viewing
Candy stripper
– sexy costume review page!