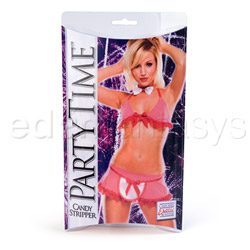 Candy stripper
Costume by California Exotic
Would have been sexy if I could wear it.
It's cute but there should be an option to pick your size. This was just kind of sent to me with an assumption that I'd be thin. That is a "no-no" for me since I'm not thin. Other than that, it's a great costume.
Published:
Pros:
Sexy and Cute
Cons:
Harsh material for the top and lace and didn't list the size I needed.
First for a physical description: This is a cute little outfit. I would call it sort of a kinky waitress outfit with a string bikini top and a peek-a-boo skirt with a thong underneath. It comes with an apron and a bow tie. It has red and white stripes and is lined with red lace on the bottoms. The straps are stretchy elastic like bra straps and come in one piece. There are two bows placed cutely between the breasts and one in front of your crotch on the apron.

The bra material isn't too comfortable, in my opinion. It's made of that nylon blend that most children costumes are made out of. I think they could have stepped it up a little bit to find something a little less harsh on sensitive nipples. However, the skirt is very comfortable. It's made of spandex and it's nice, flowy, and smooth. The skirt is longer in the front than the back so it show a good amount of booty which makes it appealing from every angle. The lace was also made of polyester so if you're going to be moving around, those can chafe sensitive skin. The apron is pretty small but for a short skirt, it works well. It's a tie-on apron unlike the rest of the materials that stretch to cover various sizes. The thong is a G-string that also has elastic. The back s trap that goes up the ass can also adjust positions if you ever need it to (though, I'm not sure why you would unless you were going to have sex with it still on). There was also a bow-tie with elastic so it stayed snug but didn't choke you.

Over-all, I would call this pretty sexy if you can fit it. The straps are made so that a range of people can fit it, however, it is NOT one-size-fits-all. I didn't have anyone to really show this off to since I couldn't fit it (being a larger gal and all). However, if I could wear it, I'm sure any guy/girl that likes sexy costumes would fall in love with this :) It's pretty simple to put on and it has a way of making you feel sexy! My favorite is the skirt. It feels nice to wear and I find that important even in costumes. If it's not comfortable, you're not going to want to wear it again so this is a hit in my book.
Experience
The costume they sent me was too small. It didn't list the size on the container and I couldn't choose the size I needed so I ended up getting a tiny costume. I'm a large gal and my breasts couldn't even stay in the bikini top. I also couldn't put the skirt on and the thong wasn't flattering on me (in my opinion, anyways). Think that, if I were smaller or the costume larger, I would have loved wearing it. It's super cute and sexy.
Follow-up commentary
2 months after original review
I still don't like it because I still can't wear it. There's nothing more I can really say. I'd probably like it if I could wear it but I can't.
This product was provided free of charge to the reviewer. This review is in compliance with the FTC guidelines.

Thank you for viewing
Candy stripper
– sexy costume review page!