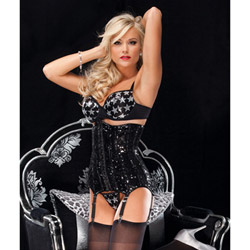 Fully boned sequin waist cincher
Cinch by Coquette
Give Me a Wham-Bam!
This sequined black waist cincher is straight up rock star material. Its curved edge emphasizes the breasts and badonkadonk while the corset back snakes up the spine. It squeezes and defines the waist while allowing the chest and southern lands to roam free or get adorned by some other little nothing. Perfect for exhibitionism, this is a guaranteed show stopper.
Published:
Pros:
Corset back that offers adjustable fit, Sparkly black, Metal boning, Optional garter hooks
Cons:
The little spike that comes up between the breasts doesn't always want to stay down
A waist cincher is a restrictive type of undergarment that harkens back to decades past when women always wore form-shaping underthings. Like a corset, a waist cincher hugs in against the waist, hips and ribs to emphasize a curvacious womanly shape and erect spine. This sequined waist cincher from Coquette is a modern take on the classic shape, studding the torso with hundreds of black sequins. It would be a great piece to take out in public for those who love exhibitionism. It would look great under stage lights or at a play party. This piece could be worn with a bra, without a bra, or over top of a blouse of some kind for a more modest look. Even over top of a shirt, this piece is sure to turn some heads. It comes with detachable garter straps, so you can easily add some thigh high stockings to the mix.
Unlike a corset, this cincher stops just below the bust. That can make it easier to find the perfect fit, especially for ladies who are pear shaped or well endowed with a slim torso. Another great detail in this piece is the lace-up corset back. Not only is this incredibly sexy, but it makes the fit super flexible and customizable. And there are few pleasures in life quite like a well-fitted waist cinch. The laces tighten towards the center of the back from the top and bottom and then can be tied together there. The laces are tied simply into a loop so you don't have to worry about laces popping out of their grommets when the garment is being loosened. Unless you are flexible and determined, you might want a friend to help you out with tightening the laces the first time. Once the laces are shaped to your body, you can unhook the cincher via a line of bra strap closures running up the front of the garment.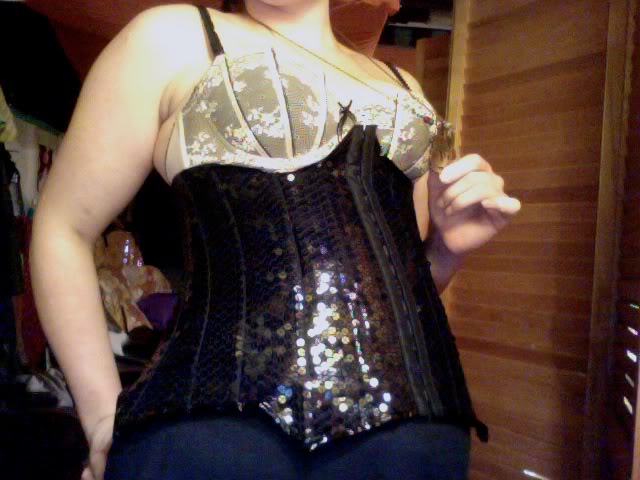 Style-wise, this piece is rock and roll-glam-goth style. It is completely covered in black sequins front and back. Then the bottom edge has gradual swooping spikes that emphasize the curve of butt cheeks. The top end of the cincher sits about where an underwire for a bra would sit. There is a little spike that comes up between the breasts. This spike doesn't always sit completely flat.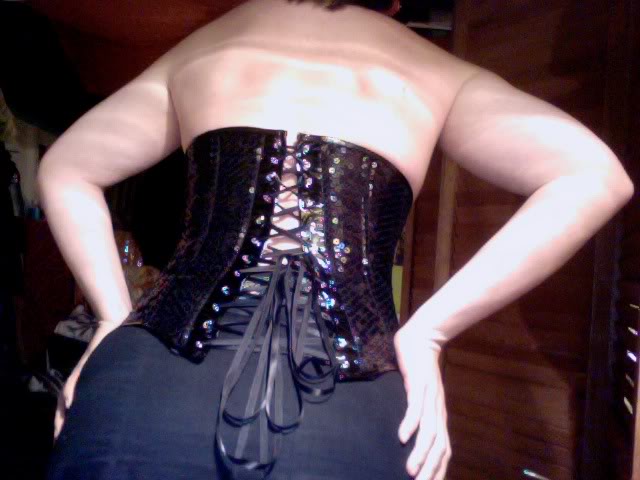 To care for this item, hand wash it in cold to tepid water with a gentle detergent made for lingerie or appropriate for washing baby clothing. Soak it for a few minutes in the soapy water, then spot clean any places that need extra attention. Rinse the garment twice. Do not wring, but squeeze or roll up in a towel like sushi and then hang dry. There are hanging straps on this cincher, but sadly it does not come with one of Coquette's black padded hangers.
This cincher is made of polyester and is studded with hundreds of sequins. As the sequins are sewn on, they can get caught on delicate clothing or other flotsam and jetsam. The boning is made of an unspecified metal that is quite flexible and elastic in that it returns to its original position after being bent. All the boning is well-finished inside and out and there are no suspicious protruding spikes.
Experience
I am super pleased with this garment. It is such a show piece and is inspiring me to do some burlesque. I am a magpie-type person in that I'm really attracted to sparkly things, so this cincher is just perfect for me. It's a really versatile piece in that it can be styled in a lot of different ways to go out in public or stay home for some fun. I feel really sexy when I put it on, almost fish like because of all the scale-like sequins.

I ordered this piece in size Large as I got an XL in one of Coquette's corset and it was a little big on me. Being that this is just a cincher and not a whole corset I was more confident about the fit as well. My measurements are approximately 35" waist, 44" hips, 34" under bust and this piece fits just great. The large could fit sizes even bigger than mine because of the super adjustable corset lace back.
This product was provided free of charge to the reviewer. This review is in compliance with the FTC guidelines.

Thank you for viewing
Fully boned sequin waist cincher
review page!