Glittering Seams
Great for wear with an all black outfit as the silver back seams are delicate but manage to stand out.
Published:
Pros:
Fine detail of the silver dotted back seam, can stay up without a garter.
Cons:
Not as Opaque as I would have expected, crooked bows!
After somehow managing to make it years into my stocking wearing life without ever owning a pair of stocking with a back seam, I was excited to try out a pair of Coquette's Opaque thigh highs with back seam.

-Packaging

The Opaque thigh highs arrive packaged in a slim paper sleeve within plastic. On the paper sleeve is a woman modelling the product with only her legs shown alongside the words 'Flirt with Style' Within one of the stockings itself is a piece of plain paper/thin cardboard which needs to be carefully removed. The back of the packaging lists the stockings as being hand wash only and not suitable for ironing or tumble drying.


-Wear

Once out of the packaging, the Opaque thigh highs feel light but unstretched do look opaque, when slid onto the hand and over the arm they still seem to keep their promised opaque appearance but put to the real test and worn on the leg they are still quite dark but start getting a whole lot more sheer in appearance even on some of the thinner parts of the leg.Made from nylon, they are easily slid on and comfortable to wear.

Along the back of these is a silver dotted back seam which really does look fantastic in wear, that is once you have ensured that the seam is straight. The hardest part to try and keep straight is, I find right at the tops which insist on skewing slightly. To the touch the little drops of silver glitter which are the back seam feel scratchy and appear to be painted on. At the top of each back seam is a delicate black bow with silver edging. Stitched into place, these are made of quite a thin ribbon but do add to the stockings. My only problem with the is that they are not stitched on very straight on mine so if details like that can ruin a look for you, you might want to avoid these for that reason.

When worn over a period of time the top on they are great at holding up by themselves though adding a garter belt I find completes the look with these. They are even light enough that they don't make your legs clammy over extended wear. Some of my favourite ways to wear these are with either a garter belt or a pair of garter panties with shiny black ankle shoes. Wearing all black really works at showing off the fine detail of the silver back seam, making the stockings really stand out.

-Sizing

I'm five foot 4 inches and slim and could pull these right up to the top of my legs, indicating that someone of a taller height would have no problem with the fit of these, with only a few wears so far these have yet to snag or tear on me but they do feel like they could, I would say they are a medium risk of snagging and tearing especially around the foot where they are not reinforced and around the tops if used with a garter. While I do think these could stretch to accommodate someone a few sizes larger than myself, the stretch would also makes these quite sheer rather than opaque.

-Washing

As instructed on the packaging, these are hand wash only and not suitable for ironing or tumble drying. I was worried that the glitter back seam would come away in while washing these but following instruction and carefully hand washing, this wasn't a problem.
Experience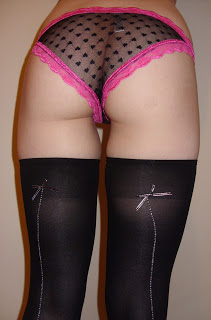 This product was provided free of charge to the reviewer. This review is in compliance with the FTC guidelines.

Thank you for viewing
Opaque thigh highs with back seam
review page!