Going from a woman to a school girl overnight. (ML)
This set is pretty much half and half where hits and misses are concerned. I absolutely love the panties and skirt, and the tie is cute enough; however, the bustier is basically unwearable without a bra unless the wearer is flat-chested, the bandeau is none too fond of large chests either..... and the stockings are just a whole heap of suck.
Published:
Pros:
Lots of items are included, Skirt, Panties, Tie,.....The superfluous kilt pin
Cons:
Some of the items included are duds, "Stockings", Bandeau, "Bustier", Bottoms may run a bit large
Warning: This review contains very brief sort-of nudity. I was too lazy to apply pasties' so avert your eyes if female nips offend you for some reason.
I'd been wanting a schoolgirl outfit for a while, but the
seductive school girl
was the only one I fancied at all, and it was always out of stock and too expensive to boot. Then I saw this one, with it's blue and yellow and white plaid, in all it's cheap glory, and I bit.
This outfit came packaged in a plastic bag attached to a hanger. The bag has a little plastic snap for opening and closing. It may not be the loveliest storage option, but it is rather convenient for keeping all of the components of the outfit together, given how many there are.
Included in this set: "Bustier", Bandeau top, Skirt, Skirted crotchless panty, Tie/choker thing, "Stockings", and....a kilt pin, for some reason. I suppose it's just as well. I lost the one that came with the tartan skirt I bought while I was in Scotland, which actually wraps around the body, necessitating a pin if one is too remain modest. ANYWAY...
The bustier and skirt tags read: 92% Polyester 8% Spandex exclusive of trim, Hand Wash. I can assure you, though, there is NO spandex in the majority of the bustier, most of which has NO stretch. I am also of the opinion that the skirt and stockings are probably machine washable, although I haven't tested my hypothesis as of yet. The delicate, shimmery fabric of the bandeau and panties, the plastic boning of the bustier, and the stiffness of the tie would definitely not lend well to machine washing.
The "bustier" consists of one layer of fabric with six pieces of plastic boning. The built-in modesty panel is the only part of the bustier that stretches. The snaps fasten securely enough (more on the snaps later).
The bandeau is made of sheer sheeny fabric and has plenty of stretch. I cut the little band from mine for reasons to be discussed later.
The skirt is my favorite part of the set. The fabric is soft and comfortable, and it's plenty stretchy to accommodate my hips. The length of the skirt is perfect. I'm also fond of the colors used in the tartan.
These panties are the second best thing about the set, IMO. They're comfy, adorable, and all kinds of naughty. I'm pleased that the crotch is split, rather than having an awkward, ill-placed, unusable hole.
When I first eyed this set, I had little to no interest in the tie, but I actually rather like it. If this dinky fake tie doesn't suit you, a solid black or baby blue tie would look great (D'oh, I should've worn a black tie in the last pic of the review, but it's too much work to go back and change things at this point. Just take my word for it).
And here's a huge batch of unadulterated failure. These truly are the worst stockings I've ever encountered. The fabric hasn't nearly enough stretch, and....well that's the whole problem, really. More on these later.
SIZING INFORMATION
: According to EF's
Coquette size chart
, an ML should fit the following measurements:
Size: 10 - 12
Cup: C
Bust: 36 - 40
Waist: 28 - 32
Hips: 38 - 42
Me:
Size: 14-16
Cup: C
Bust: 42
Waist: 32
Hips: 42
Okay, sort of. The inch measurements are close enough, though I've never been able to fit into a size 12 in my adult life. Whatever.
...and here I am all decked out. I'll start from the top and work down.
The Tie
This tie closes via Velcro (fancy, I know) and should fit necks between 13 1/4" and 16". My neck measures pretty much right at 14". I'm not an expert on neck circumferences, but I suspect that this may be too large for those with daintier necks than I. I comfortably wore this for 2+ hours with no ill effects (itchiness and what have you).
Experience
(continued)
The "Bustier"
The thing with having pale skin, wearing white clothes, and trying to take pictures of those things together with strong fluorescent lighting is this: obtaining a photograph that is bright enough to discern detail but doesn't look like a closeup of the sun is difficult. I'm sorry it's so difficult to make out the bust area, but it's not particularly exciting anyway. I'm wearing a strapless bra under this top, and for good reason. The top snap creates an unpleasant furrow across the breasts, such as when one wears a button-up shirt that is way too tight. I experienced this even upon letting the ribbon out so much that the top was actually loose on me. Without the bra, this top is one star. With it, it's more like three and a half. This may work well for very small breasts, but I'm still skeptical.
The Skirt
My favorite item in the set. Cute. Comfortable. Stretchy. Slips on. Not much I can really expound on here. I do like that the pattern and the pleats hide my flat arse, though.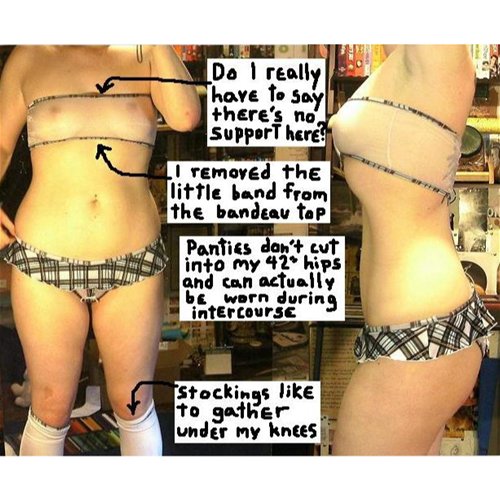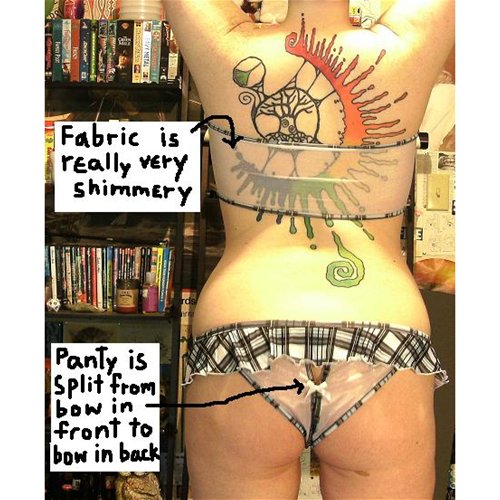 The Bandeau
As you can see, I have removed the little band that goes around the bandeau. This is because the bandeau is not wide enough (from top to bottom) to contain my breasts without crushing them down, and that band that I cut away so mercilessly only made things worse. The fact that I am pushing this poor thing to its limits (having a bust measurement two inches over the chart) doesn't help, either. This top is better suited to smaller breasts.
The Panties
My second favorite part of the set. They have the perfect amount of rise and they can be worn during intercourse. The tiny skirt is flirty and pretty delightful, too.
The "Stockings"
These suck. When first I tried to put them on, a gave up about 10 minutes in. Then, with dogged determination, I somehow managed to crush my mighty feet and calves into them. On the plus side, once I got the god-forsaken things on my legs, they didn't fall any farther than right below my knee, because they COULDN'T, because the FIBERS HAD FUSED WITH MY LEG SKIN.
Sure, it only involves one piece of a six-piece collection, but I felt it worth mentioning that this skirt is pretty damn cute apart from the set.
MORE SIZING INFORMATION
Approximate redone size chart:
Bust: 34-40 (Ideally, with cups AA-B, though a bra underneath may still be advantageous)
Waist: 28-34 (Though the modesty panel will be scrunched up some at the lower end of that)
Hips: 38-44 (The panties and skirt are favorable towards those with wide hips)
Thanks for reading. Feel free to ask questions in the comments :)
This product was provided free of charge to the reviewer. This review is in compliance with the FTC guidelines.

Thank you for viewing
Boarding school girl
– sexy costume review page!