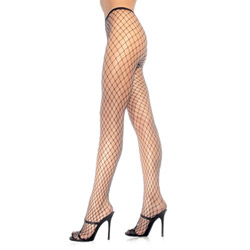 Diamond net pantyhose
Pantyhose
by Leg Avenue
Good to have around in case your really nice ones are in the wash.
The Diamond Net pantyhose by Leg Avenue are your average net stockings. They're great for a night clubbing or a sexy night in. However, a few disadvantages make these less than top choice.
Published:
Pros:
Versatile, sexy feeling, easy to wash.
Cons:
No reinforced toe, one size.
The Diamond Net pantyhose by Leg Avenue are basic stockings that fall somewhere in between fishnets and fence nets with a box size of about an inch and a half when stretched. They are made of a stretchy 92% nylon / 8% spandex material and have a basic elastic waist band that is about 3/4 of an inch thick.

The statement "one size fits most" is always to be taken with a grain of salt and should probably instead say "comes in one size and if it's not yours, you're SOL". The packaging says they should fit those who are 90 to 160 pounds, which is far from "most", but I digress. I would say that the actual stocking part would definitely fit a woman of 160 pounds, but the waist band might cause some problems. The waist band is a bit on the tight side and cuts slightly into even my 26.5 inch waist. I solve this issue by moving the waist band down to my hips where my panties sit, so the cut-in is a little less noticeable.

Another issue I had with these stockings is, despite the picture in the description, there is no reinforced toe or even a smaller box size for the toe. Because of this, my toes slip through the stocking and it can be a little uncomfortable. I don't recommend wearing these stockings with open toed shoes, since it will look a little weird. I like to wear them with boots so I can wear socks underneath the stockings for extra padding and comfort.

One nice thing about them is that they're easy to wash. The packaging says to hand wash, but I put mine in a mesh laundry pouch that I use for bras and nylons, machine washed on cold, and hang dried. There wasn't any shrinking because of the cold water and the color didn't run on any of my other clothes.

Besides the sizing and the toes, these stockings aren't bad. They're not my first choice when I'm getting dressed up (mostly because of the toes), but they're good to have around. I recommend picking up a pair if you find yourself wishing you had extra fishnets but don't want to shell out for more nice ones or if you want something to top your order off so you can get free shipping.
This product was provided free of charge to the reviewer. This review is in compliance with the FTC guidelines.

Thank you for viewing
Diamond net pantyhose
– hosiery review page!