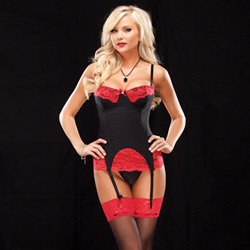 Pinstripe woven lace bustier
Bustier by Coquette
Gorgeous Bustier Makes Me Feel Busty!
This vintage-looking bustier is versatile enough to bring you out on the town to flaunt what you've got, or get you down and dirty in the boudoir. No matter where you go, you'll feel rather comfortable, supported, and most of all, sexy.
This piece is as beautiful as it is versatile. Though there's no cinching to be done here, this bustier will give your girls a bit of lift, and your waist a bit of a trim. A great piece for anyone's lingerie closet.
Published:
Pros:
Beautiful design
Unique design
High-quality construction
Comes with garters and bra straps
Cons:
19 Eye-hooks
Boning pokes into back
Runs small
Largest size will not fit larger people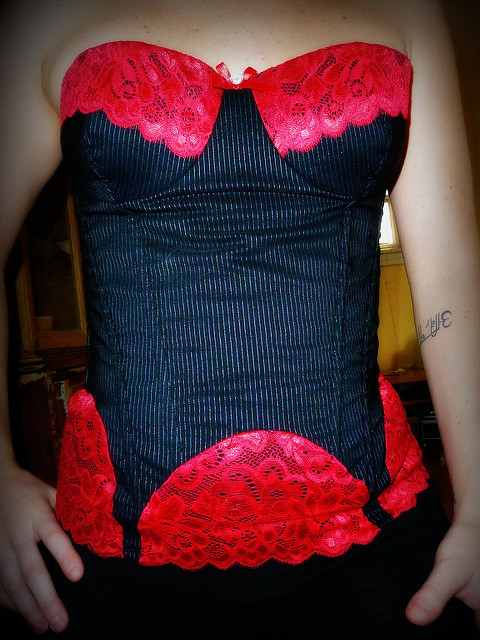 The Pinstripe Women Lace bustier is my new favorite. Coquette aimed to please, and as per usual, hit the nail pretty much on the head. The construction of the piece is sturdy and strong, the bra offers support, the fit is snug, and the look is knock-out. Though a couple alterations had to be made before wearing, this is still a marvelous, sexy piece, great for anyone's lingerie collection.
The bustier was shipped in a cellophane bag, with a simple plastic Coquette hanger attached. I originally ordered a small, as I normally do with lingerie, and it made my face redder than a hornet's. It was simply WAY too tight. As a 125 lb, 5.7" gal who normally wears dress size 5 - 7, a small should've fit me. But this piece runs very small. A medium just barely fit me, though it was snug and cozy.
Getting It On
The 19 eye hooks used to close the bustier are a pain in the ass, let me assure you; particularly when the piece just barely fits. To put the thing on, you have to turn the opened piece backwards, and wrap it so that the closure is in front. Fasten the hooks one by one up the back (two by two will never work unless it's too large for you, in which case, you should order a size down!) then turn it around very carefully. The massive amounts of eyehooks make putting this on a rather precarious affair. You have to kind of fight with them to get them to close, and if one pops open while you're closing another, it's frustrating. If you have someone to help you into and out of it, that will be a huge plus.
There are 2 sets of eye hooks, 1/2" apart, so that leaves a smidge of room for error when ordering sizes. Still, I recommend ordering a size up from your normal lingerie size. Maneuvering this around from front to back on me, in a medium, took a fair amount of time and wiggling, and wasn't really that comfy. However, a bustier should not be loose!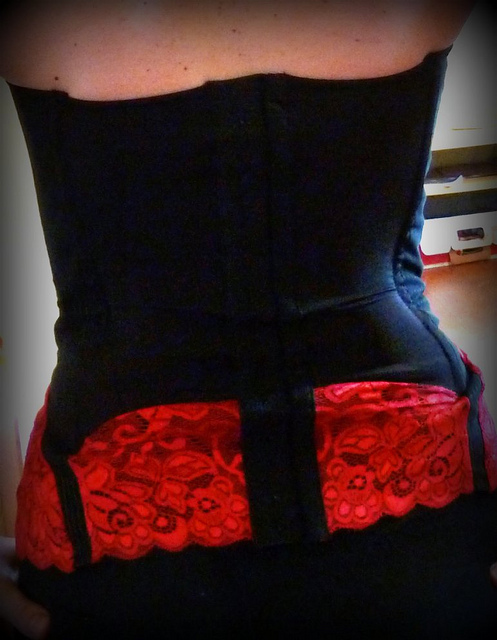 Design
The pinstripe polyester material is run vertically with silver threads, and accented beautifully with stretchy flower-patterned lace. The lace along the cups serves as an attention-grabber for your girls, who are adorned as well with a rhinestone bow placed between them. The lace along the hem at the cut-outs serves as a way to accommodate hips, expanding with the curve of feminine flesh. The material of both is soft and sensuous, just as lingerie material should be.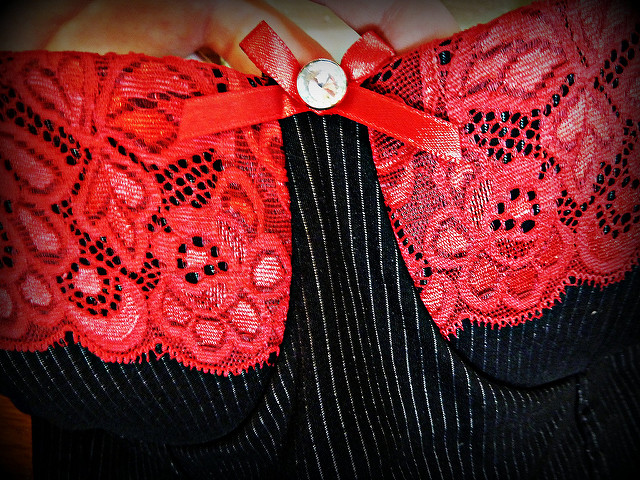 The cups fit my A-cup boobs perfectly. A B- or C-cup gal could easily fit into this as well. The underwire bra was lightly padded and did give a slight amount of lift, but not much. It was just enough to support my already-perky breasts without interfering with their natural buoyancy.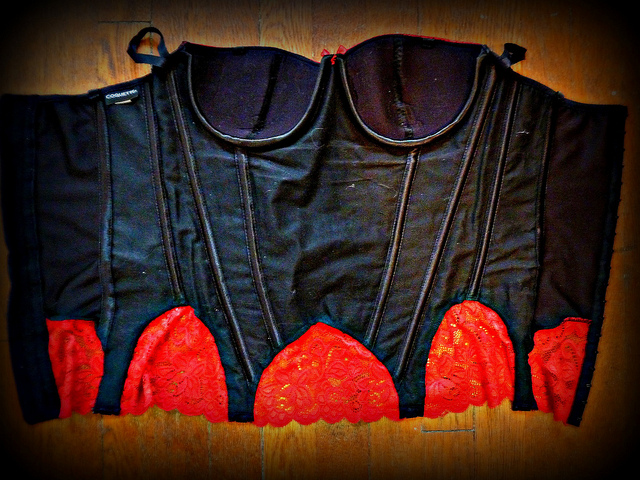 Upon inspecting the interior of the piece, I noticed the construction to appear quite sturdy. Despite one flaw, the two boning slots left open, this looks like it will hold up through many wearings and hand-washings.
In Action
Once situated on my torso appropriately I noticed a sad thing, which also was a painful thing. The boning in the back of the bustier, just below my shoulder blades, was cutting into my skin. The metal pieces had shifted up out of their slots and were poking out above the top of the bustier. A quick closing of the end of the slot with a needle and thread will fix this, though I didn't have time to do so the first time I wore this. I ended up enduring the occasional scratching pain, and the bones left red marks a couple inches long on my back where they rubbed all evening.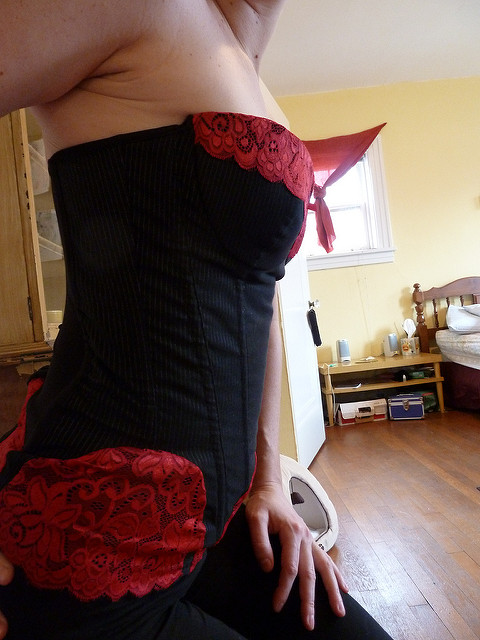 Experience
Still, I paired the bustier with some super-tight black yoga pants, which happened to have a very stretchy top that exceeded the top of the pant for a good foot, allowing the extra piece to be folded over around the bum, or pulled up high to cover the belly. The bendable nature of the metal boning allowed me to easily pull the bustier up and fold it over itself while pulling the top of the pants up. The point of this was to A, cut down on my belly; I was hoping the pants would hold the pudge in a bit and B, create a black backdrop for the lace, so that my skin was not showing underneath. The effect was really nice. I paired the ensemble with a wild necklace, spiked my short hair up, and donned some sexy boots. My night out was a rip-roaring good time, and I felt so fucking sexy. I ended up wearing it to a burlesque show, and one of the ladies of the hour approached me in my vintage-looking attire and asked me to audition to be in the show. Talk about flattering! I didn't end up trying out, 'cause try as I might, I couldn't personally get into taking my clothes off in front of strangers, as sexy or cool as it was. My apprehensions were few, but they were enough. Maybe someday when I'm not working in an office, or when I'm not working in an office in the same town where I'm working as a burlesque dancer.

The garment came with two adjustable black garters for use with thigh-highs, and adjustable bra straps, which will help provide extra boobage. Support and cleavage are enhanced significantly with the addition of bra straps, but as I personally never wear bras except for on odd rare occasions, I opted for going out more freely. I personally don't like the feel of plastic pieces digging into my back or chest. Ow.

In the bedroom, this is a super sexy piece, but I love how versatile it is as well. I don't get much mileage out of bedroom-only lingerie pieces, as my partner is not into them, and that kind of puts a pin in my balloon. So this piece, with its ability to be worn out and stop folks in their tracks, was just perfect.

Care
This can only be hand-washed in gentle soap and cold water. Two sewn-in loops allow the bustier to be hung in the closet, using the hanger it was shipped on, or any standard clothes hanger. You can also buy fancy padded lingerie hangers at any local supermarket.


Conclusion
Despite the necessary alterations due to the poky boning, and the misleading size chart, this turned out to be a super hot piece. I'll be wearing it every chance I get. I love what Coquette does with their imagination!
This product was provided free of charge to the reviewer. This review is in compliance with the FTC guidelines.

Thank you for viewing
Pinstripe woven lace bustier
review page!