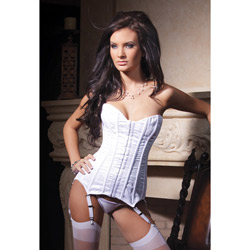 White lace and satin corset
Corset
by Coquette
Gorgeous Fully Boned Corset
Looking for a gorgeous lace-up corset? This one is perfect. The boob area is a little bigger than I'd like, but it's really not too bad. It's also fully boned, so it gives you lovely hip shape, and it really makes me feel crazy sexy. It also comes with removable garter straps so you can wear some sexy stockings with it.
Published:
Pros:
Fully boned, Lace up back, Comes with removable garters and shoulder straps, Gorgeous, Sexy
Cons:
Pricey, Too big in the boob area
I've gotten a few bustiers from EdenFantasys, and this one is by far my favorite. One of the things I really love about it is the fact that the back actually has the laced up look that I love in corsets. It's not just the hook and eye closures going all the way down. It's laced with ribbon, so it reveals that tiny strip of your back in a very sexy manner. It does still have hook and eye closures, but they go down the front. I know you're probably thinking it looks bad, but there's a small strip of satin that goes down the front of the corset that makes it very hard to see the hook and eye closures unless you're looking very closely.
The corset is made of satin and lace. It's a lovely white color, with white lace covering the whole thing. The lace has a lovely floral pattern. It's kind of hard to notice it from a distance though, since it's all the same color. The lacing in the back is just a long white ribbon. I found that I actually had to alter the back a bit, but most people probably shouldn't. When you get the corset, the ribbon in the back is just one continuous loop that's tied at the bottom of the corset. Two really long pieces of the ribbon are pulled out near the middle of the corset to make a cute bow that hangs down your back. However, when I was putting it on, I wanted the lace-up feeling. I tried to adjust the ribbon, but made a horrid mess. I ended up unlacing the whole thing, then re-lacing it from the bottom up like you would a shoe. Then when I put it on, I had my husband tighten it for me, and stuff the excess ribbon down the back of the corset. I think it ended up looking a lot better. It also makes it easier to put on. You can loosen it up, close all the hook and eye closures along your stomach, pull it into place, and have someone tighten it up for you. You can also just leave it as it is, and it should still fit fine.
I got this corset in the 3x/4x size. I wear a size 22 pants, and about a 20 in dresses. Most lingerie in the 3x/4x size fits me really well. This one fit me almost perfectly. However, there was a lot of room in the boob area. Like if I got down on all fours while wearing this, my boobs were about to fall out of it. I even tried making the laces tighter. It helped define my hips more, but still I couldn't get it right in the boob region. I wear a size 42D bra, if that helps give you an idea of the size. This corset is probably for someone who wears a DD bra. I'm thinking that if I get another corset like this, I'll just go with a 1x/2x and just loosen the laces a little in the back. It normally wouldn't be a huge deal, but 50% of the reason I love corsets is because they make my boobs look amazing.
This corset is also fully boned, and it's not just done with flimsy plastic. I have a lot of problems with wearing bustiers, then I they give me this horrid pudge at my waist, because the boning is just flimsy. So while my hips are nice and curved in, everything towards my bottom is just a mess. Most of the time they give my body an awkward backwards "S" shape. This corset has a lot of strong boning though. It has 14 different pieces of durable plastic boning along the whole frame that gives me an amazing hourglass figure. I actually feel gorgeous while wearing this.
The corset also came with 6 removable garter straps, which is nice, because you have two extra. I've used them, and they're easy to use and look good. I used them with lace stockings, and the whole get-up looked fantastic. The corset also came with two shoulder straps as well. I prefer the strapless look, but it looks nice with the straps too.
Lace-up back...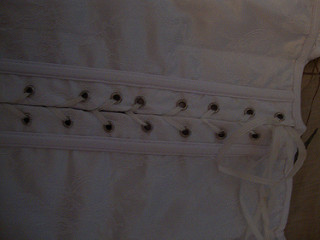 The hook and eye closures in the front...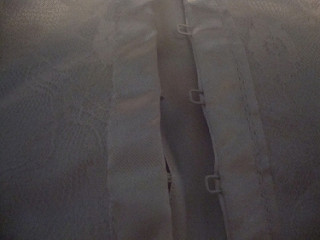 Experience
I really love this corset. It's pretty much perfect. The only problem I really had was that it's a little too large in the boob region. I think next time I order from Coquette, I'll just get it in a smaller size. I also had to un-lace the ribbon in the back, and lace it up from the bottom up. If you like how the bow looks, that's fine too. I just really like the tight, laced-up feeling.
Follow-up commentary
3 months after original review
I adore this corset still! It's a little big around my boobs still, but my husband doesn't mind. It gives me a lovely shape, and I'm still very happy with it. The high quality material hasn't been damaged at all.
This product was provided at a discounted price in exchange for an unbiased review. This review is in compliance with the FTC guidelines.
Thank you for viewing
White lace and satin corset
review page!