Great panties -- if you can make the sizing work for you!
I was so looking forward to wearing these panties, but it turns out that they just didn't work for me. Despite trying both sizes, I was unable to get a good fit, which means that there are probably a lot of people that just won't be able to make these panties work for them. If you can find a size that fits you properly, they're pretty nice panties.
Published:
Pros:
Pretty design, Slit is long enough, Lace isn't itchy, Durable
Cons:
Won't fit everyone, Slit doesn't lay properly for me
When I saw these panties on the site, I knew that I had to have them. I'm not a huge fan of leopard print, but the red leopard print on these panties matches several pieces that I already own. Plus, they're crotchless -- which is an automatic turn-on for my boyfriend (who seems to think that panties just get in the way). And, of course, there is the color combination -- red and black lingerie is always hit in the bedroom (for my partner and I, anyway). So, of course I just HAD to have them. In fact, I was so insistent on having these panties that I ordered both sizes, determined to find a size that works for me -- more on that in a bit.

Basics:
The red and black leopard print, crotchless panties are made by Coquette. If the red and black color combination is not to your fancy, no worries! They are also available in standard tan leopard print with black edging.

Material & Care:
These are made out of 80% Nylon and 20% Spandex, exclusive of the trim. I am assuming that "the trim" is referring to the little bow that is featured on the front, and the lace edging.

They basically consist of two different types of material. First, there is the leopard print material, and then there is the black lace.

The leopard print fabric is very smooth, and almost silky to the touch. It's soft and non-irritating, making it quite comfortable to wear for even long periods of time. This material is very thin, to the point that you can see through it if you hold it up to even a dull light. That being said, the material appears opaque when it's on, even when it's stretched to the fullest potential.

The high spandex count of the material makes the panties very stretchy.

Next up, we have the black lace. The black lace makes a nice border for the panties, and really gives the panties a sexy appearance. The lace does feature unfinished edges, so I do think that it may fray a bit overtime. Still, the lace is fairly good quality, as it does not seem to snag a bit. It is also comfortable against my (extremely) sensitive skin, though it is not as soft as some other lace products that I own.

To care for these panties, it is recommended that you wash them by hand, and then allow to hang dry. I, personally, have thrown them in the washer without a problem, and I think that you should be fine doing that as long as you use the delicate cycle.

Sizing:
Coquette has made these panties available in two different sizes: one size fits most, and one size XL (referred to on the site as "Plus Size").

As I stated previously in my review, I purchased both sizes.

According to Coquettes size chart, the one one size XL should fit someone with the following measurements:
Waist: 32-40"
Hips: 42-50"

The one size fits most, on the other hand, should fit someone with these measurements:
Waist: 28-30"
Hips: 38-40"

Okay, so... I have a 32" waist, and 40" hips. So, I kind of fit the size chart for the XL, and then I kind of fit the size chart for the one size fits most. In reality, neither of them worked quite right for me. The XL version fit me comfortably, but the panties were very baggy on me. They were so baggy, in fact, that they tended to slide down a bit on their own, and they just made me look like I was wearing a pair of crotchless granny panties (not exactly a sexy look).

The one size fits most, on the other hand, kind of fit me. I could get them on, and they were comfortable -- but they looked too tight. They gave me some serious muffin-top, which is also not a very sexy look.

So, sadly it seems that these sexy, high quality panties are just not made for my body. If only Coquette would've provided REAL sizes for these!
Experience
Design: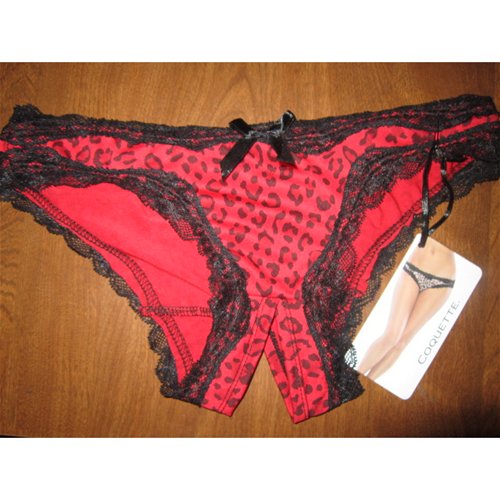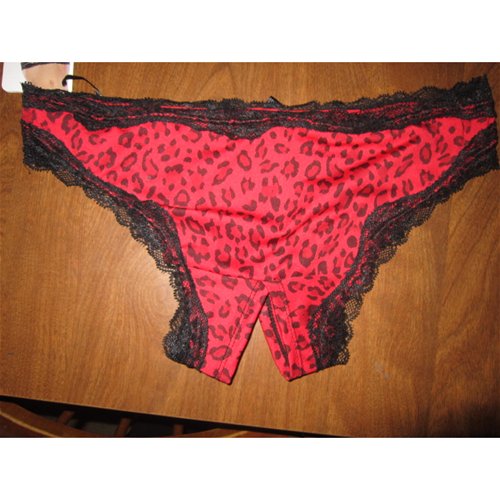 There's really not very much to the design of these panties. They're designed to be full-coverage, open-crotch, bikini style panties. They have a full back, which provides a decent amount of coverage to your rear-end, and the front is cut in a way that also gives you just enough coverage.
What will make or break these panties for most wearers is how the open crotch falls on them. For me, the open crotch did not lay quite as I hoped. With both sizes, I found that the open crotch started just slightly after my vaginal opening starts, and ended well above my ass. This basically means that they were more assless than crotchless for me -- which may not be a bad thing, depending on your interests. I think that my experience with how the opening laid against my body might've been a bit different if I were able to get a proper fit.
Other than that, there's not much to these. They're a pair of leopard print panties with black lace edging. There's a little bow at the top center of the front of the panties. The bow is not removable, but you could probably take a seam ripper to it.
Quality:
All in all, the panties are not poor quality. The stitching is even, and it feels durable. The material is thin, but it doesn't seem like it will snag or tear easily. There were, however, a few loose threads.
Follow-up commentary
3 months after original review
I really wish I could make these work for me, but they just don't fit properly. It's a shame, too, as they're so cute.
This content is the opinion of the submitting contributor and is not endorsed by EdenFantasys.com
Thank you for viewing
Red leopard crotchless panty
review page!