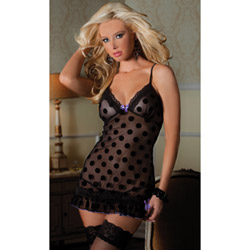 Galore chemise and thong
Chemise by Seven 'til Midnight
Great Price
I really like this piece. It's so cute and feminine. For the price, you get a good quality set. It's sewn together well and the lace and bows do not disintegrate like they usually do on lower-priced lingerie sets. I only really have two complaints about this set. There is elastic instead of underwire, which does not provide any lift or support for breasts. It made my chest look even flatter. The care tags say this can be machine washed, but it cannot.
Published:
Pros:
fit, quality sewing, no loose threads, cute
Cons:
elastic under cups doesn't support or lift breasts, can't be machine washed
The first time I saw the Galore chemise and thong by Seven 'til Midnight, I absolutely fell in love with it. The polka dots, see-through black material, bows, and the ruffles along the bottom of the chemise looked cute and feminine. With all the new lingerie EdenFantasys has been adding lately, I've been a bit overwhelmed with which pieces I want first. After ordering a few must-haves, I finally got a chance to add this to an order. I decided to go with the size S/M because I have a pretty small chest.

The Galore chemise and thong came wrapped in clear plastic. They did not come on a hanger. A hang tag is attached to the chemise, however it doesn't have any useful information on it. Long pink ribbon tags on each piece describe the material and care. The pieces are made of 87% polyester and 13% spandex and should be machine washed in cold water and line dried. This set is made in China.

This set is made of a see-through black mesh fabric with little velvet-like spots all over it. Detailing is done with satin ribbon bows and lace trim.

The chemise is cut very flatteringly. There are two sections of elastic running through it, one piece under the bust and one along the hips right above the ruffle trim on the bottom. It fits tightly on the chest, then just kind of flows loosely from there. The straps are made of elastic and are adjustable like bra straps. There is a pink ribbon care tag sewn into the back of this piece. It's really long, however it doesn't feel itchy or anything on skin. Along the neckline of this is some black lace trim. Set between the breasts is a tiny bright purple bow. Each cup is cut to fully cover breasts. Once I had the straps adjusted properly, the cups sat to completely cover my chest comfortably. Unfortunately, there is an elastic band along the front of this underneath each breast, rather than actual underwire. The band cuts upward in a similar fashion to underwire and each side meets together at the bow. This doesn't do a good job of supporting small breasts at all. I found the elastic was actually too loose for me. If I moved around too much, the cups would rise up over my breasts. At the bottom hem, there is another elastic band across the front of the chemise, which is masked by some black lace. This provides a bit more stretch to the bottom. Off to the left side is another small bright purple bow. Along the bottom edge of the ruffled portion is some matching bright purple stitching that really finishes off this piece.

Compared to the chemise, the thong is a bit too plain. It's simply an elastic band with the same mesh fabric. The fabric is cut into a very tiny triangle that essentially just covers in the front. There is no liner stitched in to this. I'm not a fan of thongs, so I choose not to wear it. When not stretched, the thong sizes exactly the same as some size 6 (medium) panties from Victoria's Secret. As with the chemise, there is a long pink ribbon tag sewn on. I really hate that they put a tag on this, because the only place they could put it is in the front. It looks really stupid there. I strongly suggest cutting the tag off of the thong if you plan to wear it.

Here are some measurements of both pieces:

Chemise length: 25 inches
Under the bust (unstretched): 24 inches
Under the bust (stretched to maximum): 36 inches
Bottom elastic band (will sit around hips): 44 inches
Bottom elastic band (stretched): 56 inches
Cups (each): 6 inches tall, 8 inches along bottom
Thong band (unstretched): 26 inches
Thong band (stretched to maximum): 52 inches
Thong panel length: 6 1/2 inches
Thong panel width: 5 inches

Seven 'til Midnight lists the following as sizing for the size S/M:
Dress size: 2-8
Cup: A-B
Bust: 32-36 inches
Waist: 24-28 inches
Hips: 34-38 inches

My measurements:
Dress size: 5-8
Cup: B
Bust: 32 inches under, 34 inches over
Waist: 27 inches
Hips: 36.5 inches

I fall right within their size chart. The chemise fits me very comfortably without anything binding against my skin. As I said, the under-bust elastic doesn't fit as tightly as it should, but I do have small breasts. If you're trying to decide which size to go with on this set, bust is the most important measurement. The waist area is loose, not fitted, so someone with a waist a few inches larger than the size chart should still fit comfortably in this piece.

Continued in Experience
Experience
The hip area stretches considerably, so again you can get away with this if your hips are a bit bigger. The cups are sized perfectly to fit an A or B cup. Firm C cups may be able to get away with it if they are on the smaller side, but I would not try this with anything larger.
I have a pear-shaped body, which the model on the product page seems to have as well. I think those with larger breasts will look better in this than those with smaller breasts. The lack of anything holding my breasts up made them look even smaller, which in turn made my hips look larger. I have a similar piece that has underwire cups and it looks much more flattering on my body. I do love how flowing this piece is. I've tried a few Seven 'til Midnight pieces so far, most of which were one size fits most, and found they were tight and sometimes uncomfortable even though I fit the size chart. Some of them were supposed to stretch to tightly fit your body and rolled up during sex. This piece is much better to wear during sex. The ruffled bottom does not roll up or hike up or anything, it just sits there. I absolutely hate having to keep pulling my lingerie down when it's constantly inching upwards, so I liked that the bottom stayed put.
Since I don't wear thongs, I paired this up with the
Vintage Doll Lace Booty Shorts
in black. My only comment on these is that the bow is not in the back as pictured, it's in the front.
I love the look of the fabric. The opaque velvet-like spots, lace, and bows give it some class while not overdoing it. I do have one comment regarding the velvet-like spots. My comforter has some floral designs over it with the same fuzzy velvety material. Washing it in the washer actually destroys it a little. I've washed my comforter enough that some spots are kind of bald looking because the velvety stuff fell off.
For care, I recommend hand washing this piece or spot-cleaning it. I would not risk the polka dots by throwing it in the washer. I personally just spot-clean and spray fabric deodorizer on the chemise. The thong I would wash in the sink with a gentle detergent. You'll want to drip-dry both pieces. A dryer will also wreck the polka dots. I suggest hanging the chemise up to keep it wrinkle-free.
Overall, I'm pretty pleased with this set. It fits great. The size chart runs accurately. I love how feminine the chemise looks. Unfortunately, this piece would definitely benefitted from underwire cups, rather than elastic bands. That would provide some lift and support to breasts and would have made this look better on me. The mesh fabric did work well to sit on my curves without accentuating bad areas of my body.
Follow-up commentary
3 months after original review
This is still one of my favorite lingerie pieces. It fits so comfortably and is really feminine looking. I only wish that the elastic running under the bust was a bit tighter. I think sizing this differently, like sizes small, medium, and large separately would help fix this issue, since the piece doesn't have to fit two different sizes.
This product was provided at a discounted price in exchange for an unbiased review. This review is in compliance with the FTC guidelines.

Thank you for viewing
Galore chemise and thong
review page!