Great Starter Corset!
Since this was a "beginning" piece into the world of lingerie, I think it was a great piece to start with! The cotton fabric is forgiving as far as sizes goes, but order a size down for a better fit. While the boning was not strong enough to hold my lady bits aloft, it may work perfectly fine for others and is easily fixed with a bra.
Published:
Pros:
Zippered front for ease of wear
Cons:
Hard to wash
Boning is not strong enough
This is honestly my first piece of lingerie that has not been a bra, and boy was I surprised how much I liked it, even with a few flaws! I have been leery of getting anything before because I was unsure if it was going to fit, but having recently measured my bust (42.5 inches), I was confident that I could easily fit into the 42-inch bust on this corset. I think next time though, I will go down a size or two as it felt very large.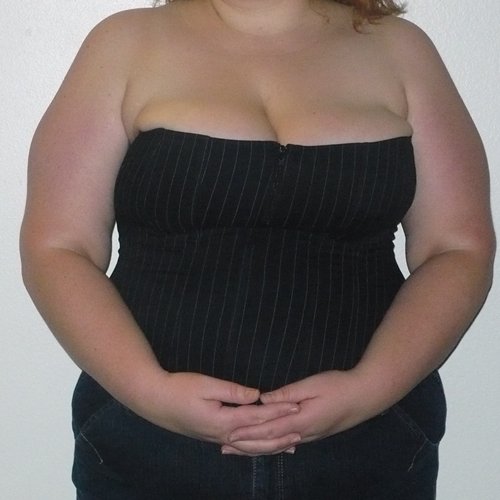 If you are looking for a corset to "act" like a corset, this is not the one. The material gives into your shape rather than helping to make your body into the hourglass figure that corsets were designed for. This corset is made of 97% cotton and 3% Spandex, giving it just a bit of stretch. The cotton was nice since I was not sure if the size would accommodate the rest of my figure. I am not sure of the material used in the boning here though, and here lies the first "issue" I had with this piece. I have a large chest and the weight of my breasts was just too much for this one! Over a period of a few minutes, the boning gave out and my breasts began to "hang over" the top of the corset! This is easily remedied by wearing a bra with the corset, but that rather defeats the purpose. However, I do enjoy the look of the pinstriped corset under a short black shrug with either a skirt or pair of pants, so wearing a bra under it can work to hold them up. The zipper in the front also makes this easy to put on and remove without help, after the initial wearing. I do wish that this corset had a "flap" of fabric to go under the lacing in the back though, for me anyway; there is a three to four inch gap in the back. While the zipper is nice, I have yet to be able to get this on straight! (As shown in the photo above) The color is forgiving as well, since the vertical lines of the pinstripe (grey lines printed in the fabric); helps draw the eye away from my curves. I had read about the material in other reviews before getting this corset and was worried that the pinstripes may fade over time, not the case however! While they are not "woven threads", the pinstripes are a part of the fabric.
The cleaning instructions on this seem simple enough, until you actually attempt to wash it! This is a hand-wash only item. In addition, no wringing it out, sadly, this resulted in the deodorant marks that were visible before washing to be visible after washing as well; I need to try to get them out again.
Experience
While I was disappointed in the boning at first, this has grown on me enough that I actually like to wear it with a bra under it (a plain black bra) as long as I have a shrug to hide the bra straps. I am sure I would be even happier with a strapless bra, but again, the size of my chest usually makes those impossible to wear. In the future, I may add a strip of fabric under the lacing in the back to help "hide" the bra and my spine.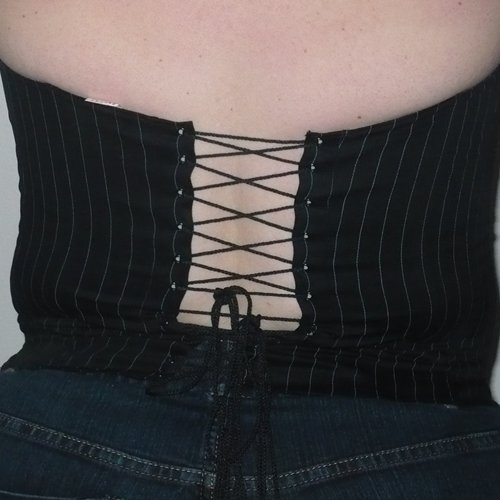 Follow-up commentary
4 months after original review
This is still my absolute favorite piece of lingerie! I cannot use it currently (baby bumps and corsets don't mix well), but am really looking forward to wearing this again!
This product was provided free of charge to the reviewer. This review is in compliance with the FTC guidelines.

Thank you for viewing
Apprentice zip-front corset
review page!