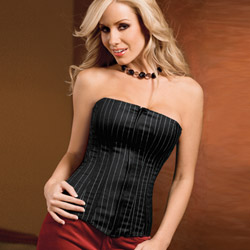 Apprentice zip-front corset
Corset by Escante
My New Favorite Corset!
This unique corset was comfortable and incredibly flattering for my small breasts. It is not as sturdy as other corsets I've tried, but it looks so good on me that I would happily replace it with a new one of the same style if it falls apart. There are a few adjustments I'd make to give it a 5 star rating (garters, brighter pinstripes, prettier laces, nice matching g-string), but given the price, I'm not complaining. It's still a fun style that I'd recommend to women with similar figures.
Published:
Pros:
flattering for smaller breasts, zipper for easy on/off, fabric allows for breathing and movement
Cons:
No garter attachments, loves lint, fabric doesn't quite match picture
OMG, I cannot believe how hot I look in this corset. I have cleavage, people! Cleavage! Without push-up pads or underwires! And I can breathe in it! My partner was a very happy man. I have been looking for a corset that works with my breasts for a long time. I did not think I would find one without having it custom made and spending hundreds of dollars. This corset blew my mind. It is not perfect, and it may not be for everyone, but I fucking love it.

Material:
The cotton material surprised me a bit. The picture makes it look like a shiny black with bright white stripes, but the fabric itself is matte, like you'd expect from cotton, not in the least bit shiny. Also, the stripes are most definitely a medium gray, and not sewn in but printed on top of the fabric. They're on there solidly, but those who are looking for the exact look in the picture might be disappointed. The fabric also picks up lint like crazy. Don't set it anyplace where your cat might have been sleeping. Of course, a lint roller solves the problem perfectly well. I found that I was able to spot clean the fabric with a damp washcloth with no ill effects, and there isn't any lacy trim or embroidery to snag or fall apart, so that's one point for durability. The fabric is a little stretchy, which makes the corset a little more comfortable to wear and easier to put on and take off without adjusting the laces, once I'd gotten them done up properly. BONUS: Erect nipples will show through the fabric. That's not to say that the fabric is super thin. I absolutely love this feature. All of the hotness of a corset without so much rigidity.

The zipper: I thought there would be a flap of fabric that folded over top of the zipper pull so that it would be unobtrusive, as the original picture suggests. Instead, the zipper forces that flap open and makes itself obvious. I thought it made the whole corset look a little cheap, but my partner loved it. He liked knowing that he could unzip it whenever he wanted. I must admit, it is very handy for taking it off and putting it on again. I did not need to adjust the laces. If you find putting on corsets a hassle, this might be the one for you. You could try it on once with a friend, get the laces adjusted perfectly, and then put it on in seconds on another day when you intend to use it. There is no clasp of any kind at the top, but the zipper always stayed up perfectly in my experience. It appears to be quite solid, and I am not worried about it falling apart on me. The stitching will fail before the zipper.

Construction: The holes in the back are solid and work well with the strings, which are sufficiently long and sort of resemble thin, round shoelaces. If you're looking for a fancier look, you could easily replace them with some ribbon in your favorite color. On me, the corset goes down quite far, to a couple inches above my clit. I've never experienced such a long corset before! It wasn't a problem for me, but it did mean that I got some lube on the bottom part when I "tested it out" with my partner. Thankfully, a damp cloth cleaned it up perfectly. I wouldn't risk putting this in the washing machine, but it might survive being washed by hand if you're very careful. I did notice the occasional noise of a thread snapping once or twice, but I have not yet discovered where exactly it occurred and if it is going to fall apart quickly or slowly. Considering the price, though, it's still well worth it for a flattering corset in such a fun style.
Experience
This corset fits me like a dream! My physical frame, for the sake of an accurate review, includes 34A breasts that usually don't work in the corsets I buy. I wear size 6 pants, generally, and although I could definitely lose a few pounds, I don't have too much extra around the middle. The corset was flattering everywhere it covered and was more comfortable than other corsets I've tried. In the size 32 corset, my size 34A breasts are very very happy with the top strings pulled as tightly as possible. There would be plenty of room to expand for larger breasts, but not having them myself, I can't speak to what sort of corset works well for bustier ladies.
Follow-up commentary
10 months after original review
So sad this was discontinued! I may have to go hunting on the internet for a backup version of this corset for when the wear and tear on my old one get to be too much. It's a great corset and certainly doesn't fall apart immediately, but it's not going to look shiny and new forever. And I like it so much that I'm definitely going to want more!
This product was provided free of charge to the reviewer. This review is in compliance with the FTC guidelines.

Thank you for viewing
Apprentice zip-front corset
review page!