H-O-T! My new favorite thing.
I couldn't be happier - I FEEL LIKE A PRINCESS!
I just gotta find some little shorts and I'm all set to go since I don't want any butt-flashing.
Published:
Pros:
Beautiful, comfortable, price, semi-stretchy, garters, perfect for the bedroom OR to wear out.
Cons:
Just a tad short, one size won't fit most.
SEXY, SEXY, SEXY! You'll look hot in this, period. Doesn't matter where or when you wear it.
The second I saw this on Eden Fantasys, I KNEW I *had* to have it. Do you ever look at a piece and instantly know exactly what you're going to wear it with and in your head it's all just...perfect? That's what happened to me with this one. I have a love for black lace (really, black in general) and thankfully, my dream (mostly) came true :) Besides, it was a bargain at only $19.
I noticed this is once again out of stock. It came back in stock for a day when I snapped it up, then it was out of stock again the next day. Luck was on my side!
Moving on to the real review:
This is, as the title implies, my new favorite thing. It was my new favorite before I even opened the bag it came in. I didn't keep the bag because I'm in the process of moving to a new apartment and didn't want to transport things I was just going to throw away, but from the other Coquette items I've read reviews of, it's their basic packaging: a thick plastic bag with snaps. It's a good, study way to pack it and it wasn't wrinkled or crumpled up at all inside of the bag.
There are some garter straps in a baggie inside of the skirt attached via a plastic tag. While I love that the skirt came with these, I would have liked to see the straps inside the bag, not attached to the skirt itself, which could potentially cause a run/hole, but it's not too big of a deal either way. I'm not too sure if I'll end up wearing thigh-highs with this, but it's always nice to have options!
Even though I've got short legs, this skirt is definitely a micro-mini on me. I'll need to find some shorts to wear under it that don't show through, so I can wear this out in public and show it off. (Yes,even to the grocery store!) So be warned...it's itty bitty! The back bustle is about 2 - 3" above my ankle at the longest point, so it falls just right to not get stepped on. If you're short, you'll probably need to break out the stilettos to not step on your train! I'm 5'7" so that's not really a concern for me even in lower shoes than I usually wear.
Another thing, this doesn't stretch as much as you would think for a one size fits most. Specifically, the waist seems to stretch more than the rest of the skirt.
I have a small waist and narrow hips, but I have a bubble butt and big thighs and this fits me just right. It's not too tight, but I don't think it would go much bigger. If you don't have a HUGE ASS like me, you're golden, because I think the waist has quite a bit more give to it.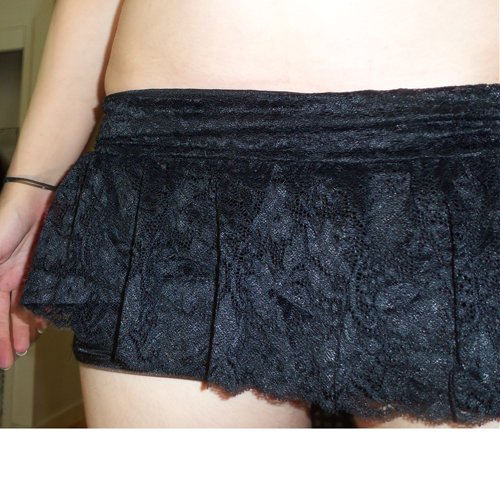 I've attached some pictures so you can see a close-up detail of the skirt. Even with the self-timer on my camera it was hard to get a good picture of the back, but really, it looks exactly like the stock photos. I love the ribbon detailing, though it doesn't serve much of a purpose other than to look pretty.
One thing I found somewhat odd was that the lining and the lace were only attached to one another at the top, by the waistband. I guess this is to keep the lace layer flowy, so I guess just be careful when you pull the skirt up to not accidentally only pull one layer or you'll have a weird-looking gap where the black fabric isn't covered by lace. I took a picture, but it's now not letting me upload...grr! Oh well, again that's no big deal at all and doesn't detract from the looks or the PERFECT quality of the skirt.
Now, if you'll excuse me, I've gotta get busy showing this little number off, "Looking like a hooker," as my boyfriend puts it...
Follow-up commentary
6 days after original review
I've been wearing this over and over again still loving everything about it. I've been wearing a bodysuit underneath to help with how short it is.
This product was provided at a discounted price in exchange for an unbiased review. This review is in compliance with the FTC guidelines.

Thank you for viewing
Lace bustle skirt
review page!