Handle with Care
Considering the low price tag, these pantyhose are a pretty good quality. They stretch to fit my body well and don't feel too tight or uncomfortable. The color is just right for my pale skin, since it doesn't give me super dark legs. I just wish these had some spandex in them. They don't return to their original shape and can get a bit baggy after a while. These also must be handled very gently and may run very easily.
Published:
Pros:
price, good color
Cons:
must be handled gently, no spandex, can get a bit baggy
I'm normally not much of a pantyhose person, however I recently bought these to wear underneath a mini skirt. I did not really care for the skirt by itself, just because my legs look pale and are a bit blotchy looking sometimes, so I figured pantyhose would even out my skin tone a bit until I try some different fake tan products. I bought these in nude, figuring that they'd probably be a bit darker than my skin, since I'm pretty pale.

These come in a slim paperboard box depicting the same model on the product page on the front. The back of the box just has a picture of a rear view of the model wearing the pantyhose. A tiny box in the corner on the back states that these should be hand washed, separately, in cold water. They should not be bleached and should be line dried. These are one size fits most, with no additional sizing information. They are made of 100% nylon and are made in Taiwan.

Opening the box, you'll find a plastic sleeve with another paperboard insert and the pantyhose wrapped around that. The paperboard insert just states you have purchased an authentic Baci product in a ton of languages. This packaging is not ideal for storing the pantyhose, since it takes up a lot more room than the pantyhose. Fortunately, all of the packaging can be recycled.

These are just plain old pantyhose, there's no control top or anything. The waist has about an inch of pantyhose that is doubled over to hold them up. There is a seam up between the legs going from the front of the waist band to the back. Each foot also has a seam on the end. The foot area is not reinforced, so if you have sharp toe nails, you will want to be careful. These are 100% nylon, so they do lose shape very easily. Some added spandex would allow them to return to their original shape and to fit tightly for each wear. I noticed significant bagging after my first wear due to a lack of spandex.

To put these on, you're going to want to be very gentle. This isn't the strongest material. I start by bunching up each foot and slipping them over my feet. I then slowly slide the pantyhose bunch up my legs. Once I get them all the way up, I will pull on them a bit to get them on better. A lot of hard pulling can cause runs, especially if you have long or ragged nails.

When I have these on all the way, the crotch area sits maybe an inch down from my body. These don't have a liner, so I just wear my underwear underneath them. Once on all the way, these sit at my waist, a few inches over my belly button. These aren't tight at the waist, so they don't cause anything like a muffin top. I am 5' 8" tall and have a size 9 1/2 to 10 US women's shoe. My legs are a bit curvy and muscular and I wear size 5/6 in women's pants. From my toes, up the back of my heel to the top of these, I measure 51 inches long. These fit me fine, however I don't feel they can stretch upward very much more than a couple of inches. They feel like they would fit me if I was a size or two larger, however these are not baggy on me. They fit tightly and do not bag around the ankles after a few wears. I think applying the average one size fits most stocking/pantyhose sizing, which is 90-160 lbs, would work well with these.

When I wear these, the color strongly resembles that of the picture on the product page. It's a nice tone between pale and tan. I think the model's darker skin tone may make these look a bit darker than they are, though it would help a lot if there was a product picture of the pantyhose all alone. These are kind of half way between matte and shiny. The threads offer a bit of shine, especially if there's a lot of light on them.

I would follow the directions on the package when washing these. They should be hand washed in the sink and hung up to drip dry. I would use a more gentle laundry detergent on them. Once they're dry, I would just store them in with socks or other stockings and pantyhose. The packaging is a bit bulky for storage.

Continued Below
Experience
I have worn these a few times so far and do not have any runs. My pair does have small balls of material hanging off them in a couple of places where my cat's claws have caught on them. They also will not return to the shape they were in when I first took them out of the packaging. Other than that, they're in good condition.
Below is a picture of me wearing the pantyhose. I do have a bruise on my knee, however the pantyhose did a good job of covering it up. It's actually quite a bit darker. There's also my kitten in the background. She for some reason enjoys licking my legs and feet when I am wearing these.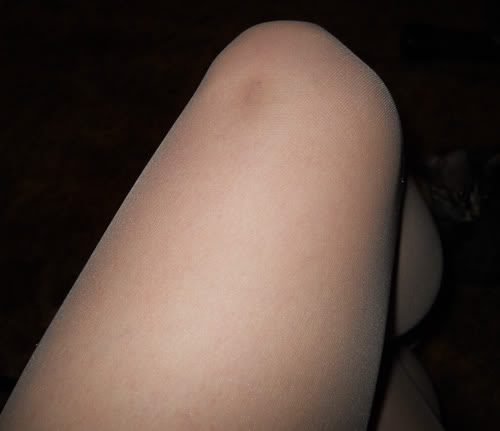 Overall, I think these are an okay pair of pantyhose. The price tag on them is pretty good. I feel these would be a better quality hose if they had some spandex in them, though. Spandex would also probably make them feel much sturdier than they are. I think the shade should work well for many skin tones. Comparing the price to the actual product quality, I give these 4 stars. The quality isn't the greatest, but you can't really expect too much out of pantyhose at this price. If you want a better quality product, I'd suggest looking at pantyhose with a higher price tag.
Follow-up commentary
2 months after original review
As much as I like these, I have discovered they are only really good for a few wears. Eventually they will get so stretched out that they don't cling to skin how pantyhose are supposed to. There's nothing sexy about baggy pantyhose. I suppose, considering the price on these, you shouldn't really expect them to be high quality and last for a long time.
This content is the opinion of the submitting contributor and is not endorsed by EdenFantasys.com

Thank you for viewing
Baci sheer pantyhose
– hosiery review page!