Handy, Baggy, and The Only Durable Part of These Are The Garters
Panties that are sexy, comfortable and have garters already attached are my BFF because I frustrate over finding two matching stockings and a garter belt on top of it. An all-in-one here is a God-send, unless the panty is as cheap, baggy and un-sturdy as these. They're just too baggy on my frame, but will look fabulously sexy on someone larger.
Published:
Pros:
Don't cut into skin.
Lightweight.
Awesome garters are sturdy and durable.
Cons:
Panties are cheap.
Material & elastic won't hold to wear.
Too large for me.
These are what Leg Avenue calls "Garter Boy-Shorts," but I am here to tell you, they are actually garter panties. Panties as in the brief type. The type that are cut at a slight angle on the hip/thigh, not actual straight-across-the-leg boyshorts. Besides that, the product photo looks exactly like boy shorts, so you may want to disregard it. I'll include photos of the actual product.
The garter shorts are a pair of black, slinky panties with attached garters. These are not removable, but a pair of panties like this comes in handy when you want to wear stockings, but don't want to search for a garter belt that's lost in a drawer full of underwear. That's my case anyways, and that's why I buy panties with garters if I can. Yes, these can be worn under skirts and dresses to hold up your stockings, and for some sex appeal if you want to flash your lovie! On the other hand, they can also be worn simply as your bottom piece of lingerie.
The panties are solid black with a pretty satin-y bow on the front, and satin-y ribbon over the garter snaps.
Don't mistake these for coming with stockings too because they don't. You only get the panties.
The panties come in sizes: S/M and M/L, which is slightly disappointing because the S/M are a bit too baggy for me. According to the size chart, the S/M should fit a size 5-8 with 34-38" hips and 23-27" waist.
The waist has what feels like almost non-existant elastic, which isn't bad, but the elastic feels like it'll give out very soon (if you've seen this happen in old underwear, you know the pain it can be). Being that these are already big on me, and the hardly-there elastic that's going to wear out in a couple wears, these feel as if they'll slide right off of my waist one day soon. Also, there's no elastic running the length of the leg slots, which makes that area comfortable. This and the waist elastic being so minimal means they don't dig in and just kind of lie over your body, especially if they're big on you too.
Panties' Measurements
Waist: 12" across.
Entire length: 8".
Bottom of butt: 9" across.
Hip to hip: 15 1/2".
Leg slots: 8".
Garters at shortest length: 5".
Garters at longest length: 7 1/2"
My Measurements
Bust: Right: between a B and C cup. Left: 34B
Jean/shorts/size: Zero
Weight: 93lbs
Height: 5 2"
Waist: 26" Lower waist. Where I'm a bit wider, the love handle area: 29"
Material & Care
92% Polyester, 8% Spandex.
There's a real large tag in the back that tells you how to care for them -- hand wash cold, drip-dry. Do not iron or bleach. Made in Vietnam.
The fabric is so thin and light-weight. These feel very much like Coquette's Lycra Booty Short with Rhinestones, which are terribly cheap. Expect the same cheap quality out of this material. I did like that the lightweight material made the stitching unnoticeable, almost similar to seamless panties. This is a good time to note that these came with fraying threads, which I didn't even see unil I looked at my photos of them. It's also important to some of you that panties have a crotch-liner. These do not.
Despite the cheap quality of the panty fabric, the garters are actually the best! They're heavy-duty, and a tad different from what you usually get with cheap lingerie companies like Leg Avenue, so let me try to explain them. My photos may do a better job at this, so watch out.
Note: adjusting garters concerned me because they seem they could rip from the panties with tugging and pulling.
These garters are adjusted by metal clasps. You pop the metal piece up and slide the elastic garter through until desired length. Then you snap the metal shut. There are teeth to hold it shut. To clasp to stockings, you have a metal piece that slides onto a round plastic piece, which is shown in my photos.
Experience
Packaging
This came in the typical Leg Avenue pink & black paper box (much like stockings come in), but the box was ripped all to hell and the garment was out half out. It's wrapped in plastic cellophane. It's not gift-worthy unless you remove from the box, leave it in its cellophane and put in a gift basket (which actually makes a lovely addition to a romantic (massage, sensual) gift set! Definitely make sure you're in private and away from children and the unsuspecting when you open this because there's a very large image of a person's lower half of their body wearing this front & back!
Ripped all to hell, nudity, horrid.
Fit
Forgive me for the minimal photos. I'd love to show you just how these look on, but there's no way to do that without showing you me in underwear, and that I just cannot do. You'll have to read my fit section to get the best idea.
I'm not very thick in the hips, thighs or bee-hiney, so I don't think these flatter me much. When I first got them, my first words were "Oh my God. They look like granny-panties!" The butt is really large and covers a good bit more than my butt, but they don't look like granny-panties on, they're just not the sexiest either. I would say these panties are definitely more of a medium than a small. All of my panties are size small except one, which is a medium and they don't sag on me like these. What's strange is the waist was a pretty nice fit. I wouldn't need a different size in the waist, but the panty itself is just really big. They're loose on my thighs even.
These are somewhat low-rise, but not near as low-rise as my other low-rise panties. These peek out a bit from my low-rise jeans. Have I ever used the words low-rise this much?
Since I'm very petite from the lower waist down, I'd say these are going to be more flattering on someone bigger there. Even a couple inches thicker than me would look nice in these. They will flatter a medium and a large incredibly well! If they were smaller, I think I'd feel like a sex-kitten.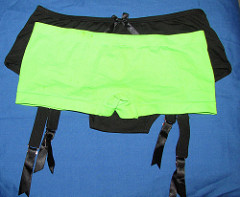 Let's do some comparing. I own the Marquis De Bustier that came with fabulous garter panties. They fit me so well and I adore them. That is how I expected these to fit. I also show a photo of a
real
pair of boy-shorts below. You see the neon green boy-shorts on top of these garter shorts? That is a boy-short. The cut is straight across the leg, and these are stretchy and hug right to my curves. You see that the garter shorts are a tad baggier/wider than my green ones, which are my preferred underwear. I have these in every color, and the garter shorts just don't fit or flatter as nicely.
This content is the opinion of the submitting contributor and is not endorsed by EdenFantasys.com

Thank you for viewing
Garter boyshorts
review page!