More Form Than Function
Two stars for awesome fit, silky feel and the bow in front. The lack of a crotch liner severely hinders their function in my book, and the straps are just a clusterfuck of awful. I cannot recommend these in good faith.
Published:
Pros:
Won't harm nylons/stockings, stretchy, true to size, sort of cute
Cons:
Straps not removable, no crotch liner, cheap straps, adjuster claps. slippery ribbons on claps
I bought there shorts because they looked comfortable enough to wear as panties, and the removable straps could be added when I wanted to hook them up to thigh-highs. This was a complete and utter fucking fail in more ways than I can count.
The garters are not removable. In the product photos and on the package itself, there's metal hooks that you can unhook to remove them. These do not exist on the actual product. The straps are sewn directly to the boyshorts.
They do not come off. Ever
This is extremely disappointing. It leaves me with little faith from Leg Avenue. It's not just like EF is using old pictures. Leg Avenue is just full of crap. Arg.
The second problem is that there's no crotch lining. Because these are a spandex blend, they won't wick away sweat. Smell issues can arise on an active day. The boyshorts won't let your vulva breathe. It's just not good. For anything other than a quick session, you'll either have to modify these or wear panties beneath them. Yea, that's a total bummer. There go the two main reasons I wanted these to begin with.
It's a shame, too, because I like the cut and the spandex feels silky on my skin. I ordered the ML because I normally wear a M or L from Victoria's Secret. They fit like a charm, covering my well-endowed derriere and feeling quite comfortable. They're definitely a full coverage panty, which some people will love.
The black spandex is stretchy and cool on my skin. The bow in front is cute and adds a feminine flair. It might feel a little boxy without the box.
I noticed no quality issues with the sewing itself. I'd feel safe tossing these in the laundry with my other clothes if it weren't for the straps.
The garters have metal adjusters and the tabs on the end are metal and plastic. The adjusters themselves are stupidly cheap feeling. Instead of a bra-strap type adjusted, there's a metal piece. When it's pushed flat against the strap, you can only shorten it. You have to push it up to lengthen the straps. However, this piece consistently becomes stuck. I feel like that I'm going to break them off while forcing them to adjust or they'd break off in the wash. The straps are already running/catching because of this. It's hand wash only for this.
The picture below shows the clasps--one open, one closed.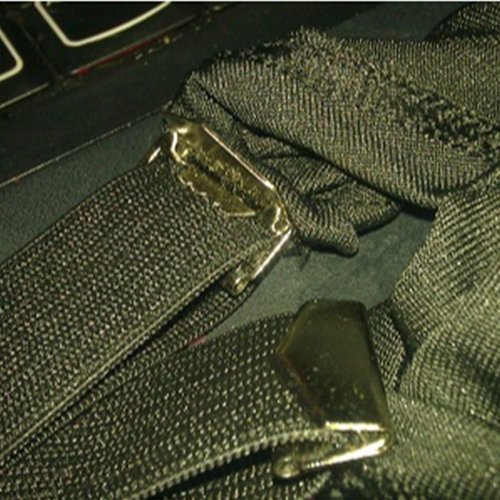 All in all, the straps are about 4", unstretched+the fastener as their shortest. They're about 6" long if you pull the adjuster as far as it goes toward the bottom. There's a significant amount of stretch to this, however. The thick elastic will sit flat against your skin, accommodate many heights and be secure. Too bad you can't actually remove the straps.
These boyshorts use the standard enclosure for garters. I have no idea what it's call, but you slip the tab through a keyhole and slide it into place. It's tricky the first time you use it--for everyone. However, Leg Avenue has put a length of ribbon down both the front and the back of each enclosure to hide it. Unfortunately, the ribbon is slippery and makes fastening more difficult than it must be. Plus, who needs a ribbon on the back of it? No one is sticking their eyeball between your leg and the strap.
On the whole, these are just uninspired and uninspiring.
This product was provided free of charge to the reviewer. This review is in compliance with the FTC guidelines.

Thank you for viewing
Garter boyshorts
– sexy panties review page!