Haut De Bikini & Culotte
This set is really cute and sexy. It has a bit more fabric for those who might not want to show off their entire hips or butt area. The bottoms also have a vintage feel that I adore, and I appreciate the removable garters. There are a few odd things about the fit, but in the end, this is a solid piece.
Published:
Pros:
Nice color pop, Comfortable, Sexy!, Versatile, Fits under clothes
Cons:
Small cups(smaller than other Coquette OS pieces), Hips run a bit small, Bottom fits shorter
I own and wear a lot of black when it comes to evening and intimate attire. Most of the lingerie and dresses I am drawn to are black. So when I saw this set with a pop of purple color, I really wanted it. I'm not even a huge fan of the color purple. This has just the right amount of color. It is from the Kissable collection by Coquette. It's a great price and comes in a one size fits most size. It's actually pretty accurate too. The small top isn't best for women with XL breasts, but will work for up to a D if you don't want to be falling out everywhere. The entire set is very comfortable and can fit under clothing too. The removable garters on this pantie also make it work for multiple occasions.
*Contents/overview:
Four pieces
This set from Coquette has four pieces, three elements:
*Bikini halter top
*Boy short pantie
*Pair of detachable garters
*Material:
Great, comfortable
This set is made of 82% nylon and 18% spandex exclusive of the trim with is the purple parts. Those are made of Lycra. The lace is average in softness and only stretches about a quarter inch. The mesh, however, stretches a lot more and so does the Lycra. The Lycra is the softest of the materials. The lace doesn't feel as great as other Coquette products I have tried in the past, but it is in no way, low quality. The lace is see through, so nipples and tattoos will appear beneath it. The material were all very comfortable and are in non way abrasive.
*Design/craftsmanship:
Great, comfortable
The top of this set is basically a bikini. Unlike other sets in this price range, it doesn't simply tie. It has a single row of hook and eye clasps - three settings for each. The cups are about 5 3/4" across at the base which is the widest point. They are 6 1/2" tall. To help them mold to the breasts, there is a middle seam making the cup more three dimensional. The sides are scalloped and look very pretty against bare flesh. In all, there is not much to the top. If you need support, this won't provide any. If you have large breasts, tightening the halter will just smash your breasts and likely make them spill out the sides or not stay in at all.
When they are not on, the bottoms sort of look like granny panties, no joke. With the large amount of fabric and bunched waist line, I can't help but make that comparison. They are shaped like a vintage brief except they don't go high up the waist. They ride on the hips. The front has lace paneling, while the back has mesh. They are cut to SLIGHTLY have a cheek peak out. It make look like there is a separate purple pantie in the picture, but there isn't. There is only a small purple square that creates the illusion of a pantie underneath. It's not even a connected panty. It is all one piece, made to look like two.
On the panties, there are fours little slits, two in front, two in back. The removable garters anchor to them. The garters are adjustable and have plastic fasteners with plastic anchors. They could break if you are not careful with them, like bra straps. I've broken a few of those by pulling too hard.
The stockings in the picture are not included, but
these
are comparable.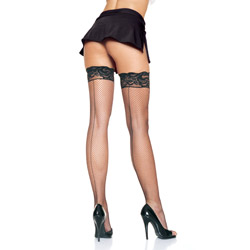 I bought
these
to go with and the coloring wasn't exactly right, but they worked.
I have these
DELIGHT-665
shoes and they matched pretty well, lace shoes complete this set! The color of the purple is a bit too dark, but it's close enough. When I wear these heels, I wear no stockings or black fishnets. When I wear the purple fishnets, I wear all black heels. Either combination, or similar combinations work well.
*Cleaning/care/storage:
Hand wash/cardboard box
The tag says to hand wash and hang to dry. I would do it in cold water because of the purple coloring. It can be laid flat or hung to dry. It dries fast because of the material. You can place it in a drawer or back in the box for storage since it keeps both pieces together. The box it comes in makes it a nice gift for a partner. It is long and rectangular in shape with a picture of a model wearing the outfit on the front and back. The garters come in a separate plastic zip-lock bag.
Experience
*Sizing/Fit:
Good, fits a bit odd on top, tad small in hips
Depending on the style, Coquette OS items are usually not too bad. They usually fit mid range sizes pretty well. For a while, I have suspected that Eden's charts for Coquette were not up to date, and I was right. For now on, my reviews of Coquette products will tell you how accurate the size chart is compared to Eden's AND to the current sizing charts from Coquette. Compared to Eden's, this runs small, but compared to the current chart on Coquette.com, this is pretty accurate with the exception of hips. I have screen printed the correct chart
here
.
According to Eden's chart, it should fit dress sizes 4-14, cup B, band 34-40", waist 26-32", and hip 36-42". I weigh ~142 pounds, size 7/8); curvy but fit with a ~34/36 D bra size. This is what Coquette currently says their OS pieces should fit:
On me, the cups were a bit small. If I wore it on the tightest clasp around the neck, it was way too long. I have to tie it behind my neck to get support, and for it to position my breasts correctly. I don't mind tieing it, and it comes undone easily when I want it to. My breasts are larger than the model, and I feel that mine don't fit as well as they should to be optimum for this piece. If you have fake breasts that are larger than C, you'll probably feel comfortable, but D is a bit too large. My breasts sometimes needed adjustment, my guy didn't mind though! C is probably the best size for the cups. I still think the top looks really sexy. The band size is great. I wear it on the middle clasp.
The panties are very comfortable. They aren't too small anywhere, not even the thighs. They don't fit exactly like the model though. Mine look more like panties than a garter belt. It's a bit shorter on me for some reason. My hips are about 38", and I feel that if they were any bigger, the band would cut in. They will fit larger, but you won't get as streamlined a look. The back of the panties made my butt look fuller and rounder. PLUS! The garters attach in good spots in the front and back and are adjustable to correct lengths.
It'd be cool if the little purple square detached so you could have sex in this, but sadly, it doesn't. It isn't really easy to move aside either. If you like lingerie you can have sex in, this isn't the easiest to do that with.
*MY RE-DONE SIZING CHART:
Dress: 6-10
Cup: B-C
Band: 36-38"
Waist: irrelevant
Hips: 34-38"
*Conclusion: 4 Stars
I'm giving this 4 stars because of the top fitting a bit odd, the hips being a little small, and the pantie not looking quite like the picture. Four stars is very respectable for this piece. I love that it can fit under clothing really well. I'll be mixing and matching with these pieces a lot!
Follow-up commentary
3 months after original review
There needs to me a "I LIKE IT LESS or I DON'T LIKE IT AS MUCH" option. I've been saying it forever. Yes, I still like this, but I like it less because I don't use the top anymore. I only use the bottoms. If i could buy this again, as separates, I'd forget the top, find my own, and only purchase the bottoms. Both pieces have help up well to wear and washing, however.
This content is the opinion of the submitting contributor and is not endorsed by EdenFantasys.com

Thank you for viewing
Bikini top and panty
– bra and panty set review page!