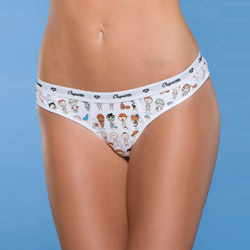 Naughty people thong
Sexy panty
by Coquette
He has two penises! That's not fair!
Comfort and great craftsmanship make this thong fit for daily use. My boyfriend and I spent some time just counting and naming the stick figures. It's a great way to bring humor into bed and look mighty sexy at the same time. This pair of panties will definitely be floating on top of my sea of panties.
Published:
Pros:
Stylish
Comfortable
Quality craftsmanship
Fun to wear
Cons:
None
I started writing this review with the question "How many pairs of panties do I own?" in mind. Honestly, I don't know. 50? 100? Do I count my period panties? Do I count the pack of white cotton ones I have at the bottom of the drawer? What about those red ones with golden design my mom bought me to exorcise demons and bring good luck, do they count?
As a female with G/F/E, oh what the hell, I meant quadruple D breasts; lingerie shopping has never been fun for me. The younger version of me was stuck with a few friends in Victoria secret, with a saleswoman trying to convince me that I had DD breasts. Then after going through boxes of ill fitting bras, afraid of being the odd one out, I leave the store yet again with more panties so I too could have one of those pink bags to parade around the mall. Maybe it's a reflex from high school years, maybe I just really love having a mount o' panties and maybe, just maybe I really NEED to have this many pairs of panties. I can never resist the urge to buy another pair!
My conscience calls out to me, "if you save the money on half of those panties and do some charitable deeds, some starving child can probably survive another year". Yet with the image of THAT child standing in the doorway of an abandoned, rundown building in mind, I marched on and ordered the irresistibly cute naughty people thong made by Coquette from Eden. I now have a pair of humorous, adorable, comfortable, and functional thong in my hands. Unlike many pairs of panties I've bought before, this one was worth every penny!
The Naughty People Thong arrived clipped onto a plastic hanger and wrapped inside a plastic bag. In the Middle of the hanger, I can see the Coquette label in red. A strand of white ribbon held the tag together, and was pinned to the band of the thong via a safety pin. Pictures of a model wearing the throng were painted on the first 3 pages of the tag. The last page reveals the style number, UPC code, and Coquette's motto, "Flirt with Style".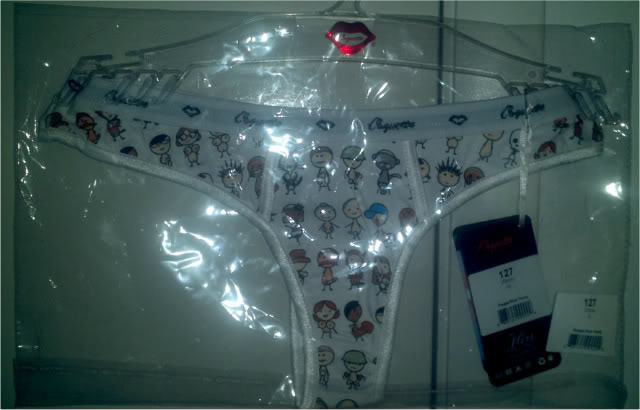 The main portion of the thong is made of a print of naughty people figures standing in lines. White, silky, stretchy ribbon lines the leg openings. An elastic waistband about ¾ inches wide holds the thong together on top. The word "Coquette" and Coquette's label are woven into the white band in black color. From the front, the thong looks just like a bikini bottom. Two elastic ribbons sewn toward the center of the front panel make the front reminiscent of the boyfriend brief style. The back of the thong is comprised of a lot less material than a bikini. The string of fabric thins out around the butt crack region, then opens up again to meet the waist band. The red label attached to the inside of the waist band says the thong is made of 50% cotton and 50% polyester, excluding the trim. It has no detectable smell.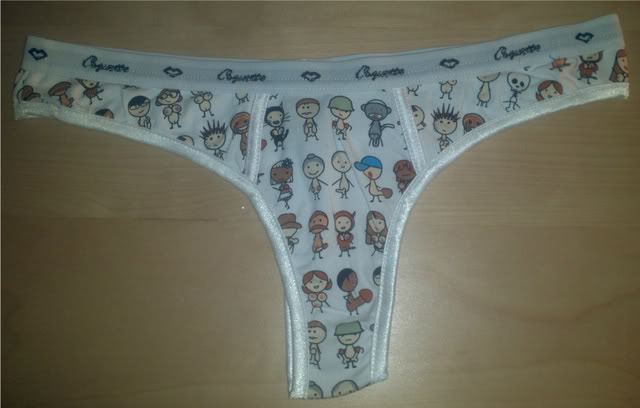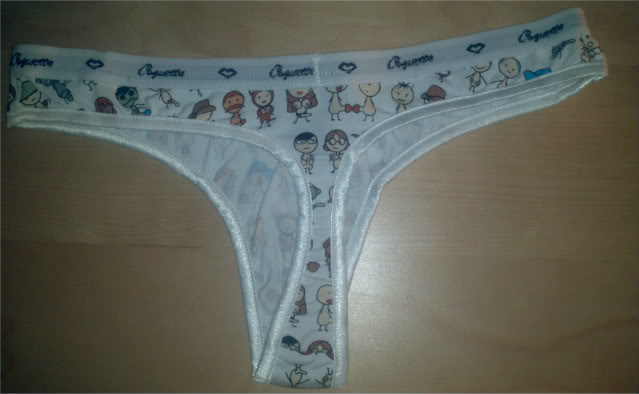 Upon opening the packaging, I held the thong in my hand to examine it. My boyfriend, who was curiously breathing down my neck shot into my ears, "He has two penises! That's not fair!" Yes and wow, I realized those naughty people are seriously dirty minded. They all have oval shaped bodies, and circular heads. With stick as arms and legs, colors and fashion accessories set them apart. On the front and right center of my thong, there's a little guy wearing a green hat who indeed grows two penises! To his left is a naked gray monkey, to his right is a red-haired man getting a hard-on while staring at a cat woman whose nipples and pussy are exposed through her cat suit. General rule of thumb: if you belong to the naughty people group, you will be in a line and expose your private parts for the enjoyment of the consumer. My favorite pair, a granny and gramps, resides on the 2nd line in the front of the thong. The granny has a gray bun in her hair and saggy boobs. The grandpa, also with gray hair, has an erection while eying the granny.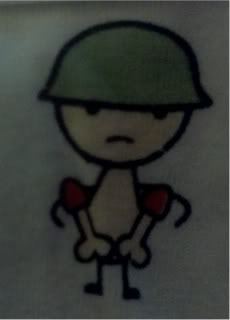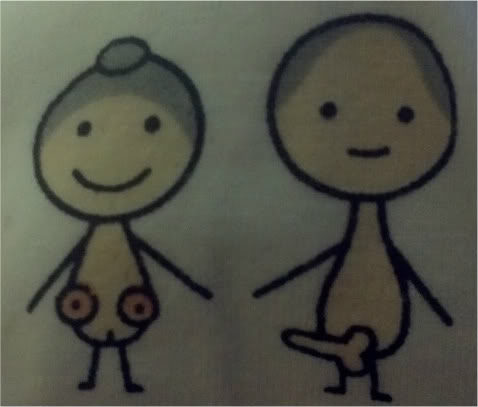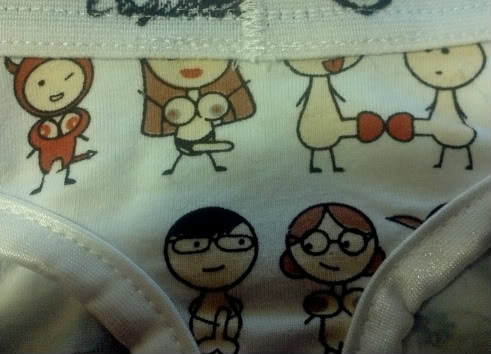 Other than to "Flirt with Style", the thong didn't come with a lot of other instructions. The label says "hand wash". I like hand washing my panties when I shower, so this will be fine with me. I imagine it will hold up just fine in a laundry machines cold wash with similar colors.
Experience
I am size 6 with a 28" waist. According to the size chart, I am a borderline size S. My previous experiences with elastic waistbands digging into my skin alerted me to a size M. My choice was correct; size M is a perfect fit. When wearing the low-rise thong, the front makes me feel sexy and stylish, and the back accentuates my assets. I also adore it for the comfort it provides. The material is very soft against my skin. The waistband hugs my body snugly without constriction.

Further examination of the seams made me very happy. The front and back panels are sewn together with double stitches. Even when I stretch the thong, I won't have to worry about the seams coming apart. There are no loose threads or excess fabric sticking out. The fabric is dense, not transparent. Overall, the Naughty People Thong is very well-made.
Follow-up commentary
1 month after original review
I've worn the Naught People Thong a few times, it's holding up just fine through the washes. It's still very comfortable and cute.
This product was provided at a discounted price in exchange for an unbiased review. This review is in compliance with the FTC guidelines.

Thank you for viewing
Naughty people thong
– sexy panties review page!